A city-wide regeneration being masterplanned by the council is righting some of the wrongs of the 1960s – can it be more flexible and futureproof while recapturing the optimism of that decade too?
Birmingham is being transformed. Visit with any regularity and each time you'll find something isn't where you thought it was, a new cluster of buildings has appeared, or an entire district has gone. Even locals have difficulties recognising where they are.
What's going on strikes hope and fear in the same measure. Hope because from an urban design perspective Birmingham has had a poor reputation for a long time. Fear that the scale of transformation could recreate similar problems to those that led to its poor reputation. I'm told that when the motor age was hailed in Birmingham in the '60s, for example, it made the place ridiculously exciting. No one properly foresaw how what made a modern city with fast communications out of an old one could have so quickly become dated and inflexible, not to mention a financial noose around the local authority's neck with all the heavy infrastructure.
Today's regeneration is a lot about righting the wrongs; downgrading the ring road, dismantling the car tunnel network, roundabouts and subways, and demolishing the modernist buildings of the period – even those that people like and are of architectural merit such as John Madin's brutalist library. We've been here before surely?
Sixty years have passed, though, and things have moved on; Birmingham's population is pushing more than 1.1 million for the first time since 1951. As I walk around with Gary Woodward, the council's city centre development planning manager, it seems the local authority is self-critical about how its approach to development and planning applications – it is not giving away its freehold interest in sites to attract redevelopment as it did with Argent's Brindleyplace.
'Seeing the tower cranes in the city proves the success of our very clear strategy,' says Woodward.
We start our tour in the city gallery's Edwardian Tea Rooms where Woodward explains that Birmingham City Council is the largest local authority in Europe and its planning department staff number in the hundreds. It oversees the whole of Birmingham but it is really the centre that feels like a vast open construction site. The geography expands from the recently redone New Street Station to the ring road, encompassing 800 hectares. It includes the Jewellery Quarter, Ladywood Estate (announced recently as an area of major change), Broad Street Convention Centre area and Attwood Green, a 1960s estate regeneration by Crest Nicholson. It then swings round into Southside Quarter entertainment area, to Digbeth and Eastside, a relatively young district that includes Millennium Point, Birmingham City University's relocated campus and the future terminal for HS2. To the north is the Gun Quarter, a focus for new private student housing.
Three miles north of the city centre, Perry Barr is being developed for the Commonwealth Games 2022 and an athlete's village for 6,800 people has just been approved with partner Lendlease.
Birmingham city centre feels like one vast, open construction site
As with the London Olympics, it will be turned into housing afterwards (1,400 units). To the south of the city at Selly Oak, the University of Birmingham is establishing a £300m life sciences park for medical research: the local population is very diverse but very static, which is a bonus for medical studies. Another area in progress is the 190ha former Rover factory at Longbridge being developed by St Modwen.
Housing is obviously a priority. Another 150,000 people are expected to live in the city by 2031, requiring 89,000 homes. Only 45,000 of these will be accommodated on brownfield sites so the council has decided to release some of the last greenbelt land in its control to build 6,000 new homes at what it is calling the Langley Sustainable Urban development, just outside Sutton Coldfield, and another plot nearby at Peddimore to facilitate an industrial site. Otherwise, the council is trying to meet demand by encouraging housebuilders to do things differently. It is teaming up with developers which have different ways of working. At Icknield Port Loop, for example, Urban Splash is bringing a dash of northern canalside living to 1,700 new homes in a formerly derelict 23ha area.
'Whereas previously housebuilders have tried to roll out the suburban boxes they do everywhere, we've pushed back,' says Woodward. 'We are looking for more innovative solutions: three-storey townhouses, roof terraces, apartments, higher densities, not just two-storey semis with a garage and drive.'
What has brought this change and drive about? For many years running Birmingham has topped the list as the home of the most new start-ups anywhere outside of London. Forty percent of the population is aged under 25. A lot of young families and people are staying in when 25 years ago they might have moved out. There are also more work opportunities. Channel 4 may have chosen Leeds, but HSBC's headquarters is up and running and Deutsche Bank is expanding. Many companies are gathering around HS2 too – engineering, planning and design businesses. Young people see a dynamic city that they can be agents in, and this helps it retain more students after graduation.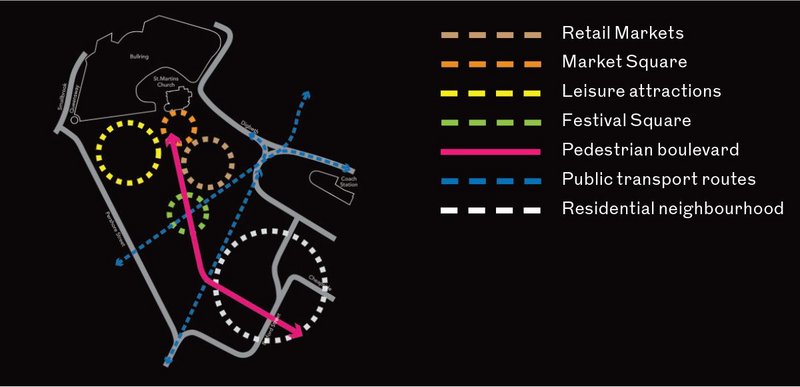 The 'big moves' for Birmingham's Smithfield masterplan.

Credit: Birmingham City Council
With a rapidly growing city and a lot of inward investment interest, the council has had to consider its own approach carefully. To recruit its own talent it set up a graduate scheme in 2015 that has seen 65 people pass through. This year planning and development was incorporated into a directorate named Inclusive Growth which includes transport, highways and property services and is about joined up, multiskilled thinking and placemaking. Part of that is using the enormous amounts of land the council owns to the benefit of everyone – like the Smithfield market area, Paradise and HS2 – while trying to be more intelligent in paying for it in the face of cuts. After all, the council was only freed from four years of what was effectively special measures in March 2019.
The city's current strategy emerged from a series of policies since its 1987 Highbury Plan which was enacted to reverse severe decline: 'That set to turn Birmingham from a car dominated city into a pedestrian one of streets and squares and spaces, bringing culture in and creating the new office districts around Brindleyplace, rejuvenating the canals, promoting the Bull Ring and New Street developments,' explains Woodward. 'By 1997 it needed a second act.
Michael Parkinson from Liverpool John Moores University did a study that terminated in 2010 with the Big City Plan, a similar planning document that was enshrined in statute in 2017.'
We've pushed back against housebuilders trying to roll out suburban boxes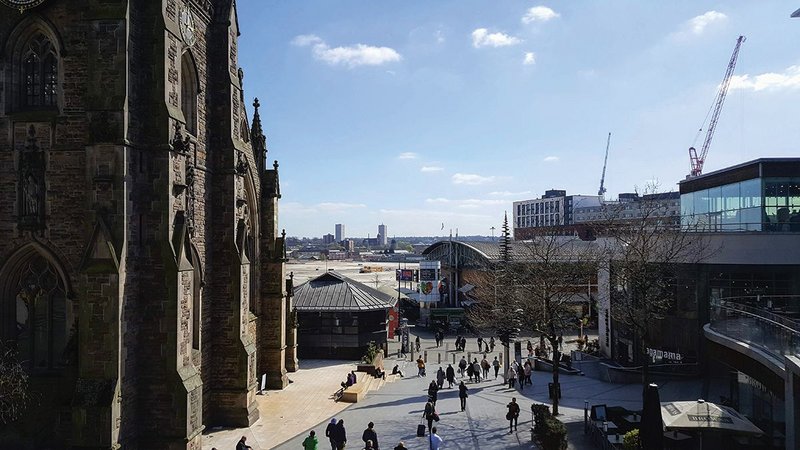 The Smithfield site beyond St Martin's Church from the Bullring has been cleared to make way for the £1.5 billion development.

Credit: Isabelle Priest
The seven districts of transformation – New Street Station, Paradise, the old library, Snow Hill, around the children's hospital, Eastside including HS2 and Digbeth, then the southern gateway – were identified as having the most potential for change, and the strategy set out how to deliver it as well. Each has its own masterplan for the big moves. This is used as a marketing document for attracting development partners. The planners also use a huge 3D model to drop any proposal models into context to test designs and the impact on surroundings, views and heights, which the council believes is unique for an authority in the UK. The visualisation room and VR goggles not only enable cross-city planning but can be used to engage different communities.
Towers are also always an area of concern. Although Birmingham hasn't seen the same number of applications for them as in Manchester, Woodward believes it will. Current policy encourages taller buildings on the city's natural ridge to emphasise the skyline, but they can be allowed elsewhere if the quality is high and has design features including crowns. Developers must also be able to justify a location. It's on that basis that several have been approved in Digbeth even though there are no precedents.
'There are some there we have said no to,' remembers Woodward. 'Likewise, if we think it is appropriate, we will request developers to go higher.'
This taps into Birmingham's Connected strategy that outlines a shift from car to sustainable transport, including a clean air zone which will take effect in January. It is also investing in segregated cycleways – one for Digbeth is being discussed but the north-south route is already partially complete. Dormant stations at Moseley and Kings Heath's may also reopen and the next stage of the tram extension will get to Centenary Square by the end of the year and to Edgbaston in 2022. The live Transport and Works Act plans to take it east to HS2 and beyond.
Yet the sum of this transformation must include caution about finance and quality. The council is trying to bring hundreds of pages of design guidance into one document and it has set up the Design and Conservation Review Panel. But some completed schemes, and the demolition of the Victorian St Luke's Church, are evidence of the specific issues it needs to address. Woodward assures me, however, that the starting point of any development is how to protect and improve Birmingham's range of identities.
'We decided to create a Design Guide because some of the developments that were being put forward didn't feel ambitious enough, were mediocre in terms of materials or didn't think about place quality and were a constant struggle for us in terms of planning control in that they didn't meet what we wanted,' he says. 'We want to retool ourselves by setting out a clear agenda about what our approach should be. Birmingham deserves better.' It does and it seems more positive than ever it will get that.