Blue House Yard is many things to many people, and Jan Kattein Architects believed in the community scheme enough to raise its own investment for it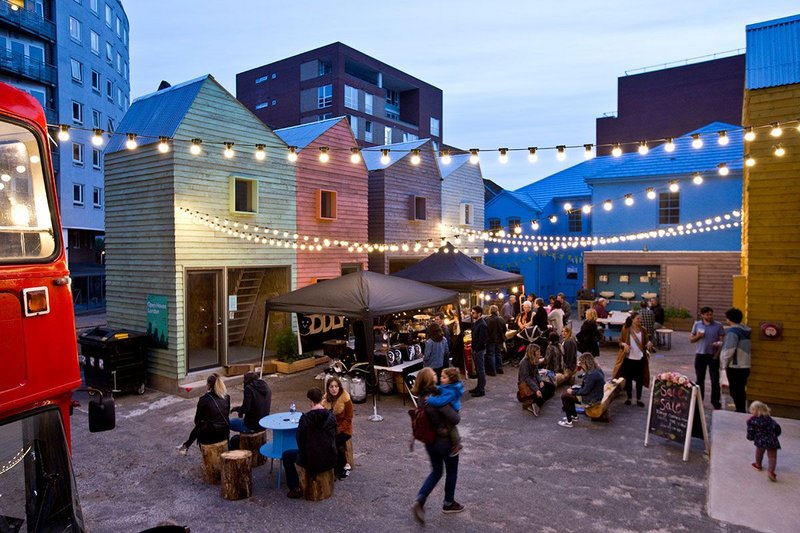 Blue House Yard

Credit: Jan Kattein Architects
Meanwhile Space CIC with Jan Kattein Architects for Haringey Council Wood Green, London
Even in the enterprising, community-serving world of the MacEwen Award it is unusual to see buildings where the architect has put a significant amount of money into a project. Jan Kattein Architects believed in Blue House Yard enough to borrow £50,000 to invest in it – and wait three years for its fees.
Schemes for this scrap of old council car park, alongside a boarded up council office in the centre of Wood Green in north London, hadn't stacked up with previous plans but with time ticking on GLA funding Haringey Council's regeneration team turned to Jan Kattein's practice, which it had collaborated with before. The site was intended to support the borough's many small businesses with affordable places to work. Kattein's plan looked at a less dense development than previous ideas – but it was achievable. 'I prefer to do less and get more for it,' he says.
It had to be done inexpensively, since the council had given the site just five years while it waited for a masterplan for the whole area to be freed up by decisions on the location of a Crossrail station. Keen to build and operate public space and workshops on the site with Meanwhile Space CIC, the project team started by talking to locals about possibilities for the site – and Kattein received letters of support when it went through planning.
Then came the big gesture – the plain 80s offices were painted blue; blue brick, blue roof, blue gutters, blue doors. People started to sit up and notice something unusual was going on. As fashion shoots showed up and sandwich-chain Subway shot a video alongside, Wood Green appeared to be getting a new sort of attention.
Kattein wanted to bring the community into the building process, and knew from the other projects that contractors had struggled to involve the public, hidebound by normal practice and health and safety rules. So the firm became its own contractor. It employed three full time carpenters and eight apprentices in partnership with a local college, while Part 1 architecture student Alice Hardy was trained to keep things moving on site.
The build was kept simple with low tech construction of timber frames built on site. Saturdays were team building events with local residents, future tenants, families and professionals coming along. They learnt skills alongside the builders, digging foundations, erecting the timber frames, installing insulation and fixing the cladding. RIBAJ Mac­Ewen Award judge Russell Curtis of RCKa was impressed: 'It ticks a lot of boxes because it has community engagement from the outset. Artists' workspaces are shrinking and involving users with design is really ­important.'
Not only were the worksheds in the yard relatively simple to build and cost a very reasonable £900/m2, the large components were also designed to be re-used elsewhere when this project is shifted on – a valuable way of designing for meanwhile spaces, felt the MacEwen judges. Velfac windows were donated after a call by the architects – making the best use of a cancelled order.
Six months after opening, the brightly coloured sheds, the bus housing a café and the yard itself have played host to numerous events organised by the tenants, including a vegan Christmas market that attracted a 1,000 people. It is easy to see that many of them, though new to their shops and studios, have had a longer term involvement with the project which means it has hit the ground running. And the sense of 'humanity and charm' identified by Curtis, has no doubt gone a long way to making it a success.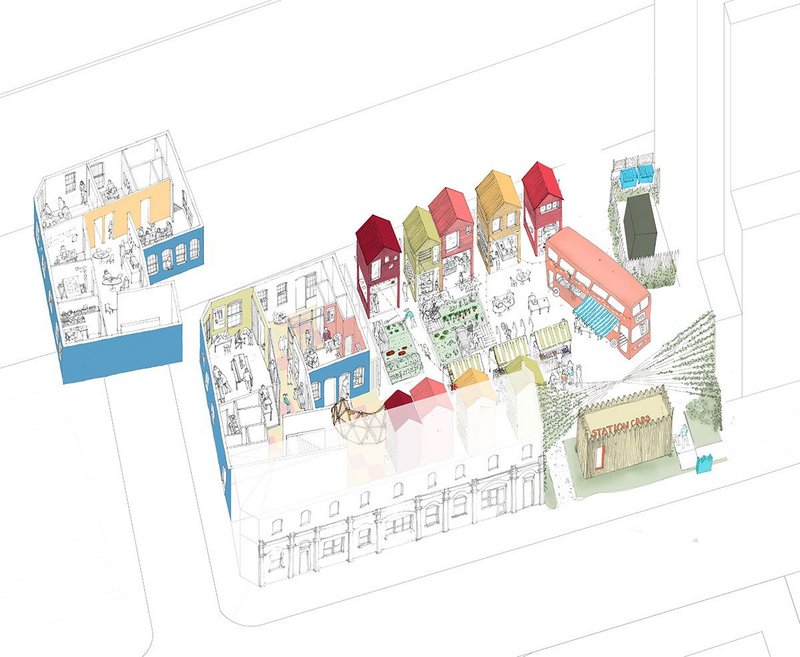 Blue House Yard axonometric

Credit: Jan Kattein Architects
Rents for workspace at Blue House Yard are capped at 80% market rate. All studio spaces in BHY are now let, providing a base for some 21 micro enterprises employing some 50 people.
Regular markets and an events programme are helping to establish BHY as a destination for local people and visitors.
What's special about Blue House Yard is the all-encompassing approach, combining the creation of maker space with the creation of public, retail, leisure and event space.
---
Credits
Client Haringey Council
Architect Jan Kattein Architects
Operator Meanwhile Space
Structural engineer Structure Mode