Take a tour of the buildings, parks and plans for this huge extension of the city centre along the Aire as Leeds hosts its own year of culture
'Leeds has tended to see the river as a full stop,' says Leeds director of city development, Martin Farrington. Just south of the city centre it was not only the River Aire that acted as a stop. There were also highways and swathes of land overtaken for brewing and manufacturing, including Carlsberg's Tetley Brewery and the flax mill of Temple Works. But how to pull it all together and give it an identity? Farrington hit on a name that stuck: 'I doodled Leeds South Bank in a very boring management meeting when I was thinking about something else.' With that name the river becomes an asset.
What is Leeds South Bank?
Leeds South Bank is a series of sites over 253 hectares; it takes about half an hour to walk across at its widest. It takes in the edges of the suburb Holbeck in the east (dubbed the Red Light Zone by a 2016 BBC documentary) and Hunslet and Knowsthorpe to the south. There is no single up-to-date masterplan, but aspirations were set by Arup and Gehl in 2018 - when High Speed 2's arrival in Leeds felt imminent. The city centre has plenty of retail and lots of commercial with the relatively recent Wellington Place. Figures in Deloitte's Crane Survey 2023 suggest that developers are investing in build-to-rent, which may have a part to play as the city's population grows.
This piece takes a snapshot of three major development sites: Temple in the west, owned by CEG; the central spine of Aire Park (part parks, part office and resi) being developed by Vastint; and the work of CITU in the Climate Innovation District to the east.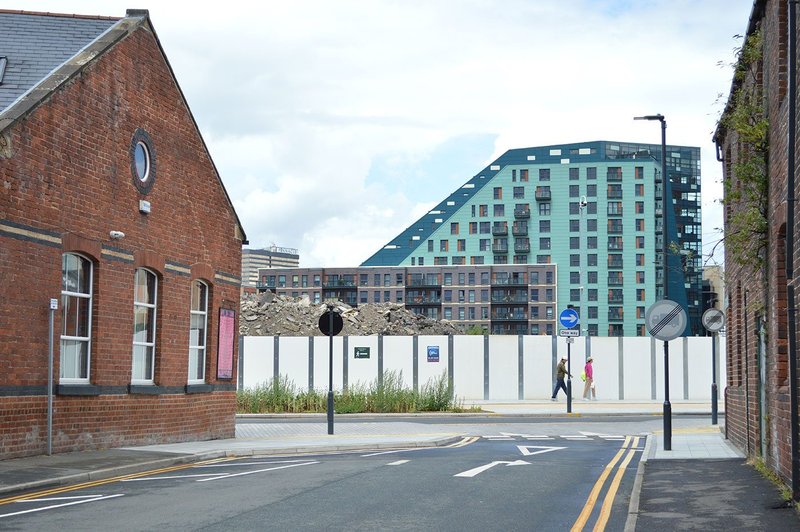 Leeds South Bank: Heritage, construction and high density development.

Credit: Flo Armitage-Hookes
Opening up the South Bank
One of the moves to unlock the South Bank site was the addition of a southern entrance/exit to the train station (designed by Bauman Lyons and Aecom); its blingy gold mouth was opened in 2016. Cutting through the station you are confronted with the force of the river itself, rushing dark and urgent through tunnels under the station. But outside on the South Bank this is serene in the summer sun, tamed as the highways are being tamed. Two new footbridges create new links and the city's Grey to Green initiative is making itself felt at the foot of the first. The newly opened, though unfortunately clunky, David Oluwale Bridge lands in a newly landscape piazza onto a traffic-calmed Meadow Lane with the four lanes and central reservation now taken down to two with new bike lanes.
There has already been development here over the decades. Those who attended the major real estate event, UKREiiF, in the past two years will have been to the rather dour Royal Armouries Museum, which opened as a museum and events space in 1996. There are education buildings clustered to the south, including the Ruth Gorse Academy (by Ryder architects, 2016) and Leeds City College, which uses a fantastic Italianate 1894 brick printing works, reworked by seven architects.
The legacy is mixed, many of the residential blocks leaving you with a sinking feeling as their hyperactive facades betray signs of poor build quality and age. As 2023 Leeds year of culture takes hold with a key installation all about sustainability - Making a Stand by Studio Bark with artist Michael Pinksy - can the next round of development create greener, more hospitable public spaces with buildings Leeds can be proud of?
Starting in Mustard Wharf the signs seem hopeful. Here three nine-storey blocks (2021), primarily for build-to-rent, might seem a brick overload, but brick detail leavens them when you get up close. The latest in the Legal & General development is Tower Works, designed by Ryder architects, with courtyards set around three historic distinctive chimneys (rather dwarfed by the housing blocks). In the centre is the historic engine house, planned as a post-production media facility to capitalise on Channel 4's 2020 relocation of its national headquarters to Leeds.
Two minutes south of Tower Works there is a sense of a buzzy scene in the small scale density of older buildings and work spaces around the reworked Round Foundry. Practice ArkleBoyce has been in the area for 10 years. 'Though it's next door to the station it has felt like an island away from the centre,' says director James Arkle. It has a postcode to match that sense of distance: LS11, although he likes proposals that have been floated for a rebranding to LS1.1. Arkle reflects on the possibilities and pitfalls of the development of the area. 'Historically Leeds has made mistakes in building and throwing things up quickly,' he says. 'We need to consider scale and understand the long-term effects of developments.'
Temple
Just opposite ArkleBoyce's studio is Globe Point. It is a pale brick office with a flat iron plan, the acute angle scooped out with a scallop into a welcoming entrance. Designed by Feilden Clegg Bradley Studios (FCBS), it was completed in 2022 and stands out as a marker of good design, architectural nuance and build quality, the first building in the CEG masterplan for Temple. FCBS hasn't been gifted the gig of delivering future buildings, but perhaps its masterplan will set the parameters for success for CEG to deliver. Leeds-born FCBS studio leader Alex Whitbread, who led on the masterplan, explains that there will unquestionably be a step up in scale. 'It's city scale, not town scale, bigger buildings, bigger spaces, bigger connections, bringing people to the other side of the river.'
The masterplan has a strong focus on landscape, with mill-style buildings. The 1840s Temple Works could create a destination deep into the site from the centre as British Library North, a move that was supported by funding of £25m as part of the West Yorkshire devolution deal.
Temple Works began life as Marshall's Mill. It was built in 1838-43 for flax industry titan John Marshall. Its striking neo-Egyptian design was inspired by contemporary drawings of Egyptian temples and features hieroglyphics, columns with lotus capitals, and winged sun motifs. The mill was lit by 66 conical skylights and its humidity innovatively controlled by a turfed roof, ventilation shafts and rainwater ducts. Sheep were used to maintain the grass roof until, it is rumoured, one fell through it.
It closed in 1886 and was subsequently used as a factory and warehouse facilities before being bought by the Barclay brothers in 2004. It stood empty, enduring years of neglect, until it was bought by CEG in 2017. Today, the structure is crumbling, the stonework stained and the is roof overgrown. Until restoration works kick in, lively graphic banners fly around the streets, a promise of bright things to come.
Aire Park
Much of the 8.1 hectares of the Aire Park development by international real estate company Vastint are marked out by lines of white hoardings. Peering through you can see a test facade and some of the buildings going up. Huge steps and the rills of the landscaping are starting to take shape and will make up the five acres of parkland that weave through the site, changing in character from formal to playful. The remaining building of the Tetley Brewery, now a contemporary art gallery, will act as a centrepiece, along with the Salem Chapel (now a multipurpose conference venue with the ground beneath serving as a connection hub for Leeds' broadband network). The landscape - designed by Planit-IE - aims to be distinctively Leeds, using some of the plants that would once have fed the brewery.
Later this year two buildings facing onto it are set to open with a total of 28,000m2 commercial space between them. Plans for four new residential blocks - ranging from seven to 21 storeys, with 651 homes and a multistorey car park - are expected to go through planning this year. On one edge of the site construction has started on a seven-storey office designed by Cartwright Pickard, a mix of green glazed brick and etched precast fins. From the visualisations available it is hard to see whether Vastint's buildings development will be 'distinctive' as it states it wants to be and transcend the rather dull tropes of city centre regeneration.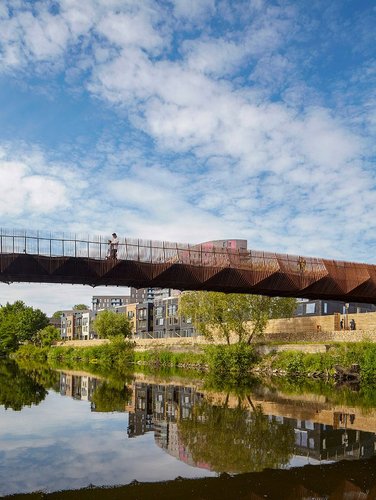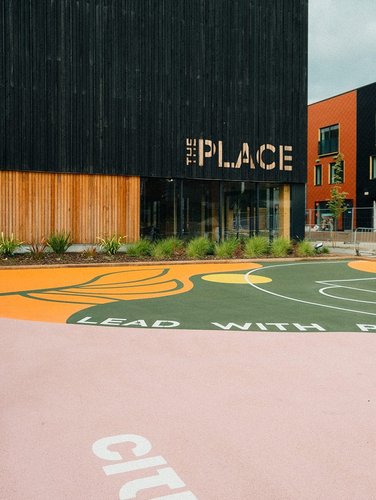 Climate Innovation District
One place where that is certainly happening is south east along the River Aire, in the Climate Innovation District. Here architect-trained Jonathan Wilson is managing director of CITU, which is building houses, apartments and, soon, a school and care home. Pitch up at the office, on the site, and immediately you can see this is a different sort of developer. A couple of people play over the dramatic coloured lines of the unfenced basketball court at the front, you step over a ramp of grilles with tiny plants nestling below, into an airy space with a bold glulam structure, built by the team in 2020 through lockdowns.
Next door is the factory from which comes the roof, floor and wall cassettes, with triple-glazed windows installed as needed. Doing its own manufacturing is not the only unusual process. CITU also directly employs many of the trades with four squads of joiners, plumbers, electricians and apprentices competing to build the best and fastest (knowing they will also get to meet the residents). And CITU has a 20-strong design team, headed by Wilson's tutor from architectural school, Simon North.
Why build your own design team when there are good practices out there, I ask Wilson. After initial collaborations, including with White Arkitekter on the masterplan and housing typologies, he now believes the feedback loop of learning lessons and close collaboration is easier with a team in house. And when you are pushing the boundaries it is easier to take risks on your own professional indemnity insurance. Walking around site it is easy to see how this works: everyone warmly greets Wilson, who also lives on site.
Taken on their own the photographs of the new townhouses seem a little uninspiring, but step over the CITU bridge with its Cor-Ten concertinas and walk along the front of the first terrace and you get it. The houses of the lower terrace face out through a free-flowing landscape of their own small growing areas, with seats in front of the French doors set among the flowers with views of the water. The gardening (this is more than landscaping) is understated and wonderful.
Inside, simple layouts are elevated by a three-storey void. This is the secret weapon in these innovative back-to-back houses, allowing carbon efficiency and buildability while bringing in light and air to the back of each of the houses. The taller blocks of apartments on the city side of the site are clad in a light gauge of steel (a post-Grenfell fire substitute) and display less of the character and warmth of the houses, although phase two will be equipped with balconies, which should help.
The carbon is tracked, along with the cost and the target for these homes is 150 KgCO₂eq/m² (A1-A3, categories 1-5), excluding the positives of the carbon sequestered in the timber frame. They are built to Passivhaus principles with a prototype house testing additions such as shading. Equally fundamental - and important to the site returns as well - is the exclusion of cars from the site.
It is not clear that other developers have bought into CITU's Climate Change District Initiative just yet. At 22 acres and 950 homes when complete, this is not huge when compared with Vastint's Aire Park, but it feels like there is a lot to be learned from it, both for South Bank developments and more widely. It engenders a sense of optimism about living on the South Bank.
Like all regeneration projects, Leeds South Bank is undergoing a slow process of change. Much remains the same - it still has a little old industry, Asda's headquarters and a big store shopping mall gathered around a sea of parking over the way - but it is changing. Back to Leeds director of city development, Martin Farrington: 'It will come into its own in the next five years. It is an exercise in dynamic patience.'
Additional reporting by Flo Armitage-Hookes. With thanks to Oliver Loomes, Planit-IE; Ben Pipkin, Cunniff Design; Amanda Whittington, FCBS; Christine Cavanagh, RIBA. Lead image CITU