An innovative and sustainable community structure, The New Generation Youth Centre makes a positive impact in deprived Lewisham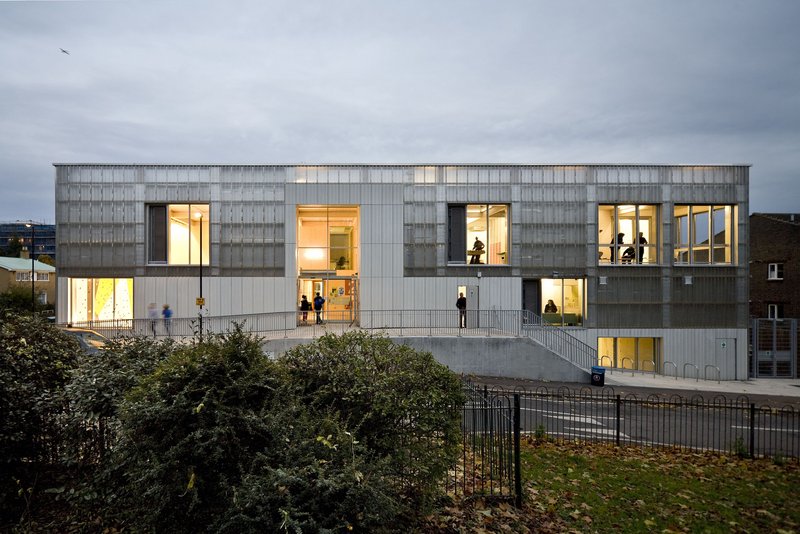 RCKa Architects for The London Borough of Lewisham
Location: Lewisham, London
TNG is a £3.5m new-build youth and community centre, delivered following funding that RCKa identified and helped secure with the support of Lewisham council and stakeholder groups. Facilities range from climbing wall to recording studio and include sexual health advice and treatment rooms, youth support offices, IT suite and multi-use performance hall.
Lewisham Council positively took up RCKa's approach to widen the definition of client to include over thirty local groups, users and service providers, who were put at the heart of the design and brief-formation process. Young people in particular were key, for whom an influential steering group was set up.
The project generated enormous support within the local community and wider borough, exemplified by a 'Make a Difference' award for the young people involved and loud cheers at planning committee when the scheme was approved.
TNG is rooted in its potential to make a positive contribution to the local community in one of the most deprived areas of London: transforming the lives of Lewisham's young people. A dramatic central entrance space resolves complex site levels and forms an accessible and vibrant heart; one that engages and welcomes visitors and is alive with activity and opportunity.
Innovative sustainable construction is fundamental to the architectural language with an exposed timber structure, efficient north-south orientation, passive ground-cooled ventilation, large window and rooflight openings and simple grids of energy-efficient light fittings. The result is an un-precious, low-energy and flexible building that encourages a sense of ownership.
Having grown very much out of the local community, prior to its opening there was a palpable buzz around the centre. Measurable metrics include a dramatic reduction in reported antisocial behaviour, increases in the number of 18-19 year olds in employment, and tangible improvements in community relations that recently saw the Met's Neighbourhood Team host events at the centre - before losing badly at 5-a-side football.