'Something exceptionally beautiful, of the highest quality, where accessibility is not a compromise'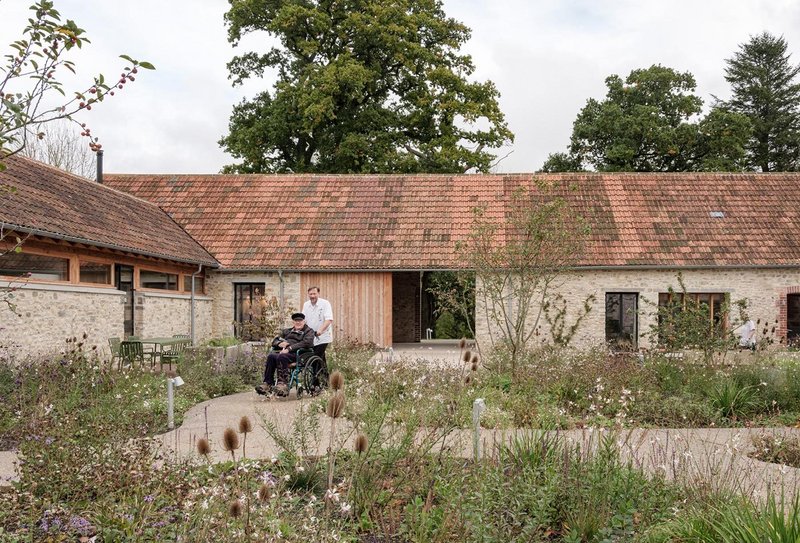 Wraxall Yard, Dorset, designed by Clementine Blakemore Architects.

Credit: Emma Lewis
Wraxall Yard, West Dorset
Clementine Blakemore Architects for Wraxall Yard
Contract cost Confidential
GIFA 800m2
Wraxall Yard is a collection of five holiday cottages within a restored dairy in a picture-book hamlet in west Dorset. Run as a not-for-profit, the scheme promises fully equal access for disabled guests in a serene, restorative setting, and has been crafted with a level of care that touched and impressed the MacEwen Award judges.
'Collectively we don't go out of our way to support this marginalised community,' said MacEwen judge Anthony Staples. 'But here is something exceptionally beautiful, of the highest quality, where accessibility is not a compromise. This is quite special.'
It's the creation of organic farmer Nick Read and Clementine Blakemore Architects, which spent months on research before beginning design work, consulting wheelchair users and the Centre for Accessible Environments. The aim was to ensure that all guests can experience the place in the same way, with no special routes, ramps or handrails required, and no loss of quality in the fixtures and finishes where specialist equipment is required.
The complex comprises beautifully restored 19th-century stone barns around a rectangular courtyard, with later buildings to the south framing a more open farmyard. Entering the courtyard through a new sheltered breezeway, curving paths snake through a lush garden to patios at each cottage door, rising and falling gently over the sloping ground.
Inside the cottages, accommodations for disability are invisibly present throughout, blending seamlessly with the agricultural chic of the architecture and decor. In the kitchens there are stainless steel rise-and-fall kitchen worktops and pull-out shelves below ovens. Smooth concrete floors allow easy rolling for wheelchairs, while greeny-grey wainscotting protects plaster walls from knocks. Attention has gone to the smallest details. Table clearances were adjusted, and new frames made for the mechanism of electrically operated profiling beds. A mechanical hoist is concealed within one of the buildings' retained timber trusses.
A key principle of the project is that everyone has a right to enjoy the countryside, and a timber boardwalk leads from the cottages down to the banks of a nearby chalk stream. Visitors can interact with animals in a restored Dutch barn in the farmyard opposite a 'community space' equipped for use both by guests and local groups.
'This project is serving a community that is UK-wide,' observed judge Joan Kerr. 'The statistic that more than 60 per cent of guest groups have included a disabled person shows how needed it is, and that the design is working.'
---
For more on MacEwen shortlisted projects and architecture for the common good see ribaj.com/MacEwen-Award
Credits
Architect Clementine Blakemore Architects
Client Nick Read, Wraxall Yard
Structural engineer Structure Workshop
Services engineer Ritchie+Daffin
Landscape designer Hortus Collective
Below ground drainage designer Genever & Partners
Quantity surveyor Align Property Consultants
Accessibility consultant Centre for Accessible Environments
Identity and wayfinding Smiths Studio
Main contractor Stonewood Builders