Richard Murphy Architects for Fife Cultural Trust (part of Fife Council), Dunfermline, Fife, Scotland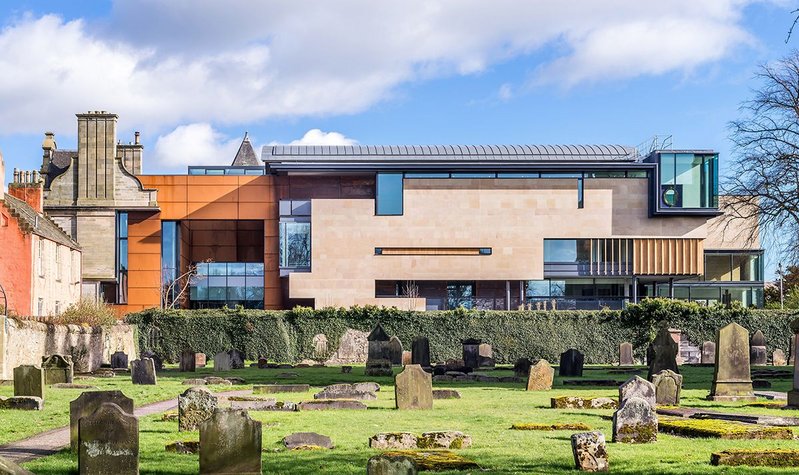 Carnegie Library and Galleries.

Credit: Chris Humphreys
The Carnegie Library & Galleries provides a museum, art gallery, reading room, children's library, café and meeting rooms in the heart of historic Dunfermline. The new building is 2,300m2 over four floors arranged around a top-lit internal street. The main vertical circulation is an architectural promenade which criss-crosses the street on bridges visiting all the facilities in turn. The interior has many and often unexpected views out to the surrounding historic buildings, the abbey graveyard and the distant landscape. Connections to the outside form part of the museum's exhibition. The new entrance comes off a garden designed by the architects, where previously there had been a car park.
The building was won in a limited competition and took 10 years to realise. It was built for client Fife Council through the Scottish 'hubco' system where the architect is employed by the contractor during the construction period. The client won the RIAS Client of the Year Award 2016.
Since opening in May 2017 the building has attracted an astonishing number of visitors. The centre has become a social hub for the town, the café is full and the lending library has doubled its footfall. In a time of closing libraries, the Dunfermline project has demonstrated how making the library a part of a wider cultural attraction can guarantee its future.
---
Credits
Architect Richard Murphy Architects
Structural engineer Aecom
M&E engineer Rybka
Quantity surveyor Redman Design
Contractor BAM Construction
Client Fife Cultural Trust/Fife Council