Schools retrofit programme 'serves environmental and education agendas'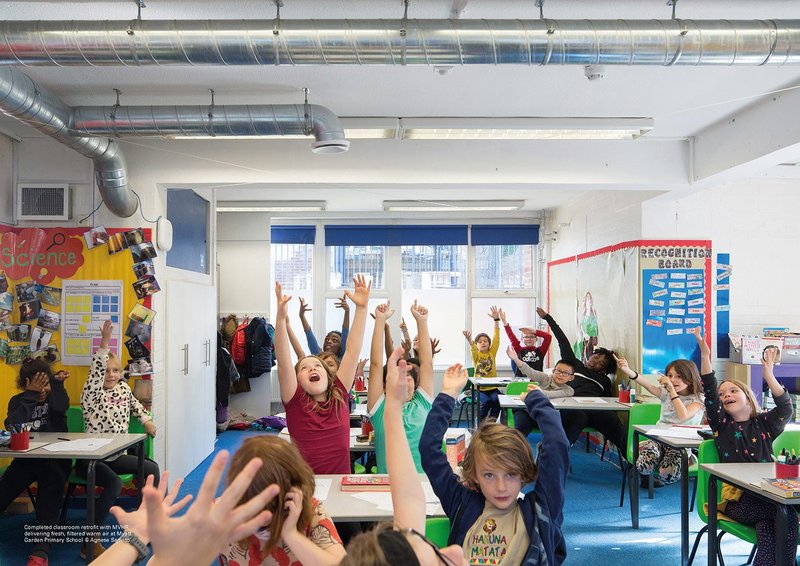 A children's workshop, designed to teach pupils about how buildings can be adapted for improved performance, involves them in the process.

Credit: Agnese Sanvito
Lewisham Zero Carbon Schools, Lewisham, London
Retrofit Action for Tomorrow (RAFT) for Dalmain Primary School, Downderry Primary School, Myatt Garden Primary School, Torridon Primary School and St Winifred's Primary School
Contract cost £1,080,000
GIFA 4664m2
Five Lewisham primary schools – Dalmain, Downderry, Myatt Garden, Torridon and St Winifred's – engaged with architect-led retrofit consultant RAFT to upgrade their buildings.
While the architectural changes differed for each school, the wider scheme had a heavy emphasis on community education, making its positive impact far greater than straightforward building upgrades. 'This project serves environmental and education agendas,' said Isabelle Priest.
In collaboration with the London Borough of Lewisham and with Low Carbon Skills Fund support, RAFT began with workshops and a zero carbon plan for St Winifred's Primary. This expanded to encompass more schools and brought about increased participatory engagement. The culmination in 2022 saw whole-building retrofit measures completed at three of the schools, with funding secured from the Public Sector Decarbonisation Scheme. Interventions included removal of fossil fuel heating, upgrades to building fabric, improved ventilation and rainwater gardens.
Meanwhile, at 83 schools across the borough, retrofit workshops were delivered to more than 250 staff, and 2,300 children were engaged with via assemblies. More than 200 children learnt about energy use, waste, the climate emergency and the impact of deep retrofit at in-depth workshops.
'The submission was very strong,' said judge Joan Kerr. 'I liked the aspect of using the zero carbon initiatives to engage people and get their interest.'
'The actions of our school potentially influence the actions of up to 2,500 people in the local community,' added one head teacher; indeed, RAFT even received a phone call from a parent whose daughter had instigated a family discussion about retrofitting their home after attending a workshop.
---
See more on MacEwen shortlisted projects and architecture for the common good here
Credits
Architect Retrofit Action for Tomorrow (RAFT)
Structural engineer Martyn Long, Lawson Martin Long Consulting Engineers
Carbon consultants Carbon Intelligence
Airtightness testing Heat Space and Light
MVHR design (Myatt Garden) Green Building Store
CDM principal designer Sweco
Planting designer LM Gardens
Main contractor T Brown Group
SUDS contractor (Dalmain) SNS Solutions