'You can see and hear excitement on every floor'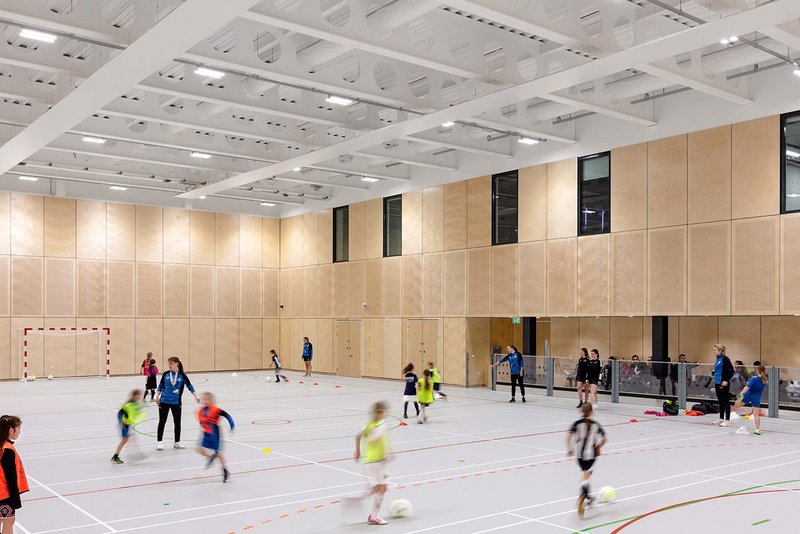 The four-court sports hall at the new base for the Newcastle United Foundation.
NUCastle, Newcastle upon Tyne
Ryder Architecture for Newcastle United Foundation
Contract cost £5.6m
GIFA 1,680m2
The £5.6 million scheme is the new home for the Newcastle United Foundation, the charitable arm of the Premier League football team. The foundation aims to deliver over 30 programmes to communities in Newcastle, and needed a base for activities in sports education, health and fitness, mental wellbeing, employability and outreach.
The result is a state of the art community building that incorporates diverse facilities to enhance sports and learning. 'Life in our new home is incredible,' says client Steve Beharall. 'The design has transformed our ability to give participants the best experience. The building allows us to engage with our community in new ways... You can see and hear excitement on every floor.'
Built to welcome 100,000 people a year, the new building has a four-court sports hall, a U8 mini soccer rooftop pitch, a spin studio and activity studio and associated changing facilities – used by local charities including those geared for disabled users. A flexible STEM classroom, further teaching spaces and an e-sports room are also used by local schools.
During the building's creation, the project team provided apprenticeship places in construction and across the design team. As a large and well-funded scheme, its impact is correspondingly far reaching. 'In terms of impact, this is transformational in the Newcastle area,' said judge Kathy MacEwen. Isabelle Priest commended it as a 'transparent, welcoming building, doing a range of things about employment, sports and learning – and the architecture is pretty exciting based on those standards.'
---
See more on MacEwen shortlisted projects and architecture for the common good here
Credits
Architect Ryder Architecture
Contractor Robertson Construction
MEP Black and White Engineering
Structural engineering Studio Horn Engineering Design
Landscape design Oobe
Project management Todd Milburn Partners
Cost consultant Gardiner & Theobald