'The project serves as a case study for new forms of hyperlocal, sustainable rural development'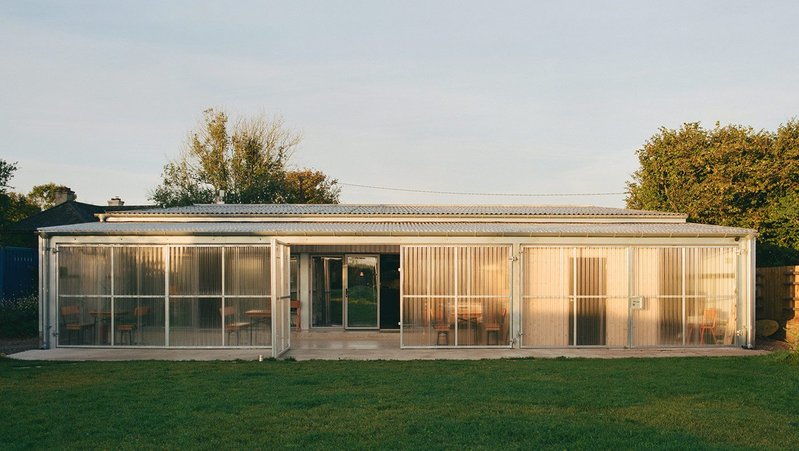 Outside, Bantham, Devon by IDK.

Credit: Toby Coulson
Outside, Bantham, Devon
IDK for Outside
Contract cost Confidential
GIFA 240m2
Rural South Hams has 'many unique qualities,' explains client Paddy Wellens of social enterprise 'Outside'. Yet 'it lacked places that bring people together, in particular younger generations.' This project is a multi-purpose hub that promotes sociability, wellbeing and learning, which the community can invest in through co-ownership.
The 1ha facility combines a farm with a leisure facility and co-working space that hosts skateboarding, an orchard, play area and football pitch, a café, ceramics studio and surfboard shaping workshop. The main building is a dilapidated structure reworked by a local agricultural construction company, and a self-built interior. There is a hint of Lacaton & Vassal in its polycarbonate materiality, light airy spaces and generosity of spirit.
'It adds missing pieces to the area's social and economic life,' explains the architect. 'The project serves as a case study for new forms of hyperlocal, sustainable rural development.'
The judges valued the project's contribution to rural life. 'It's radical for a rural setting,' said Anthony Staples. 'To get something like that working and used and well visited seemed really special... and I like the low cost, impactful, generous spaces.'
Community support saw more than 500 letters from local residents and £60,000 raised for the skate bowl from 300 crowd-funding donors.
'The mixed-use site encourages cross pollination of individuals and groups with a restored natural ecology,' says IDK. 'As the network grows, Outside has the capacity to evolve and adapt in the image of the local and wider community which it looks to engage.' 'I couldn't believe they'd done it and made it work' said Isabelle Priest. 'I saw it as a coming together of a lot of different activities and people. This would have been useful when I was growing up in the countryside.'
---
See more on MacEwen shortlisted projects and architecture for the common good here
Credits
Architect IDK
Client Outside
Contractor Chris Hodgson Engineering Ltd
Skatebowl Opus Skateparks/Betongpark
Structures NR Associates
Project manager Paddy Wellens, Outside
Construction manager Swift Construction Management
Landscape/ecology Wychwood Biodiversity
Civil engineer Consulting engineer
Approved building control Assent
Planning Mark Evans Planning Ltd