'Radical and unprecedented in its brave and inspired act of collaboration'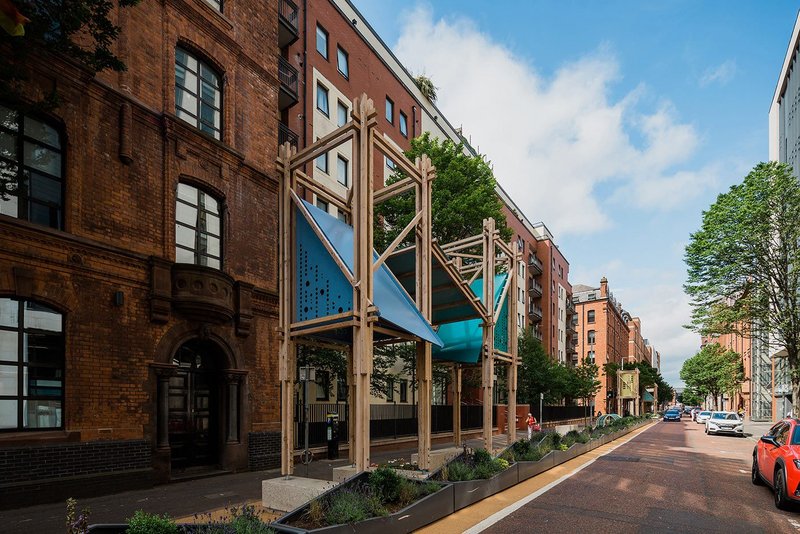 Adelaide Street. Copyright OGU Architects.

Credit: Joe Laverty
The Adelaide Street Project, Belfast
OGU Architects + MMAS for Belfast City Council
Contract cost £390,000
GIFA 1400m2 external
This brief from Belfast City Council, one of the UK's most car-centric cities, requested a scheme that would connect people through the city while celebrating its built heritage. Adelaide Street is a connecting corridor used by residents, business owners and office workers, yet there was no outdoor space for residents.
The design team replaced one lane of traffic in a two-lane road with an urban garden, improving the environment for all users. Solar powered 'totemic lanterns' reference the area's linen heritage, offer shelter and spark users' imaginations. A demountable, reusable installation of quality craftsmanship (using sustainable materials such as local larch) minimises waste on the temporary scheme. The resulting architecture has 'appropriate gravity and articulation for a city-centre public space, qualities that are often lacking from perceived temporary, tactical urbanism' says the architect. This intervention was radical and unprecedented in its 'brave and inspired act of collaboration'.
'The discussion about how difficult it is to get these projects off the ground in Belfast... clinched it for me' said judge Isabelle Priest. 'This is probably the nicest piece of architecture of all the public realm projects,' agreed Anthony Staples. 'You can just imagine the council not wanting to take away half a road'.
But as client Brighdín Farren of Belfast City Council comments, all parties were satisfied with both the result and the process – 'a comprehensive co-design approach, which involved young and old residents, workers, diners and disability advisors, working collectively to create a high quality linear park accessible to all ages and abilities'.
The fact that 'the entire construction team was working to bring their home city back to life,' was, says the designer, key to the project's success.
---
See more on MacEwen shortlisted projects and architecture for the common good here
Credits
Architect OGU Architects & MMAS
Structural and civil engineer Design ID
Road design support Department for Infrastructure
Quantity surveyor WH Stephens
Planting design Lisa Murray (Belfast City Council)
Main contractor delivery FP McCann (DfI MTC)
Supply contractor Fabrite