Budget upgrade keeps low-cost artists' studios amid property boom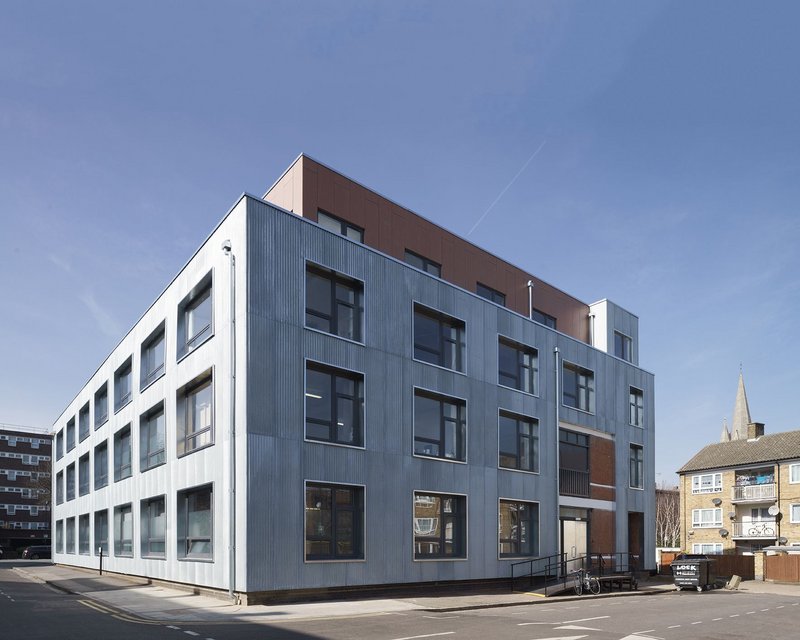 Sarah Wigglesworth Architects for SPACE
Location: Hackney, London
One of a series of recent buildings by Sarah Wigglesworth Architects for creative arts charity SPACE, this light-touch refurbishment of a former industrial building provides 2,305m2 of affordable artist workshops, preserving some of the rich character of East London in the face of creeping gentrification and bland new development.
Artists have lived and worked in East London for decades: however the delicate balance of the area is threatened as a booming property market and planning deregulation encourages the conversion of working to living spaces. The creative individuals who once redefined the area are increasingly unable to access affordable space.
Deborah House secures the future of a large former factory as a series of high quality and affordable artists' studios in perpetuity. The project revitalized a dilapidated existing building and improved its impact on the surrounding neighbourhood.
It was already in studio use but a cost-effective refurbishment was needed if affordable studio space was to remain available to artists. At a mere £363 per sq.m, Sarah Wigglesworth Architects certainly fulfilled that aspect of the brief.
The most noticeable intervention is a new façade of external insulation and metal profile cladding, echoing the building's geometric grid and industrial heritage. The cladding protects existing but decayed brickwork, and improves the building's thermal efficiency. While this new 'skin' gives Deborah House a contemporary new identity, strategically arranged cut-throughs reveal areas of brickwork and the building's original materiality.
New large-pane windows with projecting galvanized steel surrounds pierce the cladding, expressing the existing building's simple geometry and filling the studios with natural light. A roof extension provides additional studio space and replaces a dilapidated saw-tooth roof. A new 400 sq.m biodiverse living roof provides a wildlife habitat and reduces storm water run-off.
By providing a viable alternative to speculative residential redevelopment, Deborah House shows how artists' organisations can continue to revitalise the city.