A flexible cultural composition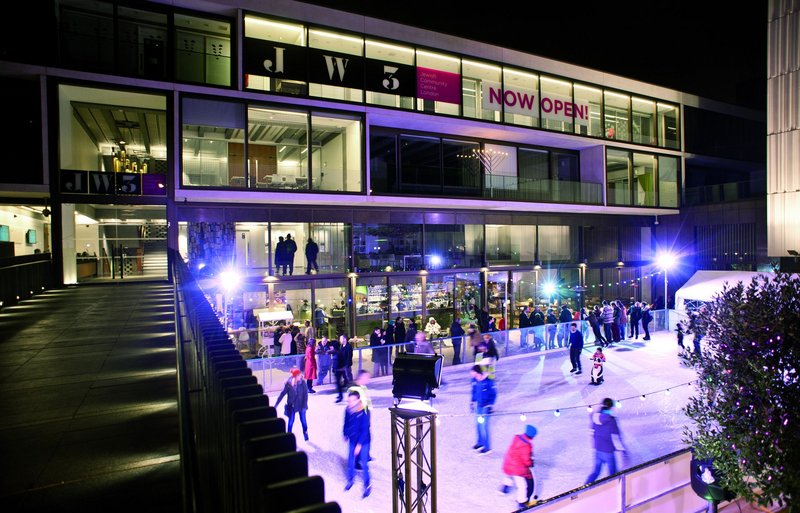 Lifschutz Davidson Sandilands for JCC Ventures
Location: Finchley Road, London
This is a secular building that respects Jewish religious traditions, designed to be open and inspirational rather than formal or intimidating - a place where new culture is both created and enjoyed.
There are four key elements to the architectural composition: the pavilion separating it from the Finchley Road; a sunken piazza between it and the highway; an entrance bridge spanning over the piazza and an apartment tower marking the site. Setting the four storey pavilion 25m away from the busy main road creates an intimate, sheltered and versatile outdoor space allowing the building to be naturally ventilated without traffic pollution.
The pavilion offers a high degree of flexibility. A room may host a dance or aerobics class in the morning and a book group later that day. A multi-purpose hall with retractable bleacher seating and semi-sprung floor provides space for 200 at seated events; 285 seats for dance, music, and theatrical performances.
JW3 is designed to be a welcoming community centre in which people of every age, background, and persuasion feels comfortable and at home. The organisation's vision and aims ensure it is engaging with the local, London and Jewish community and its social impact goes from strength to strength.
JW3 is open to everyone. An important part of its mission is to create better understanding between different communities and cultures. JW3 has commissioned creative, cutting-edge arts and cultural activities and promoted the best of Jewish values. It has run debates on key issues for the community, including contentious ones. It has actively encouraged the sharing of scarce communal resources, and expertise, and will create opportunities for collaborative partnerships. The local girls' school uses the auditorium for its main assemblies four times a year, and smaller Jewish organisations have hired spaces on a permanent basis.
JW3 was completed in September 2013 and since then has achieved 250,000 visitors per annum - four times its annual target.