Remaking a school to teach sustainability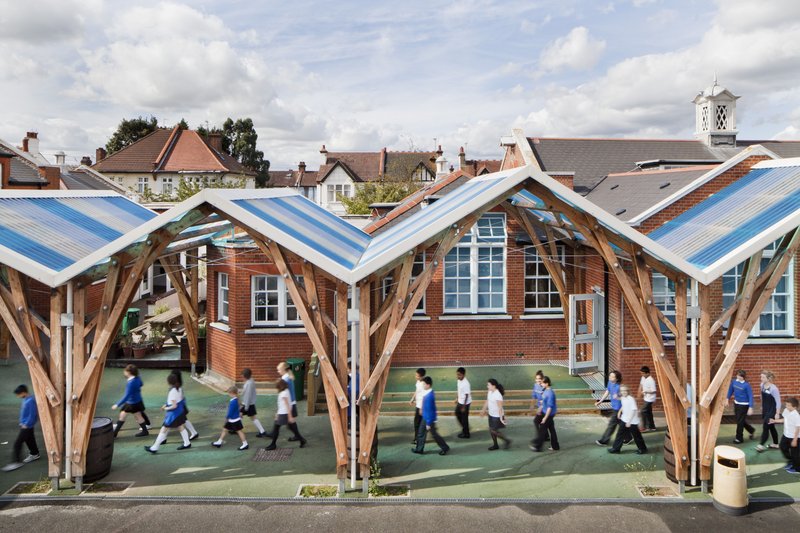 Cottrell & Vermuelen Architecture for Southend-on-Sea Borough Council
Location: Southend-on-Sea, Essex
This project involved a major refurbishment of the main Edwardian school buildings and adding a covered walkway, vastly improving circulation and the overall school environment. The redevelopment has allowed the school to become a focal point within the community, leading the public and creating inspiration in sustainable living.
The project is the latest manifestation of Cottrell and Vermeulen Architects' long-term partnership with Westborough Primary School. Through projects such as this, the well-known Cardboard School project and many others, Cottrell and Vermeulen Architecture have worked with the school for over 20 years.
Externally, a new entrance enlivens the street and gives prominence to the school, opening onto a large reception area. Moveable partition walls added to the school hall maximise the use of space and accommodate a range of activities. A new external walkway features photovoltaic panels, vastly improving circulation and outdoor play space while reducing carbon emissions by an estimated 17,000kgCO2/annum.
Both in design and as built, the design incorporates a high level of user participation. Cottrell and Vermeulen Architecture have used the school as an education tool within itself by expressing several environmental design techniques. Photovoltaic panels are celebrated rather than hidden on the outdoor walkway, while students can easily monitor power and energy usage, and CO2 savings on an electronic display. Through collaboration with staff, students and parents, Cottrell and Vermeulen Architecture have allowed the community to claim ownership and take pride in the building.
The design creates palpable benefit for the school's student and staff members, and has provided a successful example of something that can be replicated throughout the country, reducing the nation's overall environmental impact while educating children on the importance of renewable energy.