AHMM's Alder Centre in Liverpool uses the concept of a 'secret garden' to provide support for bereaved individuals after the death of a child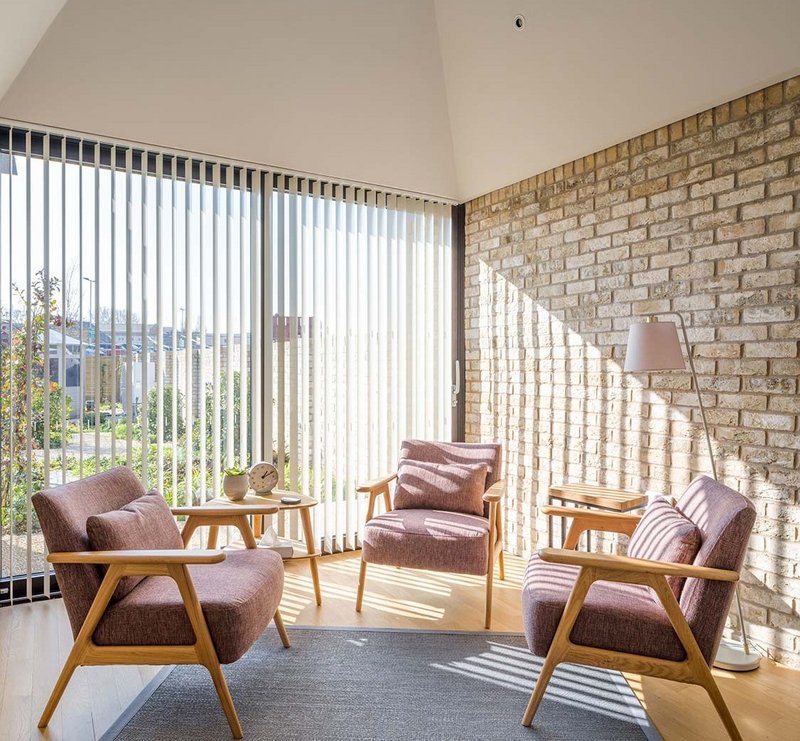 Each counselling room opens to a private garden and is lit by an openable skylight.

Credit: Timothy Soar
Building The Alder Centre
Location Alder Hey Children's Hospital, Liverpool
Architect Allford Hall Monaghan Morris
Building type Bereavement centre
The Alder Centre – linked to Alder Hey Children's Hospital, Liverpool – is a unique service providing support to bereaved individuals after the death of a child. AHMM's architectural intervention provides sensitive and restful purpose-built spaces.
The concept is that of a house set within a 'secret garden' to create a familiar, domestic-seeming environment. At the heart is a large communal area comprising a lounge and kitchen from which seven counselling rooms unfold, each with a private garden and openable skylight. Other rooms within the orthogonal grid include a training room, office and base for a bereavement helpline.
The design team worked directly with volunteers, parents, families and staff. 'AHMM went to exceptional lengths to understand the project,' said the client, 'to deliver an iconic building which ultimately won an award at the European Health Congress 2021.'
To fund the project, the engineers, design team and contractors engaged in fundraising efforts of their own – contributing £100,000 as well as securing donations from suppliers and product manufacturers, including Vitra, Dornbracht, Velux, SCP, RB12 and electrical subcontractor Senate.
A beautiful, well-considered project providing a tranquil, safe space
These endeavours moved the judges. For Kathy MacEwen, this is 'a beautiful, well-considered project providing a tranquil, safe space to be … the intricacies and fundraising efforts were admirable'.
The architect's painstakingly collaborative approach with staff and service users was commended by Denise Bennetts, who noted that, considering its troubled past, 'if anything needs healing it is Alder Hey itself' and that AHMM's process seems to have been sensitive to this, despite not directly voicing it.
The project was an expensive one by an award-winning practice, prompting the judges to observe that one would hope for high quality under such conditions. But this did not detract from the conclusion that – in Eleanor Young's words – 'it looks like a lovely place to be'.
For more on MacEwen shortlisted projects and architecture for the common good see ribaj.com/MacEwen-Award
Credits
In numbers
Cost Confidential
Area 320m2

Architect Allford Hall Monaghan Morris
Client Alder Hey Children's Hospital
Contractor Whitfield and Brown (Developments)
Landscape architect BBUK
Structural engineer Elliott Wood
MEP engineer David Stillman Associates
Cost consultant PT Projects

Suppliers
The following suppliers are of note as they provided their products as either donations or discounts, in the spirit of goodwill:
Furniture SCP
Joinery and kitchen RB12
Taps Dornbract
Sanitaryware VitrA
Rooflights Velux