Alex Dutton / SNUG Homes' Lockleaze factory in one of the city's most deprived neighbourhoods has been shortlisted for the MacEwen Award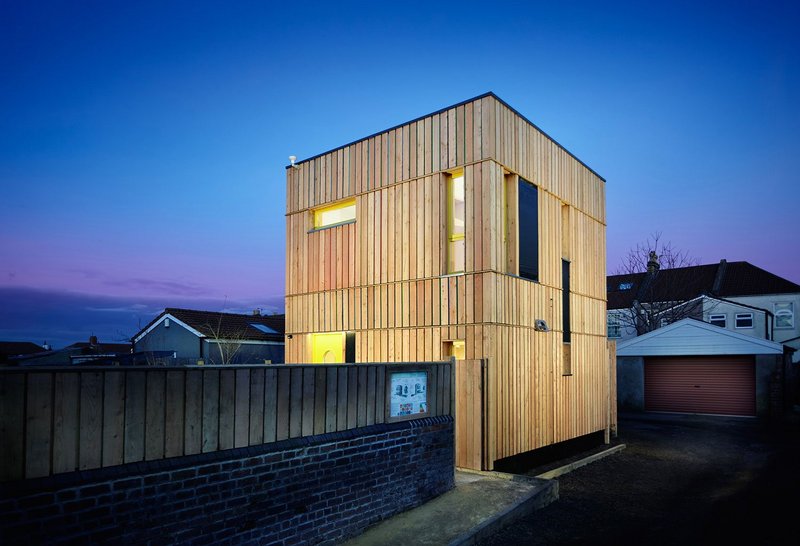 The compact homes have a small footprint to be inserted into backland plots.

Credit: Tony Gilbert
Building Home-Made: Lockleaze
Location Lockleaze, Bristol
Architect Alex Dutton / SNUG Homes
Building type Housing
'Our housing market is broken, fuelling social inequality and climate breakdown. The solution is collective action to create housing which serves our needs.' This is the ethos of Ecomotive, the Bristol-based workers' cooperative responsible for delivering Home-Made, a modular housing factory, combining high-quality ecological housing production with community participation. It offers employment, self-build training and housing support, and is located in Lockleaze, one of the city's most deprived neighbourhoods.
Ecomotive and SNUG Homes started Home-Made in 2019, when the first 'SNUG home' was completed in conjunction with a training programme and community engagement activities. Partnering with Lockleaze Neighbourhood Trust (LNT), the group is developing five self-finish zero-carbon offsite modular homes. They are designed to be built with hand tools, using readily available, low-impact materials to achieve net zero performance and low embodied energy.

The footprint is small and the building compact ('snug in size and snug in warmth,' commented judge Eleanor Young). Some of the judges raised concerns about space standards but agreed that if the housing was a temporary provision, it addressed a substantial problem well.
The scheme aims to regenerate areas by bringing backland plots back to use. It is also committed to a number of linked social factors: home provision for existing residents; diversity of housing provision; high-quality design; climate change mitigation; low running costs for occupants; skills training and employment for local trades and individuals.
'It's great to have a housing factory coming forward for the award,' said judge Kathy MacEwen. 'It's a big step; maybe they will go on [to create more]'.
'To have homes aiming for net zero is pretty exemplary,' said judge Denise Bennetts. 'It is tiny, and not necessarily what we want to be living in long term, but as a stepping stone it is appropriate … the fact that they are taking a broad interpretation of sustainability goals, prefab and self-build goals to create a pleasant environment is fantastic.'
For the client, the scheme is a successful one. 'Home-Made was established to help address the significant shortfall in the provision of social housing in the southwest,' said Steve Baker, of partnership company Homemade (Pickwell). 'The project aligns fully with these aims and empowers communities and people to be actively involved within the housing design and build process'.
They are taking sustainability, prefab and self-build goals to create a pleasant environment
Credits
In numbers
Cost Confidential
Area 44m2
Client Homemade (Pickwell)
Co-Founder Ecomotive Limited
Collaborators Lockleaze Neighbourhood Trust, Bristol City Council, Innovate UK
Structural engineer Milner Associates
Services engineer CCBE
Sustainability Greengauge / Hutchinson Sustainability Solutions