A slender 40m-span structure replaces the flood-destroyed structure that gave the town of Pooley Bridge its name has been shortlisted for the MacEwen Award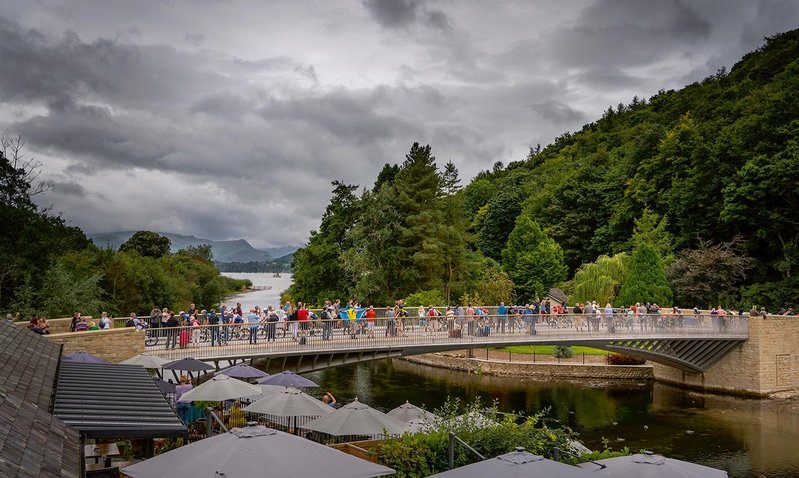 Knight Architects' 'beautiful and resilient' bridge, with its unique structural solution, has reconnected the Ullswater community.

Credit: Tom MacNally
Building Pooley Bridge
Location Pooley Bridge, Cumbria
Architect Knight Architects
Building type Bridge
In December 2015, severe flooding washed away the structure that gave the Cumbrian town of Pooley Bridge its name: a 250-year-old grade II listed three-span stone arch bridge across the River Eamont. The town forms part of the Lake District's Unesco World Heritage Site and the bridge was a critical infrastructure link for the town's inhabitants.
Cumbria County Council began a tender process for a new bridge, with stakeholder involvement, in mid-2017. It had to be both flood-resilient and future-proof. Knight Architects was appointed as 'concept guardian' of the design, which comprises a slender 40m-span open-spandrel arch with a stainless-steel and high-strength concrete structure. This emerges from reinforced concrete abutments clad in local sandstone.
The materials are intended to age naturally with low maintenance, as the old stone bridge had done over the course of centuries. The open spandrels lend a certain transparency to the bridge's appearance, allowing unhindered views over the river while minimising obstruction to the flow of the river at times of exceptionally high water.
Sustainability also influenced the materials choices with the steel containing one fifth of the embodied carbon of the global average and the concrete mix including ground granulated blast-furnace slag (GGBS) cement substitute.
The new crossing, the first stainless-steel road bridge in the UK, gives the appearance of a traditional deck arch bridge but structurally does not transfer horizontal reactions to the low-capacity ground on the riverbanks, thanks to the side-spans within the abutments.
Judge Kathy MacEwen pointed out: 'It makes us reflect on the concerns around flooding and it's giving people access and ease of movement.'
Fellow judge Denise Bennetts agreed. 'It meets all the criteria perfectly,' she said. 'It is a project-appropriate approach and an ingenious structural solution. The social-economic impact is great; replacing an existing bridge for the long term and in a robust way is incredibly important.'
'Cumbria County Council is delighted with the new bridge,' said council representative David Brown. 'Not only has it reconnected the Ullswater area, it has reconnected the community and is an embodiment of the village and wider Cumbrian society; beautiful and resilient.'
For more on MacEwen shortlisted projects and architecture for the common good see ribaj.com/MacEwen-Award
An ingenious structural solution with a great social-economic impact
Credits
In numbers
Cost £7 million
Area 500m2
Client Cumbria County Council
Architect Knight Architects
Contractor Eric Wright Civil Engineering
Structural engineers GHD (detail design), Mott MacDonald (concept design)
Client project manager Mott MacDonald