The Black Country and Marches Institute of Technology, built on a brownfield site in Dudley, brings together education and work skills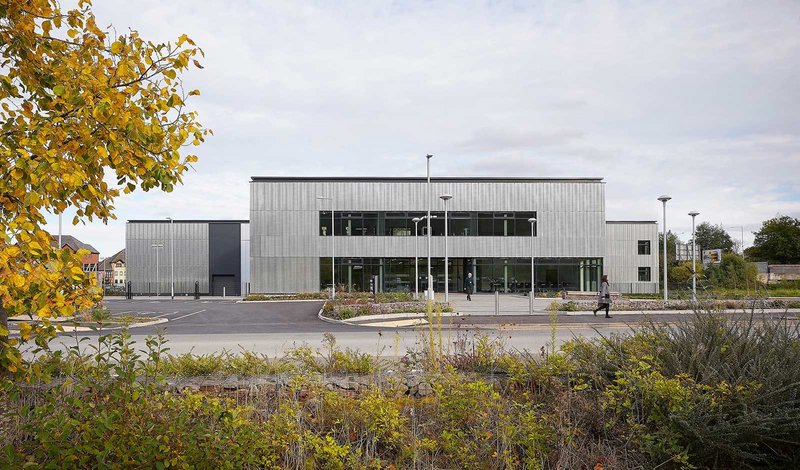 The building faces towards the quieter access road to Dudley Zoo, allowing it to be almost entirely naturally ventilated.

Credit: Hufton + Crow
Building Black Country and Marches Institute of Technology
Location Zoological Way, Dudley
Architect Cullinan Studio on behalf of the Dudley IoT Project Alliance (Dudley College, Cundall, Speller Metcalfe, GCA, Derry Building Services, Fulcro and Cullinan Studio)
Building type Education
Designed to bring jobs and opportunities to the Black Country and help feed growth in the area, the Black Country and Marches Institute of Technology is all about education and work skills coming together, offering apprenticeships and vocational T-levels to both local young people and adults.
Cullinan Studio worked to design this first building of a tranche of government-funded institutes of technology, which tread a line between education building and workplace. The T-shaped building is on a sunken brownfield site alongside a major road, yet has been designed to be almost entirely naturally ventilated.
The teaching spaces are fitted out with high-tech robots, software and medical equipment to give real-life training in three core areas: advanced engineering and manufacture, modern methods of construction, and medical engineering. A hangar provides facilities and collaboration space for working with industry. The building is laid out around a top-lit atrium with a cascade of oversized steps. This gives a social heart to the space.
This project is important for what it is providing, the approach its design and build, and its scale
Not only was Cullinan experimenting with a new form, it was also working with a relatively new project structure, integrated project insurance, in which risks and rewards, mistakes and solutions are shared by the interdisciplinary team, working together as a board. It brought benefits in efficiency, cost as well as lower stress levels across the team.
The aluminium rainscreen with its punched holes sends a strong signal about technology and optimism, while its sustainability credentials on embodied and operational carbon show a good application of those qualities.
Judge Denise Bennetts praised the project for its 'robustness'. Kathy MacEwen gave the institute a resounding thumbs-up: 'This project is important for what it is providing, the approach taken to its design and build, and its scale.
'This building has the potential to give skills a real boost in its home town of Dudley and beyond.'
For more on MacEwen shortlisted projects and architecture for the common good see ribaj.com/MacEwen-Award
Credits
In numbers
Cost £12.4 million
Area 4,750m2
Cost per m2 £2,611 (indicative)
Client Dudley College of Technology
Architect Cullinan Studio
Independent facilitator IPInitiatives
Primary constructor Speller Metcalfe
MEP constructor Derry Building Services
Structures and civils GCA Consulting
MEP engineer Cundall
Digital coordinator Fulcro