Cave Cooperative's Bale House at Hastings nature reserve provides an educational space which embraces the circular economy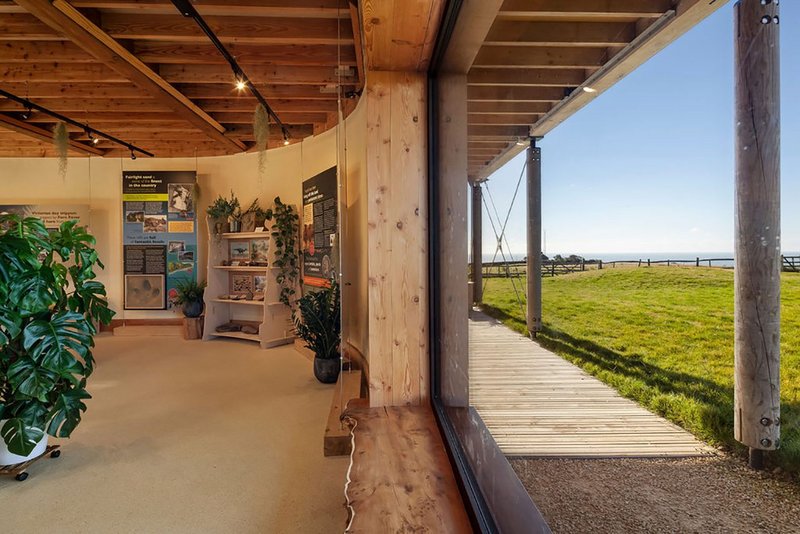 Colours, fixtures, fittings, tactile surfaces and braille signage offer an accessible experience delivered through high-quality workmanship.

Credit: Fotohaus
Building Bale House
Location Hastings Country Park Nature Reserve
Architect The Cave Cooperative
Building type visitor centre/community centre
On a scenic clifftop in Hastings Country Park Nature Reserve sits Bale House, a new community hub providing educational space focusing on empowerment, training, rehabilitation, healthy living and the arts. It also offers refreshment for park visitors.
It is a public project managed by a charity working with community volunteers. The brief was developed with the client and the community through a series of engagement events resulting in an accessible and flexible space, committed to inclusive principles.
The building was constructed by a small group of artisan builders and also involved the work of local artists and craftspeople.
All routes are via wide, level access paths and doorways. Colours, fixtures and fittings provide visual contrast. The signage is tactile, includes braille and is gender neutral.
Sustainability informed the entire process with a focus on whole life cycle processes and the circular economy, as well as the use of natural materials including wood, lime, straw and wool. The building is constructed from loadbearing straw bales and uses natural, recycled and local materials; it is the first straw-bale public building in the south east.
It is an exceptional achievement that nothing went to landfill
In the words of client Liz Crisp, the architect designed 'a unique, welcoming, sustainable building that sits lightly on the coastal landscape. They held community workshops and events throughout the construction to ensure community support … It is a real community asset.'
The large Douglas fir roof is anchored down to resist the extreme clifftop wind loads. The plinth blocks are made from recycled concrete and furnace ash. The limecrete slab sits on recycled glass aggregate to act as insulation and damp proof membrane. Astonishingly, nothing was sent to landfill or removed as waste – 'an exceptional achievement', according to judge Denise Bennetts. Moreover, the materials can be reused or recycled at the end of life.
Faced with a tight budget, the build is stripped back; its appearance celebrating the materials used. 'The colonnade was nicely done and the lime finish has a nice feel to it,' observed Eleanor Young.
Since opening last July, the building has welcomed 12 schools, housed 15 family activities and 60 volunteering activities, hosted two large community events, created 13 jobs and welcomed 25,000 visitors. Its reach is undeniable and tangible.
For more on MacEwen shortlisted projects and architecture for the common good see ribaj.com/MacEwen-Award
Credits
In numbers
Cost Confidential
Area 213m2
Client Hastings Borough Council
Bale House manager Groundwork South
Architect The Cave Co-operative
Engineer Structurehaus
Main contractor Huff and Puff Construction
Project manager Green and Castle