The architect has radically improved the theatre's accessibility while minimising the development's environmental impact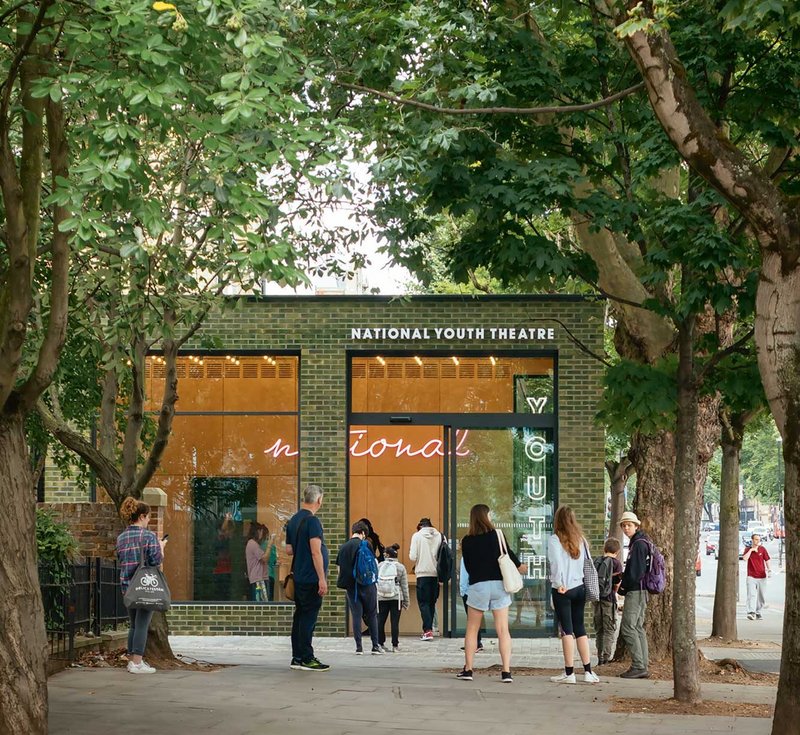 The new Green Room entrance pavilion activates the building's frontage, opening it to the street.

Credit: Jim Stephenson
Building National Youth Theatre
Location Holloway Road, London
Architect DSDHA
Building type Theatre/charity headquarters
'I was walking down Holloway Road, I saw it and thought: wow!' said judge Kathy Mac-Ewen, of DSDHA's major redevelopment of the National Youth Theatre's (NYT) London headquarters. The former Mission Hall has been substantially modified to double its studio space, radically improving its accessibility and giving visibility from the street to allow NYT to deliver its 'open door' policy.
The theatre now has street presence thanks to a new pavilion, the Green Room, which replaces a car park and alleyway and provides a welcoming front door. It houses the reception, a members' hub and a community studio space. Client Joe Duggan said: 'Our new pavilion allows us to welcome communities of young people who previously faced barriers accessing our work.'
Aesthetically, the NYT now has a much stronger and attractive presence, with judge Robyn Poulson commenting: 'The building looks great and photographs beautifully.' On the inside, the interiors were overhauled to create versatile, acoustically optimised, naturally ventilated, well-lit open spaces for teaching, rehearsal, recording and performance. Within the existing warehouse building, columns were removed to accommodate a 200-seat theatre space.
As a piece of transformation, I think it is excellent … the street is a big beneficiary
Maintaining the structure helped minimise the development's environmental impact; the sustainability credentials of the build are admirable. The design meets RIBA 2030 Climate Challenge recommendations and LETI 2030 targets in terms of embodied carbon, achieved by reusing 90 per cent of the existing superstructure and foundations.
Funding for drama in state schools has decreased across the UK; this project seeks to redress this by accommodating twice as many students, facilitating their entry to the creative industries. As the client puts it, the redesign has 'provided a significant boost to our mission to put young people's voices centre stage'.
The judges universally admired the scheme for its accessibility, sustainability and investment in young people and the arts. 'As a piece of transformation, I think it is excellent,' said Denise Bennetts. 'The street is a big beneficiary. It is good architecture which will surely win awards.'
For more on MacEwen shortlisted projects and architecture for the common good see ribaj.com/MacEwen-Award
Credits
In numbers:
Cost £4.45 million
Area 2,260m2
Architect DSDHA
Client The National Youth Theatre of Great Britain
Principal capital funding Mayor of London's Good Growth Fund
Structural engineer Akera Engineers
Civil engineer JTA Consulting Engineers
M&E consultant cc-be
Quantity surveyor Gardiner & Theobald
Landscape consultant DSDHA
Acoustic consultant Sound Space Vision
Project manager Gardiner & Theobald
Cost consultant Gardiner & Theobald
Contract administrator DSDHA
Planning consultant Gerald Eve
Fire consultant Design Fire Consultants
Principal designer DSDHA
Approved building inspector London Borough of Islington Building Control
Main contractor Neilcott Construction