RCKa's Nourish Hub makes inventive use of council-owned vacant shops, combining a café with courses on catering and healthy eating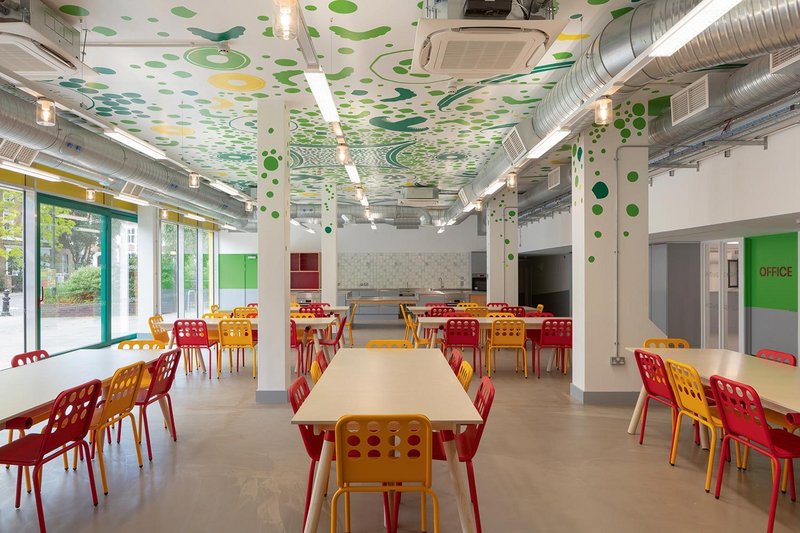 The hand-painted ceiling mural extends over the teaching kitchen at one end of the dining room.

Credit: Francisco Ibáñez Hantke
Building: Nourish Hub
Location: Hammersmith, London
Architect: RCKa
Building type: Community
'What I like is that this is utterly replicable,' said judge Denise Bennetts about RCKa's Nourish Hub. 'So many redundant spaces could be put to community use like this.' Commissioned by the London Borough of Hammersmith & Fulham and operated by food rescue charity UK Harvest, the Hub makes inventive use of council-owned shops that had been vacant for years, to tackle food waste, hunger and social isolation in a diverse neighbourhood around the Edward Woods Estate.
RCKa helped to develop a business model in which a pay-as-you-feel community canteen sits alongside a teaching kitchen offering courses on catering and healthy eating. Using surplus produce recovered from farms and supermarkets, the Hub also provides meals-on-wheels and incorporates affordable workspace.
With construction costs met by the Mayor of London's Good Growth Fund, the intention is that the Hub should be self-sustaining, and that local people will take over its running after three years. To foster a sense of collective ownership from the outset, RCKa devised a creative programme of public engagement, including workshops at a local youth centre where children made compositions with fruit and vegetables that fed into the brand identity.
'There are so many spaces which could be put to community use like this'
That was translated into a hand-painted ceiling mural within the café by graphic designer Bandiera, and is applied to tiled splashbacks and as manifestations on the glazing of new shop fronts – all inexpensive ways to create unique character. 'By picking moments to invest in, they have created a space that is very inviting and not institutional,' noted judge Percy Weston.
With lots of glass in a bright, colourful facade designed to draw in hesitant customers, views of activity within give the former eyesore an eye-catching presence on the street. 'It's transformative, bringing the community together and building local confidence more economically than many regeneration schemes,', says RCKa associate Anthony Staples. 'We should have more of these, shouldn't we?'
For more on MacEwen shortlisted projects and architecture for the common good see ribaj.com/MacEwen-Award
Credits
In numbers
Cost £850,000
Building area 420m2
Cost/m2 £2,023
Client Hammersmith & Fulham Borough Council
Key stakeholder UK Harvest
Capital finding GLA
Architect RCKa
Project manager Inner Circle Consulting
Graphic design Bandiera
Structural engineer Conisbee
M&E engineer Milieu
Main contractor Camelcrest