Studio B.A.D.'s St Margaret's Community Church combines a food bank, a café, second-hand shop, soft-play area and bicycle repair workshop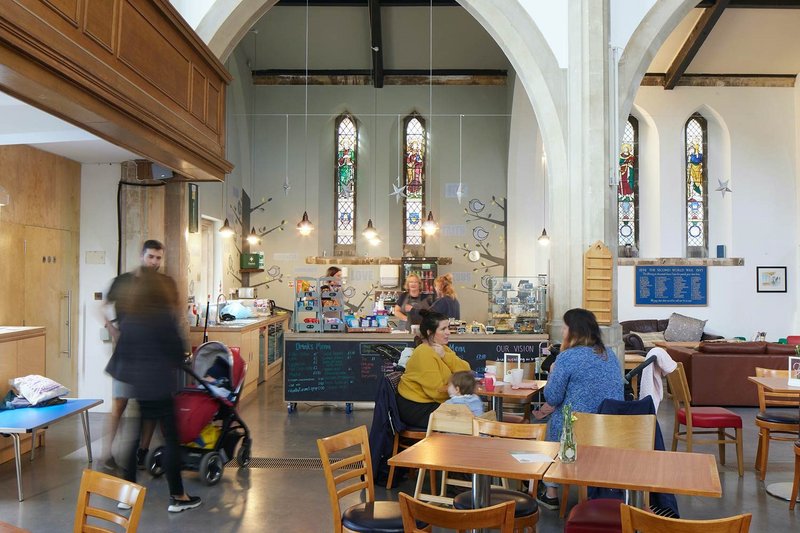 The café with its donated ex-Debenhams furniture.

Credit: Richard Chivers
Building St Margaret's Community Church
Location Southsea, Portsmouth
Architect Studio B.A.D
Building type Church and community centre
St Margaret's was decaying and all but abandoned a few years ago, unlisted, its tiny remaining congregation dispersed. This Edwardian church with a 1950s frontage inevitably faced the chop. But the diocese gave it one last chance, bringing in an outreach team to establish what facilities people needed that a church could help provide – even on a shoestring budget. Then they set to work with a firm of architects, Studio B.A.D run by Darren Bray, committed to community engagement and enlightened reuse. Today it is the same physical building, but an entirely different kind of place: a real mixed-use community asset for everyone, not just those who happen to be people of faith.
It contains a well-used food bank, a café, a shop specialising in second-hand clothes and housewares, an impressively large two-storey children's soft-play area and – in a church context perhaps the most unexpected function – a bicycle repair workshop. This is run by the local youth-support charity Motiv8, its purpose being to impart useful, employable skills to youngsters who have slipped through the education/training net/care net.
It is a real mixed-use community asset for everyone, not just those who happen to be people of faith
The key to this project was to do the maximum possible in fundable chunks, getting the new uses running as soon as the place could be safely used rather than waiting years to accrue the money to do a total refurbishment. There's a lot of 'meanwhile use' thinking involving clever deployment of cheap and donated materials.
A polished-concrete heated floor powered by air-source heat pumps has transformed the look and feel of the interior; it became a pleasant place, good for just about any activity.
What's notable is how the original layout of the church with its wide nave and broad arches to the aisles lends itself to the new function, as if it had been waiting for this new mix of uses. Clever design thinking has resulted in fittings that can easily be demounted and moved around for various activities. This once-forgotten church is now right back as a useful and inspiring hub for its community.
For more on MacEwen shortlisted projects and architecture for the common good see ribaj.com/MacEwen-Award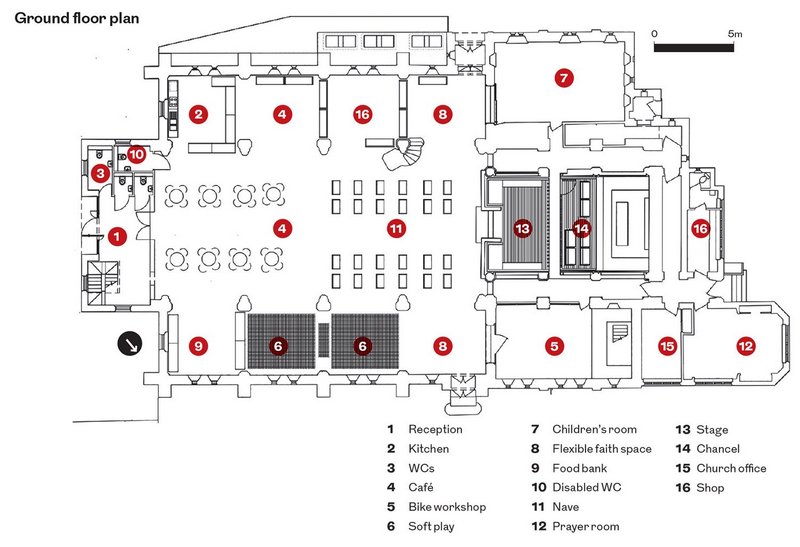 Credits
In numbers
Contract cost £350,000
GIA 475m2
Cost per m2 £737
Client St Margaret's Community Church, Diocese of Portsmouth
Architect Studio B.A.D
Architectural consultant Roger Tyrell
Environmental consultant MESH Energy
Concrete consultant Grey Matter
Photography Richard Chivers