Surman Weston's converted house brings practical knowledge of growing and cooking food to the inner city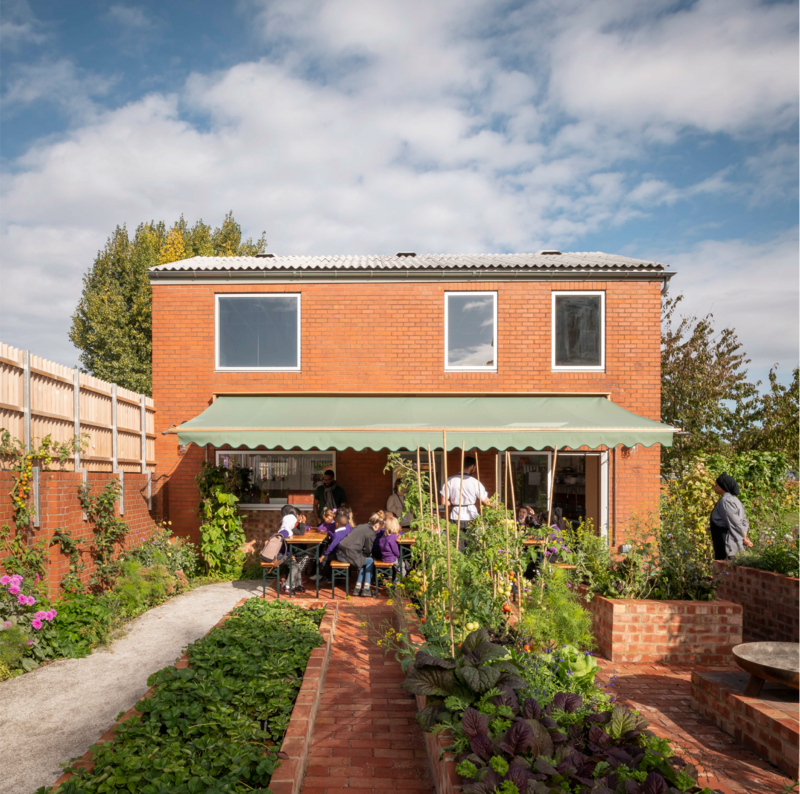 Productive gardens at Hackney School of Food designed by Surman Weston. Children can grow and pick produce and then cook it in the teaching kitchen.

Credit: Jim Stephenson
Their jaws just drop,' says Tom Walker, head of food production at the School of Food in Hackney, of the moment that children attending the new facility are told they're going to cook and eat the herbs and vegetables they've just picked.
Making this connection between growing and cooking is no small achievement in an area of London where few, if any, children have access to gardens and where the Free School Meals rate for primary pupils is 50% (nearly triple the national average).
Walker is in no doubt about the role of the building in the success of the project. A partnership between LEAP Federation and charity Chefs in Schools, its mission is to improve food education in schools at a time when child food poverty has become a national issue. Not that it's a flashy newbuild in any way. On the contrary, Surman Weston's design is an economical, carefully-considered retrofit of a redundant school caretaker's house that had lain empty for several years. But while it still resembles a house externally, the inside is transformed into an unexpected double-height space with a 'wow' factor that instantly engages the children when they arrive.
'When they come in, they are so excited,' says Walker. 'They walk into a house-shaped building and they're expecting a house. So then they're excited about the space, which really encourages them to get involved.'
Located on the Mandeville Primary School site, the Hackney School of Food provides a teaching kitchen with an adjoining productive garden. This has outdoor seating where children can eat the food they've cooked. A separate garage has been converted into an entrance/storage/toilet block. As well as serving the host school and the two other primaries in the Federation, the facility is also available to other schools in the borough and others including local community groups.
Since being completed in lockdown last spring, the facilities have already been used by some 600 children and there are hopes to provide food-focused education to as many as 4000 a year when more normal times ­resume. Other activities such as cooking classes for parents and child are planned. In doing this, Hackney School of Food really is taking food education to those who need it the most, and it is this clear social agenda, along with the accomplished retrofit, that made the project a clear and worthy winner in this year's MacEwen Awards.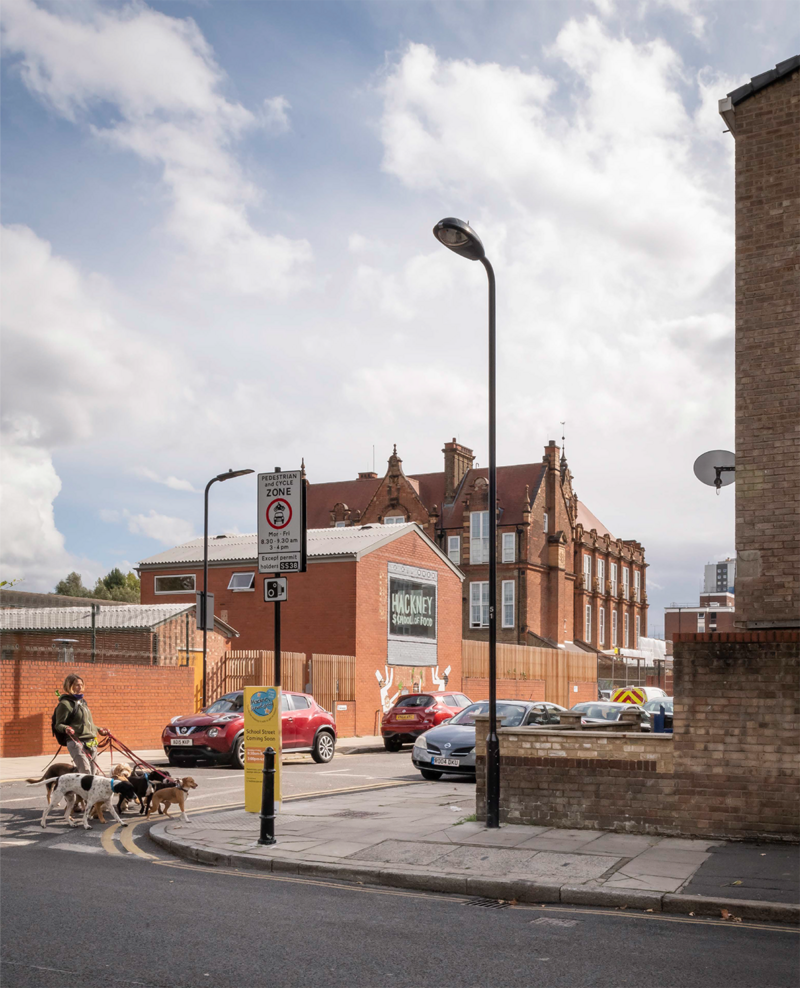 A redundant caretaker's house was repurposed for the project.

Credit: Jim Stephenson
'I think the Chefs in Schools programme is great – it's a wider project with real aspiration,' says judge Kathy MacEwen.
Fellow judge Tumpa Husna Yasmin ­Fellows was also impressed with how the architect had used bold gestures to transform a humble house into Hackney School of Food.
'The space looks beautiful, and turns domestic architecture into a community space. The outdoor growing space that's part of it is wonderful and inspiring,' she says, adding that with its agenda addressing child poverty and obesity, the project ticks a lot of boxes.
For Surman Weston, this is its most socially impactful job to date. The practice won a competition for the project in spring 2018 and worked closely with the clients to develop the brief, which initially focused on just the teaching kitchen but expanded to include providing an adjacent kitchen garden.
'This project was never about being precious. We were always trying to do the most we could for the money we had,' says Surman Weston director Percy Weston.
The practice has certainly managed to maximise the tight budget to the benefit not just of those using the facility but the surrounding streetscape. The caretaker house previously presented a rather austere facade to the pavement but is now, courtesy of a jaunty mural on its sidewall, an attractive marker for the Hackney School of Food. New timber-slat fencing also gives views in to provide glimpses of the garden and its activities to passers-by.
While the removal of the first floor has transformed the interior of the house to create a single, double-height space, its domestic past has not been entirely eradicated – look carefully and you can still see traces of where the floor once was, as well as room divisions, blocked up doors and windows, and even the bathroom tiling.
'We wanted to preserve some idea of the history of the house, but it's not a particularly lovely building, so we didn't want to be too precious,' says Weston, adding that the idea for the lofty space only came to them the day before the competition deadline.
It was an inspired late decision, creating a space not only with immediate impact, but with interesting features that the children enjoy pointing out and asking questions about, such as the exposed roof structure, complete with its bulging insulation.
Surman Weston's biggest challenge was the limited budget – especially as big chunks of it were already spoken for to deal with ­essential asbestos removal, three-phase electric power and, importantly, height-­adjustable cooking stations. These accommodate 30 children working in 10 teams of three situated around the perimeter of the room, plus a central island unit.
Other interventions include perimeter reinforcement beams, new windows, insulation and heating. While everything is exposed and robust, visual warmth is introduced through the use of composite timber fibre/cement boarding to form a 'tray' for the floor and lower walls. Festoons of lights give a playful counterpoint to the clinical professional kitchen equipment.
The house opens up to the new garden, with different heights of bricked planters to grow edible produce plus a fire pit and a ­pizza oven. This was initially proposed to be 5m high to act as a marker for the school, but was sadly value-engineered down – though it is still a very pleasing feature.
The Hackney School of Food is of course at its best when lessons are in full swing.
'It's amazing. It really comes to life when the children are using every part of the site,' says Weston.
But even visiting on a wet and wintry late afternoon just before Christmas, it's hard not to be swept away by both the attractive garden and kitchen and the importance of the facility's mission, all fuelled by the infectious enthusiasm of the key personnel.
And this is just the start, with the project intended as a prototype for similar facilities to further spread the food education message. Meanwhile, Surman Weston has been working on a feasibility study for Phase 2 at the school, appropriating an adjacent, underused area of playground and music building for further gardens and a possible greenhouse.
Hackney School of Food is clearly a tremendous asset for the school, which has recently seen its rolls fall as parts of the surrounding area have gentrified, and also the wider borough. Hopefully it will provide a lasting legacy to its alumni, providing a greater understanding of where food comes from and how to eat and cook well, at a time when good health has never been so vital.
---
IN NUMBERS
£309,000 cost including landscape, cooking equipment and services
57.5m2 building area
237m2 landscape and external works
£3,843 cost/m2 (buildings)
£337 cost/m2 (landscape)
Credits
Architect Surman Weston
Client LEAP Federation and Chefs in Schools
Contractor Modernarc
Structural engineer Structure Workshop
Services engineering consultancy Peter Deer & Associates
Graphic design & illustration Jean Jullien
Mural & signage painting Claire Ward-Thornton
Landscaping consultant Miria Harris (stage 1), Lidia D'Agostino