The Royal Gold Medal winning team turned a functional industrial shed into real architecture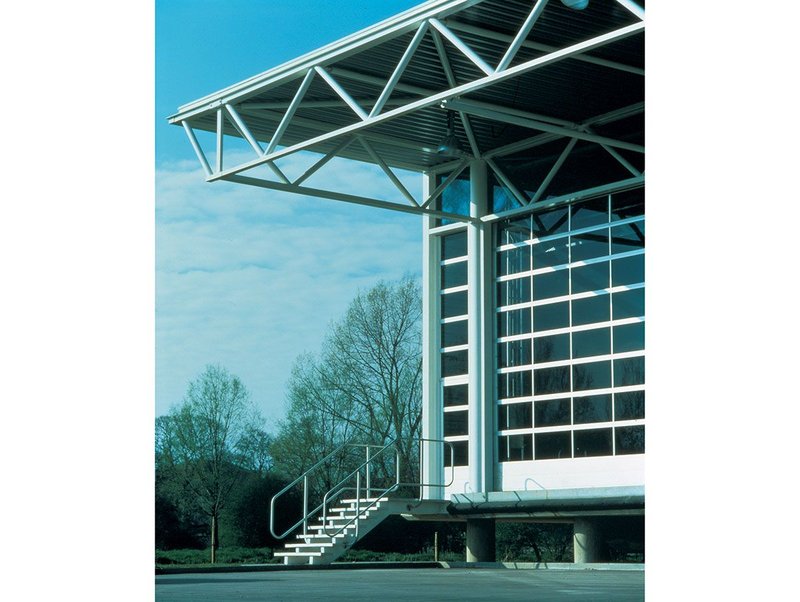 Michael and Patty Hopkins' Greene King warehouse – it's all in the details.

Credit: Ken Kirkwood/Hopkins
RIBA Royal Gold Medal winners 1994
Greene King Cellars, Bury St Edmunds (1980)
Michael Hopkins and Patty Hopkins, née Wainwright, were the second set of architects to be jointly awarded the Royal Gold Medal – the first being Powell and Moya in 1974. Patty was the first woman architect to be so honoured. 1994! However Patty was preceded into the male bastion of RGMs by designer Ray Eames, representing 'The Office of Charles and Ray Eames' in 1979. Charles had died the previous year.
Patty (b.1942) had set up her own practice on leaving the AA: Michael (b. 1935) worked at first with Frederick Gibberd and Partners and then as a partner with Foster, being project architect for the Willis Faber building in Ipswich, now grade I listed. But in 1976 the two of them joined forces professionally to establish Hopkins Architects, based in the famous house they had built for themselves in Hampstead the same year. This was quite an undertaking, as they were also raising their own young children there at the same time. The delicate, glassy house, incidentally, was extensively refurbished, re-skinned and thermally upgraded by Patty a few years ago. She did this so skilfully that you could scarcely tell the difference. It is now Grade II* listed. Later the office moved to a site north of Marylebone Station in a complex made from the 'Patera' lightweight prefabricated system which they designed.
The Hopkinses received the medal in the year that their Glyndebourne Opera House was completed, the apogee of their 'heavyweight' mid-period which revisited traditional loadbearing masonry materials and found new ways to construct them. Before that, they were best known for their lightweight approach to design, as exemplified not only by glass-and-steel structures but also by the use of Teflon-coated glass fibre fabrics: hence the 1985 Schlumberger research centre outside Cambridge, a Big Top of a building consisting of a tensioned fabric roof in three bays which include a high clear-span space for the use of test drilling rigs.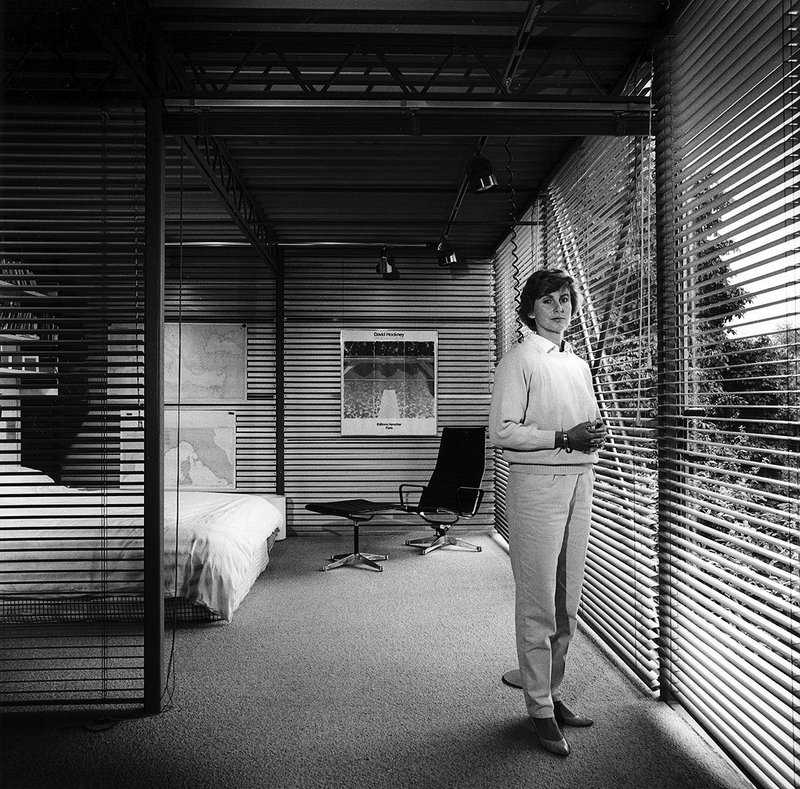 Patty Hopkins in the 1976 Hopkins House, Hampstead, London.

Credit: Architectural Press Archive/RIBA Collections
The Greene King Brewery Draught Beer Cellars is a key industrial project from 1980. 'Real Ale' was catching on in a big way and the brewery needed much more storage and distribution space for its barrels. This is the most functionalist of Hopkins buildings: a noble shed. Raising it on short columns above the floodline also brings its floor level with the tailgates of delivery trucks. The building does everything you expect from such a basic industrial activity: its steel-truss-roof extends over the loading/unloading docks, its main elevation consists of glazed rolling-shutter doors, its flanks are plain and unadorned, and subsidiary structures inside such as offices and workshops are freestanding. Yet through proportion and detail it becomes a piece of real architecture.
Later the Hopkinses became the go-to practice for schools, universities and historic contexts, in particular new additions such as visitor centres, cafés and kiosks for stately homes – demountable such as for their 1995 Buckingham Palace ticket office, or permanent such as the large centres at Alnwick in Northumberland and Holkham Hall in Norfolk. And they finally cracked one of London's most intractable sites to build Portcullis House, the Parliamentary annexe for MPs, plus the new Jubilee Line station beneath it. The practice has proved as adept with brick, stone, timber and leadwork (consider their exquisite circular David Mellor cutlery factory of 1989 in Hathersage near Sheffield) as it is with lightweight materials.
This is modernism which draws on the techniques and attitudes of the past: long based in Suffolk as well as London, the Hopkinses point to the prefabricated nature of timber medieval houses as the precedent for everything they do. Theirs is highly thoughtful, highly individual architecture.
---
More Royal Gold Medallists and other highlights of RIBAJ's 125 years here