Niall Maxwell is fighting on all fronts from his office in Wales: building the practice, building his family home and testing everything against his evolving philosophy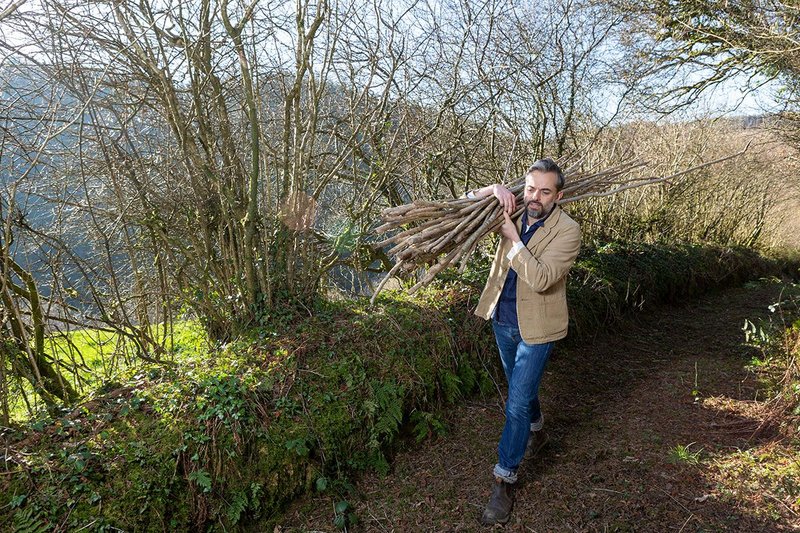 Niall Maxwell of Rural Office for Architecture at his farm near Carmarthen, shifting a bundle of hazel sticks.

Credit: Gruffydd Thomas
'Then up on the mezzanine is the cwtch,' says Niall Maxwell, founder of Rural Office for Architecture, comfortably. I know cwtch from Welsh friends as a cuddle that encompasses embrace and cosiness. Now I know it is room too. Maxwell came to Carmarthen, the heart of Welsh speaking Wales, over 10 years ago. His boys speak both Welsh and English, Maxwell can do hello and thank you in Welsh and a bit more. But more importantly, standing next to a pool of concrete, with Nigel the builder, he can pass muster in a discussion of the Six Nations. This Loughborough boy has become a cheerleader for Welsh regionalism – perhaps any regionalism – and is on the lookout for alternatives to the centrist forces of London on architecture and the economy, which are too often the same thing.
In the 10 days since his Skoda was last serviced, Maxwell has driven 1,200 miles – to Hereford, Aberystwyth, Aberaeron, and to speak in Chester. As he goes he studies the place. He has an instagram library of corrugated sheds, garages and outbuildings – including a real one on his own farmstead. And of pebbledash bungalows. And of McMansions that have taken over as the new home of choice. His own work is rooted in the vernacular of a time before builders' merchants and brickworks consolidation. It would have been hard to miss the grand oast house volumes of Caring Wood clad in handmade clay tiles, which won the RIBA House of the Year in 2017, designed by Maxwell and James Macdonald Wright.
Other projects, on other budgets, are more sparing. Yes, they use different volumes to good effect and roofscapes are important – as you can see from the simple shapes that are used on the practice website. The loftiness of roof spaces enriches rooms. But ROA designs also tend towards protected and hidden outdoor spaces, though they are smaller, perhaps more liveable. The twists on materiality shine through at Galen, a new house in Aberaeron on Wales' west coast, even in its unfinished state: the rough white harling (aka pebbledash) is interspersed with arrow-beaded profiles of sweet chestnut, the reticent bead politely stopping short of the junction. A brick plinth grounds the building in dark herringbone. These details work hard: this early project simply frames spaces with timber for a stove showroom which is also designed to be the client's retirement home with minimal changes.
Maxwell's last decade has been split between the dual concerns of establishing his practice and rebuilding a farm in the hills with wife Helen, much with their own labour, around a young family. I first came across Maxwell in the early days when he was documenting this process as a blog – hefting up scattered mud stone, levelling land, building a simple volume for the family to camp out in comfort. Even now with a taped, watertight shell and builders working on the farmhouse, the pioneer spirit, and years of sacrifices made for a big idea, are etched into the family's story. Helen has limed tens of slates to hang on the house front (a local signifier of a farmhouse going up in the world) and laid many metres of drystone walls.
At the farm the pieces of the plan have slowly come together, a grant funded office that lived out its time has become games room, ready to be entrance hall, living and party room when the farmhouse is finally completed. A studio, built by the practice in a week from CNC ply, attests to one architecture experiment that won the Self Build on a Shoestring competition at Grand Designs Live before it proved a dead end, mired in warranties needed by lenders and the cut throat pricing of the garden office market.
And the fragments that make up practice appear, at last, to be coming together. From wanting simply to 'design', Maxwell has been increasingly drawn to these more complex projects, from the gathering place of oversized steps at Prince Charles Quay in Cardigan to the bright red interventions at Aeron Parc, Llangeitho, where sunny sheltered work space and a new entrance extension – all in a cheery russet – have made the whole place work far more smoothly. As a consultant to the Arts Council of Wales Maxwell has applied his way of working beyond the physical to organisational structures, as he analyses regional arts organisations around the country. Two ongoing projects are demanding that precise mix. At Aberystwyth University he is unpicking and restitching the catering and arts provision, asking questions about who runs what and how, researching student habits. 'We are looking for fractional performance gains, like Bradley Wiggins and Team Sky, and then we apply them to building briefs,' he says. 'I now have to understand and enjoy the structure of organisations.' More locally, in Carmarthen, at he is looking at how the National Trust might make the best of the grand house of Dinefwr and its estate, with radical ideas of shifting the entrance that could make the whole proposition much clearer.
With around 25 projects ROA is expanding from six to eight staff in the next few months, a big commitment when a new recruit has to uproot themselves and family and move to Carmarthen. An office manager may be next. This is despite a difficult year in 2018 and the ever-present question mark about what is around the corner. 'We got no work from Caring Wood,' he says. 'Last year was the most challenging, and quieter after all the hubris.' Though Caring Wood's win has made it easier to recruit good people. 'Now the CVs we get are amazing,' Maxwell smiles.
Could the many little projects be converted to fewer higher value schemes? Maxwell sees this as a way to sanity but also to better projects. Here Carmarthen's S4C creative hub, for the local university and the Welsh language broadcaster, creeps in. It was won with BDP and completed last year but his thoughts are laced with regrets for the building that it almost was. He prefers to design with research and a slow build up of layers, with his subconscious working away quietly. Understand the constraints and the grid then leave them behind is a lesson he learnt from one-time Bartlett tutor Colin Fournier, and now comes as an occasional prompt from his wife. A current commission for a Japanese house in the mountains of Nagano Prefecture for a film director and family have given him the chance to do this sort of design. Underneath the everyday spreadsheets, recruiting and troubleshooting of busy practice, his thoughts of mountains, Steiner ideas and the Japanese tsubo measure as the design gestates are a murmur away. Let's hope such chances to be free with the design continue.