The Royal Gold Medallist's Rome viaduct was a high point of the 1960 Olympics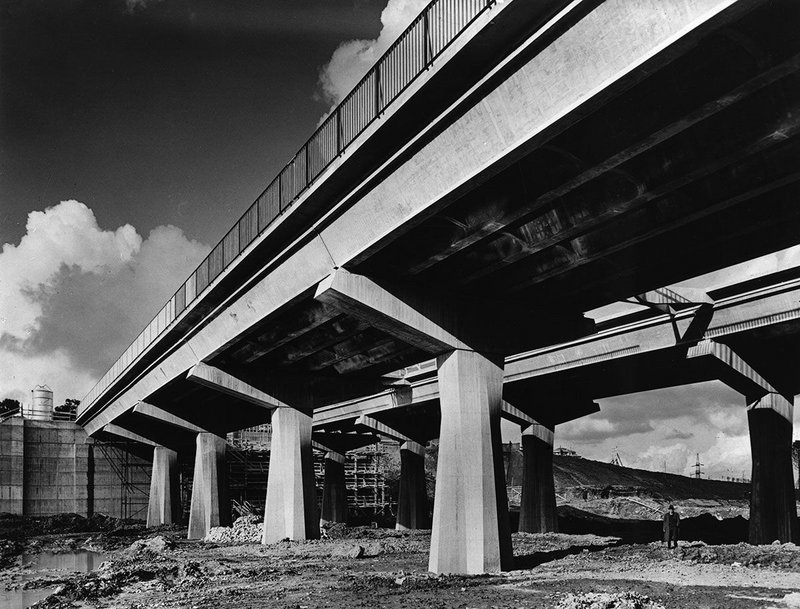 The Corso Francia elevated highway under construction in Rome, 1959.

Credit: Architectural Press Archive / RIBA Collections
RIBA Royal Gold Medal winner 1960
Viaduct of the Corso Francia, Rome (1960)
By the time the Games of the XVII Olympiad opened in Rome in 1960, Pier Luigi Nervi (1891-1979) had already received his Royal Gold Medal, marking his pivotal 'builder engineer' role, that helped push the boundaries of reinforced concrete construction in modern architecture. Behind him would have been a significant body of work; among it the Paris Unesco headquarters, the Pirelli Tower in Milan designed with Gio Ponti, Naples rail station, Rome airport and a key role advising on the city's huge Termini Station.
The 1960 Olympics saw him design his most idiosyncratic work; with the Palazzo dello Sport and Stadio Flaminio in Rome, and the Palazzetto dello Sport in EUR, all completed 1957-59. With their stunning, contemporary, prefabricated concrete vaulting set in the home of the Pantheon, one imagines their poetic engineering sealed the deal with the Gold Medal judges.
But Nervi was prolific – and proved engaged with less glamorous civil as well as structural engineering. A case in point was the viaduct of the Corso Francia, a major artery in Rome's north suburbs. It passed right over the centre of the Olympic village, allowing athletes and visitors to pass freely beneath it. It is clear from the design he realised that he felt the viaduct was as much about the people beneath as for the cars above.
Precast, 16m-long transverse beams support each of the Corso's two traffic lanes, themselves sitting on a long soffit of 'corrugated' V-shaped beams, not unlike the folded structural concrete employed earlier on the Palazzo dello Sport. Note the sculptural columns holding the whole thing up, cruciform in section at their base but morphing into rectangles to elegantly connect with the cross beams.
Breaking ground in June 1959, the adoption of the 'Nervi System' of prefabrication to construct it saw the viaduct in operation by the time the Olympics opened in August 1960; Nervi's unsung but timely engineering solution allowing cars to speed through the Eternal City as the visitors below looked up on their leisurely passeggiata.
More Royal Gold Medallists and other highlights of RIBAJ's 125 years here