As healthcare moves towards prevention as much as cure, how can we design our built environment to promote wellness? PiP's seminar offered some ideas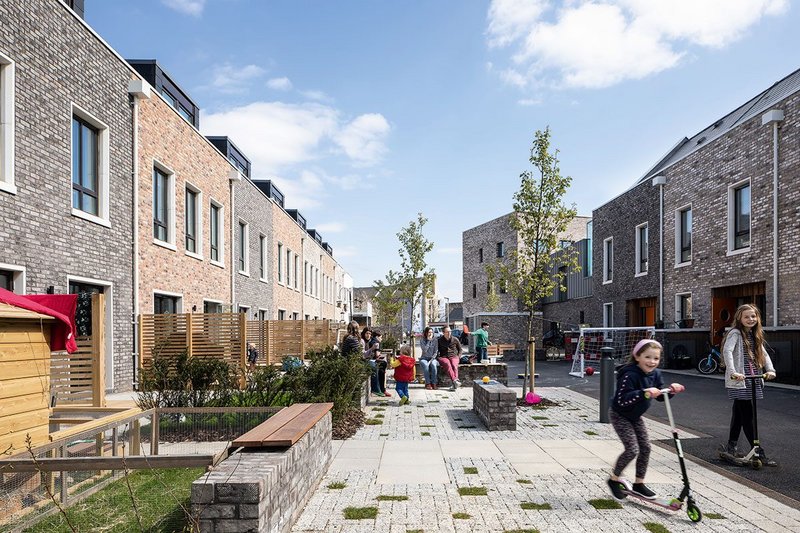 Mole Architects' Marmalade Lane, Cambridge: An exemplar of co-housing, facilitated by the city council.

Credit: David Butler
What could be more conducive to wellbeing than living with people you like, in a way that you like and that encourages social interaction – all while making the air as clean as possible? This is the thinking behind the Marmalade Lane Co-housing project in Cambridge, designed by Mole Architects.
Meredith Bowles, founder of the practice, told delegates to the PiP conference on health and wellbeing that he was delighted by the entire process. 'To work with a group of people who feel so involved along the way has been a tremendous honour,' he said. The project was made possible by the fact that Cambridge City Council backed it. It helped the co-housing group set up, and supported the members in producing the client design brief. And, crucially, it sold the land to the developer with the stipulation that the scheme be built to the client design brief, and that the units should be offered first to the members of the co-housing group.
The developer sold long leases to the individual co-housers, requiring them to become members of the co-housing company. Once the project was complete, it transferred the freehold of the whole site to the co-housing group, subject to the individual long leases.
The support of Cambridge City Council was vital, as was its determination that some development land that it held should be used for a worthy purpose. Bowles said that if more such developments are to happen, there has to be an impetus and desire to promote the idea from local authorities.
And the results show how worthwhile this would be. At Marmalade Lane, the client body was highly engaged, and the result is outstanding. There is a range of housing types – both houses and flats – of varying size. There is considerable communal space, both outdoor space, and in a building that houses a social area for community meals, a gym, workshop and a laundry room. And there is also a flat where visitors can stay for the minimal cost of £5 a night. The result is a considered but not over-uniform piece of design which dismantles many ideas about English privacy to provide a real community that must be excellent for the wellbeing of all its occupants.
Other speakers focused on more specific areas of wellbeing. Lynne Clapham-Carter, specification sales manager of sanitaryware company Geberit, looked at the role of bathrooms in wellbeing. She started by talking about the sensory overload that too many of us experience in noisy, polluted and crowded journeys to work, and proposed the office bathroom as a sanctuary of peace and recuperation.
Nurture and nature
Mark Elmore of New Zealand kitchen company Fisher & Paykel explained that the flexibility offered by his company's products means that kitchens can be designed not only to suit a range of needs, but that they can suit different needs at different times of the week. As the kitchen increasingly takes the role of the heart of the home, it can serve as a place for efficient cooking and the supervision of homework during the week, and then transform either into a social hub for recreational cooking or a place to follow a solitary interest in recipes. In this way it can act as a stress reliever and, frequently, foster social links.
Architect and interior designer Oliver Heath talked about biophilic design, an area in which he has specialised. He outlined the epidemic of stress that is affecting people worldwide, and displayed the World Green Building Council figure that shows that staff costs represent 90% of building operating costs. Keeping people healthy is therefore essential for an effective business. Being in touch with nature is known to calm us, and this is the basis of biophilic design.
Heath discussed ways in which this can be achieved at relatively low cost. His practice is involved with a research project at BRE which will measure the impact on employees, over a year, of high-input, medium-input and low-input approaches – a laudable attempt to attach hard data to an area that can be a bit too touchy-feely.
Hard data is definitely the province of Italian manufacturer Kerakoll, which makes breathable alternatives to cement renders and coatings. UK technical manager Gareth Lewis explained that the company also designed its own 'Green Laboratory' – an extraordinary white building in Italy that looks, as he described it, like a 'Teletubby' house. It has both built the centre for the wellbeing of its workforce, and researches the wellbeing impact of building technologies in the laboratories, looking at everything from indoor air pollutants to the recycling of materials.
There may be a lot of talk these days about wellbeing, but the speakers at this seminar demonstrated that there is also a lot of action. They are to be applauded.