In order to design and build sustainably, architects need relevant data from manufacturers. At the moment, this does not often happen and is a source of considerable frustration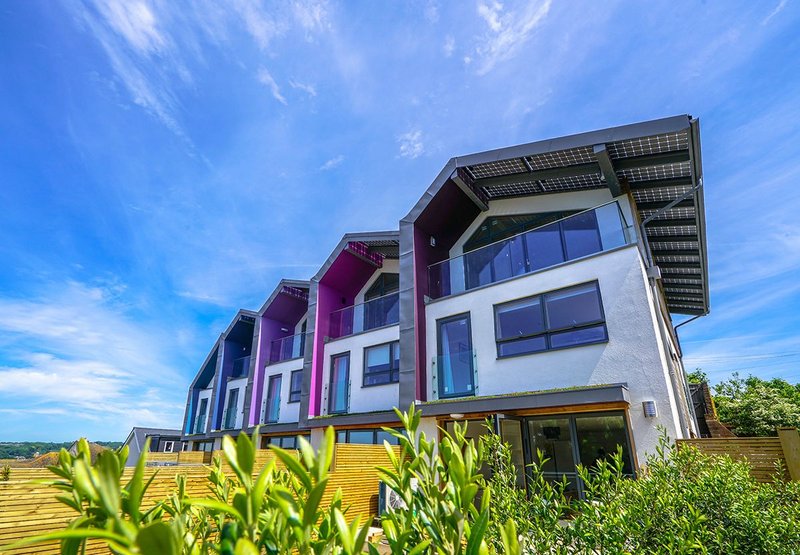 Zedfactory Zero Bills Homes in Hastings, East Sussex. The performance of the building should comfortably achieve a zero carbon benchmark, with excess electricity from the PV panels being fed back into the national grid.
Architects and specifiers want their buildings to have a net positive impact on the environment if possible. As part of that bid, they are often prepared to go the extra mile to work out what products and materials will work best long-term. However, they expect manufacturers and suppliers to play their part in divulging relevant data fully, truthfully and transparently.
Greenhouse gas emissions. Natural resource depletion. Industrial pollution. These are the three horsemen of the environmental apocalypse threatening the sustainability of earth's delicately balanced ecosystems and, therefore, human health and wellbeing. Indeed, the United Nations Intergovernmental Panel on Climate Change recently warned that we have a scant 12 years to prevent global warming breaching the 1.5°C mark, beyond which the impacts become cataclysmic. We have a collective responsibility for urgent action.
The products that buildings are made from contribute enormously to the problem. Over the past few decades their manufacturers have responded in a variety of ways. For every genuinely useful innovation there seems to have been a correspondingly misleading piece of greenwash. Still, as demand for products and materials that protect the planet have risen, so the industry has gradually reacted, improving outputs and reducing costs.
Whether out of passion, ethics, professional duty or merely self-interest, most architects and other specifiers are strongly motivated to ensure that the materials and products they specify are, as far as possible, sustainable. Bill Dunster, an architect and author of several books (including ZEDlife: How to build a low-carbon society today), spells out the jeopardy: 'The choices we make can either be extraordinarily damaging or help to develop a world that does not need so much resource, energy or generate so much pollution.'
That is no easy task. Products that combine to make a building must work together over time to optimum effect, a balancing act that requires specifiers to confront hundreds of factors and much uncertainty. For example, architect, founding partner of GreenSpec and the online Green Building Encyclopaedia Brian Murphy has 400 criteria for judging the suitability of products, organised into seven categories: healthy, environmental, resourceful, appropriate, competent, effective and yardstick (producing the handy mnemonic: HERACEY). As he says, 'It's challenging. The subtleties go beyond the college knowledge of the average specifier'.
There are voluntary labelling schemes, most notably the Environmental Product Declaration, designed to make life easier. Seductive on the face of it, they are assessed in the context of a building's whole life and that is a problem. While there are valid arguments for this life-cycle analysis (LCA) methodology, it has the unfortunate side effect of masking the standalone environmental impact of individual products. The signal is lost in the noise.
The resulting information is of limited value to specifiers and says very little about the sustainability of the product at the point of manufacture. If the difference between products is hard to see, how can specifiers make informed decisions?
Murphy was involved in the Product Environmental Footprint project with the European Commission. He argues that the factual obfuscation that arises from the LCA approach is the result of deliberate lobbying by vested interests. 'Major players like the concrete or plastics manufacturers' trade associations wanted their products to look green and so pressed for impacts to be buried in increasingly large numbers.'
True or not, the accusation appeals to many architects for whom the lack of clarity is a source of daily frustration. Specification is complex at the best of times and the paucity of data for making sound green decisions makes the process harder still.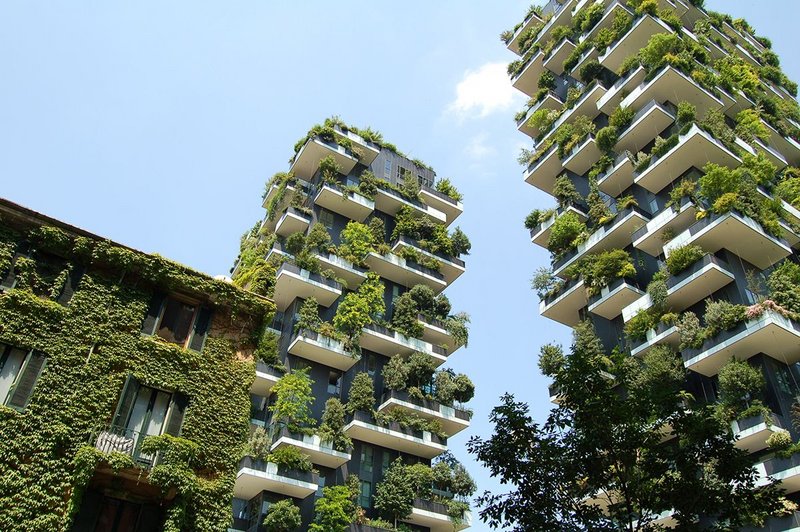 Boeri Studio's Il Bosco Verticale, Milan: contributing to the regeneration of the environment and urban biodiversity without expanding the territory of the city.
Dunster has developed a 'rudimentary' spreadsheet system to tackle the difficulty. His system maximises energy efficiency and durability, minimises embodied carbon and maintenance, producing a single metric - the lifetime carbon footprint. His best buildings are predicted to pay off their embodied carbon debt in 25 years.
The tricky bit is getting the data. As he says, 'Finding the right information takes a couple of days of searching and emails back and forth to get it. Even then, comparing like with like is virtually impossible.'
Murphy agrees, seeing the responsibility for producing contextualising information - datasets, equations, calculators - sitting with the manufacturer. He harbours great hope in their bringing innovative products that exploit hopeful properties such as hygroscopicity and decrement delay to market, 'however, that will only work if they sell the story, educate us and equip us with arguments to win over building control'.
There is clearly a tension between what architects need and market pressures to cut costs. As the impacts of climate change and environmental degradation intensify, though, the tension will increasingly dissolve as best value comes to mean best environmental outcome. When that happens, how construction product manufacturers respond is critical. As Dunster puts it, 'They actually have our future in their hands'.
8 ways manufacturers could improve their green service to specifiers:
1. Provide product data that encourage green specification by including carbon footprint, durability, life expectancy and honest cost information.
2. Provide comprehensive, relevant data that work in a BIM environment (including 3D models).
3. Seek third-party certification or other independent scrutiny to back up all environmental claims, including ethical sourcing and labour concerns. Without robust evidence, architects pay the price in exposure to liability and increased professional indemnity insurance premiums.
4. Make product data, including test results and certifications, easy to find and compare, possibly in an independently managed public database.
5. Provide datasets, equations and calculators to allow specifiers to manipulate the data to optimise designs.
6. Keep specifiers abreast of new science, technology and innovations.
7. Invest in innovations that are kinder to the planet. Don't wait to get sued for manufacturing products incorporating materials known to exacerbate climate change.
8. Provide reasoned arguments to persuade building control of the value of innovative green products and their special properties.
Matt Thompson is founder of listenback.co.uk, the architect's client feedback tool.
To receive the latest in marketing intelligence for specifiers and manufacturers, sign up to our curated mailing list.
---