Amit Aggarwal loves to use technological materials in his own designs – Ava Studio and Orproject have used them to fit out his New Delhi boutique too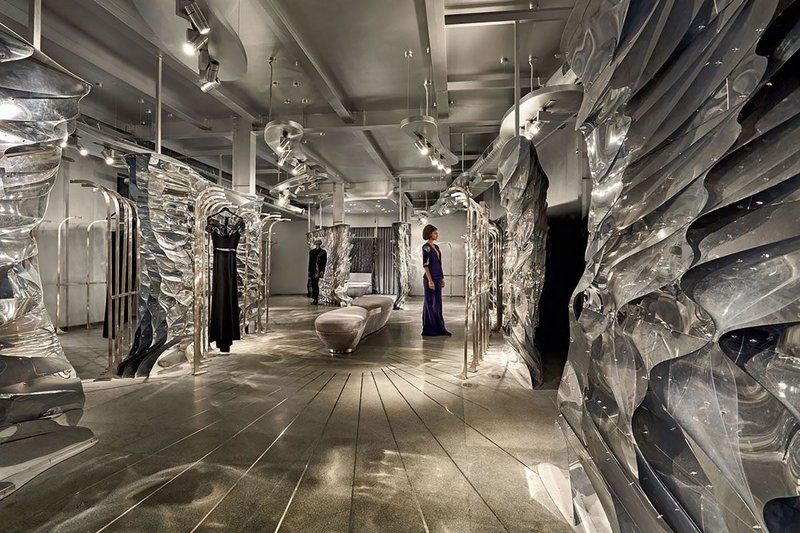 The reflective screens create an illusory effect augmented by clothes hangers in aligning with the radiating floor geometry.

Credit: Orprojects/Amit Aggarwal
What: Polycarbonate partition system
Where: Amit Aggarwal boutique, New Delhi, India
When Delhi-based fashion designer Amit Aggarwal was discussing a new boutique with his interior designer Ava Studio, he was keen to show images on his Pinterest wall that had influenced his work. Fascinated by industrial materials and bio-mimetics in fashion, it was not surprising he knew architect Orproject's complex bent plywood designs; what was surprising was that Ava Studio knew Orproject director Rajat Sodhi. With US-based director Christoph Klemmt, the firm has developed a niche 'exploring advanced geometries with an ecological agenda' over 15 years – mostly small interior projects or pavilions. But with Aggarwal's fascination for technological materials, transparency and reflection, it was the obvious designer for the boutique's partition system.
Now six partitions of 4m to 10m in length hang from the shop ceiling, formed of nearly 8000 individual pieces of reflective sheet polycarbonate. These rippling walls of vary­ing reflectivity, opacity and transparency echo Aggarwal's work at architectural scale. Through differing curvature and spacing, all three effects change and shimmer constantly as shoppers move round the space.
Orproject did consider making the screens from plywood. But plastics were more in keeping with the designer's ethos (he even recycles it in his clothing) and metal sheet too expensive; 1mm silver-coated polycarbonate sheet gave the requisite reflection, strength and flexibility.
Although screens are hung from the ceiling and only secured to the floor, their curving geo­metry and density gives them an intrinsic strength. Working in tension, the thin sheets become rigid and can resist a lateral load of 20kg without significant flexion. While the screens can stand without the flanges, they help anchor them and maintain their shape.
Modelling the design in Rhino meant that every interface could be considered before CNC cutting of the individual sheets and fabrication on site. Any junction in the matrix involves the interface of at least three sheets; two reflective ones that flex and ripple and an interstitial transparent one that's straight, in tension and acting as a stabilising 'control' layer for the other two. Where junctions interface, layers of five or seven sheets can be needed, all connected by bespoke screws of differing lengths and capped at both ends.
After a five week sheet lamination and cutting period, the 2.4m high partitions were assembled on site over three weeks by the firm – along with six specialist local carpenters more used to traditional inlay work. One key parameter for the design was the ability for a human hand to make its way into the matrix to screw layers together, which entailed a drawn recipe for the workers of how they'd be assembled.
While Orproject is now working at a far bigger scale on a mixed-use development in Chengdu, China, its fascination with material capabilities continues.
They are currently analysing coral growth geometry to examine how it might be applied to sheet metal interfacing, dramatically minimising weight by obviating the need for any form of mechanical ­fixing. Watch this space.