Created by two architects and a planner, Sheffield's Foodhall project is about as inclusive as you can get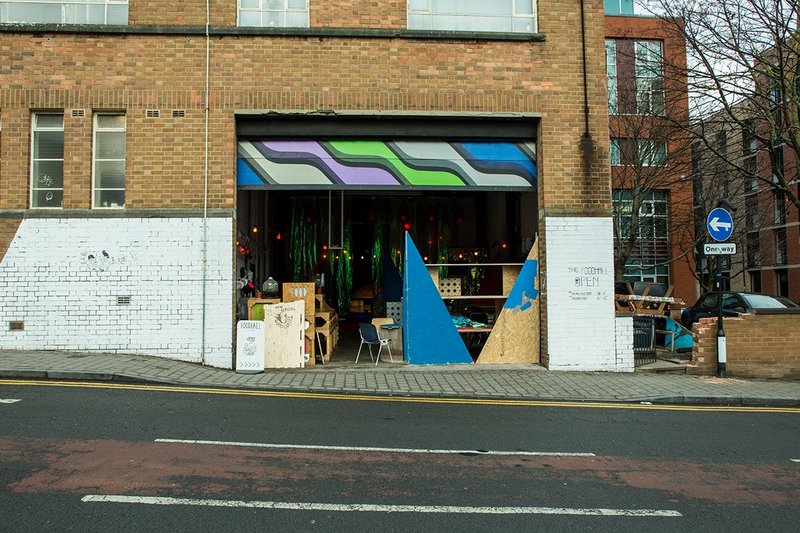 Shutters up, the Foodhall welcomes anyone off the street

Credit: Georgina Martin
Louis Pohl, Samuel Atkinson and Jamie Wilde greet me in jumpers and scarves, swathed against the cold on this mild winter's day. Two architects-in-training and an urban planner respectively, their Foodhall in central Sheffield has the roller shutters pulled right up, the side door open too. As we talk regulars wander in, hoping it might be open. Each is met with a friendly greeting: no curt brush-off but snippets of ongoing conversations. The Foodhall – which makes itself available for local events and is a gathering place for the elderly, students, homeless people, anyone who wants company – is open three days a week and into the evenings; and last ­Christmas for the first time. Those days are pretty full on – maybe 50 visitors eating lunch, chatting as they make themselves drinks, finding a quiet space to sit, working on a project, plus four volunteers cooking warming vegetarian lunches from waste food gathered from supermarkets the night before.
So I have come on a quieter day. Through Sheffield Hallam University's campus, past new hotels and a huge casino, and along a back street with a promising hand painted sign on the wall. A church once stood on this site. Then for many years it was a Co-operative Society morgue. The deep 130m² loading bay for the hearses leads to smaller rooms including a huge fridge where bodies were laid out. The new kitchen is next to it. But the Foodhall has made the spaces wholly its own. The efforts of the three founding directors – who have also set up in practice together as Studio Temple – have been largely concentrated on making the loading bay into a welcoming space. The lease is short, the site slated for development, so everything can, by necessity, be picked up and carried elsewhere.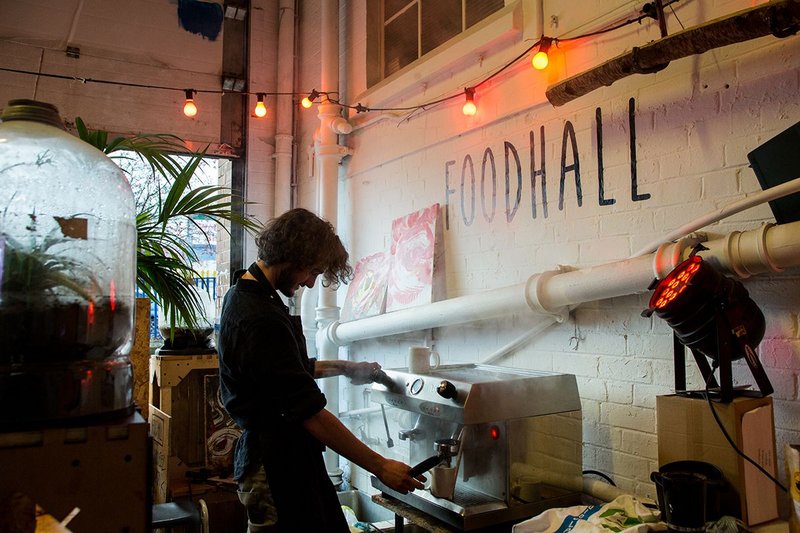 There are no customers and it is pay as you like but that doesn't mean people don't serve each other

Credit: Georgina Martin
The team has taken the CNC offcuts of a local Wikihouse and coated them with iridescent film to make a glittering dividing wall that throws rainbows into the room. 'Clever' said the MacEwen judges, and 'beautiful'. The trio has worked out the most efficient uses of OSB; three cuts and you have a rocking chair and table in one (the chair is low but comfortable and somehow lends itself to a bubble of laughter). Some of the boxy furniture was designed while Pohl worked with Studio Polpo, a Sheffield practice that has been in the background supporting this project. At first most of the furniture was begged from John Lewis but they ended up with rather cellular domestic arrangements that didn't encourage the social interaction that has made the Foodhall so stimulating and affirming. So now simple towers of OSB are manoeuvred to make long tables and benches, or staging, or stood on their ends to a create different entrance configurations.
This flexibility makes an endlessly re­inventable space which can accommodate anything from reading groups to NHS addiction groups: away from an institutional setting keyworkers can have relaxed one to ones with clients. It can host a band playing a gig or a big 40th birthday celebration with just some shifting around. Pottery classes use a kiln it is housing. Things are rarely put back in the same place, which delights the three directors as it makes new possibilities. The furniture has also provided a project for a regular who is skilled in working with wood, but stuck without an outlet or purpose since his industry shrank to nothing. Another of the regulars supplied the impetus to fit out a workshop which has become critical to the Foodhall's configuration and reconfiguration.
When the MacEwen Award judges examined the entry they were most impressed with amount of architecture for a tiny budget of just below £5,000. 'Incredible' said Steve Tompkins. 'The architecture and common good per pound is very high.' What is harder to gauge, on paper, is the value of three young directors dedicated to their project, to building and making in forms from furniture to insulation to community and building partnerships. And in the process how they bring others along with them. It is hard to know if this is sustainable as it puts the three founders into marginal positions, financially supported by part time jobs and occasional pieces of freelance. But the results are remarkable.
The activities the Foodhall houses might be labelled 'outreach' or 'revenue generation' by other organisations. But here they are part of a sweet mix that brings people together, draws them in. Social isolation as much as poverty and food waste was the impetus, so it has been important to appeal to a variety of the city's population. Here, between campus, buses, market and benefits office, seems the ideal place. Visiting is where conversion starts: construction workers passing by after a drink came in, the ensuing conversation giving the Foodhall one of its only successes in getting hold of construction waste, sites having proved very hard to access. One local got excited after hearing the tinkling of the piano outside. A potter asking for a home for his kiln has proved ready to share it in return for the space. The open doors offer an implicit welcome. You can just come in and make yourself a mug of tea.
But the trio has discovered that this openness makes things easier too for those living on the streets, who have to dress for warmth and don't have to peel off so many layers, the air movement also making it more sociable for those who struggle to find a place to wash clothes and themselves. These treasured serendipities, a great openness and pragmatic idealism all go into making the Foodhall the special place that it is. And it feeds 200 people with around 50kg of waste food a week.
---