We've cut the MacEwen prize longlist in half to reach a 12-strong shortlist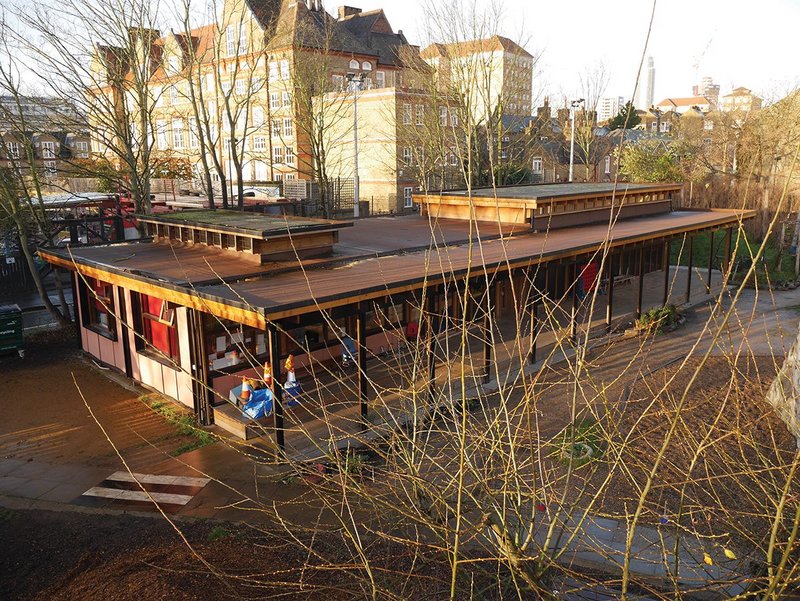 Last year's MacEwen winner, the repurposed Segal-method building of Oasis Children's Venture, as it appears in its Stockwell context today

Credit: Hugh Pearman
And so – after a Christmas and New Year when we have highlighted the longlist for this year's MacEwen Award – our recognition of 'Architecture for the Common Good' – we now move on to our judges' shortlist.
Among this dozen projects will be our eventual winner and two highly-placed commendations, and I wonder if you'll be able to spot them? Very likely not, because we have a pleasing diversity of excellent projects to choose from.
Grouping them into broad types, we start with two very different schools – the Mellor 'woodland school' in Cheshire by Sarah Wigglesworth Architects, and Broadwaters Inclusive Learning Community in London by Gollifer Langston. Both go well beyond normal educational expectations.
We have three utterly different kinds of workspace – the Camden Collective temporary workspaces in an empty scheduled-for-demolition hospital near Euston, London, by Co-DB and RARA; the very rural Comielaw Far Steading conversion in Anstruther, Fife, by Konishi Gaffney architects; and the two timber buildings (which we count as one entry) by Invisible Studio at Westonbirt Arboretum in Gloucestershire – one a base for volunteers, the other a widespan depot for tractors and machinery.
We have a public promenade, in the form of dRMM's radical remaking of the previously fire-destroyed Hastings Pier. Community facilities are represented by The Point youth club in Tadley, Hampshire by Ayre Chamberlain Gaunt; The Green in Nunhead, south London, by the AOC; and Rochester Roundhouse, deep in the Kielder Forest in Northumberland, by Newcastle University's School of Architecture, Planning and Landscape along with many volunteers.
Enlightened housing is there too, at the council-developed Carrowbreck Meadow Passivhaus hamlet in Norfolk by Hamson Barron Smith; and at St Mungo's hostel in Bermondsey, London, by Murray Mackeson Associates.
And finally on our shortlist, making much out of little as is common with many of our projects, is the Sheffield Foodhall – by many hands and architects. It is a place that re-uses an empty retail space and recycles both building materials and surplus food to make a congenial place that is so much more than a food bank, but a place to meet, make and learn as well.
Architects are instrumental in all of these, but so too are many other people who make them possible. Some are highly architectural, others are not. We're proud of the ingenuity, responsiveness and humanity they all represent. We hope you will be too.
---
See the full longlist