This year's Design Museum-hosted exhibition excels under Beatrice Galilee's curatorship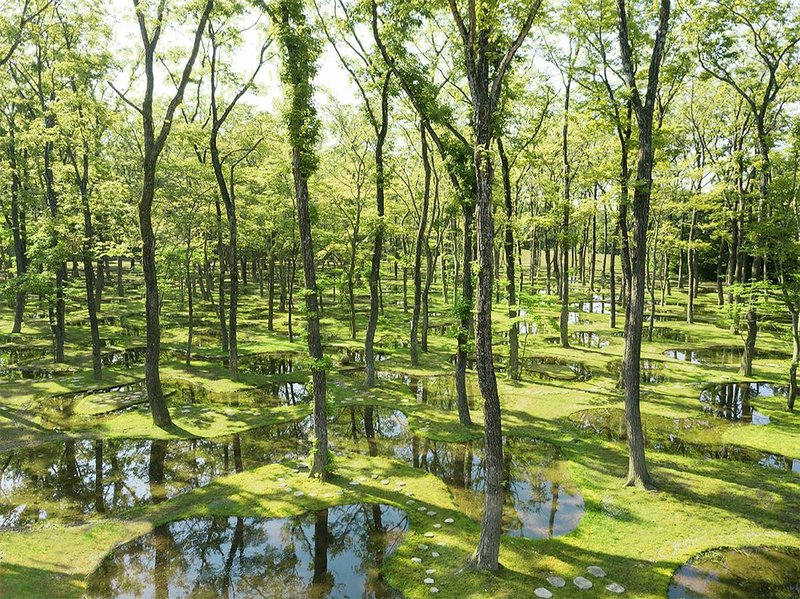 Art Biotop Water Garden in Nasu, Japan, designed by Junya Ishigami.

Credit: Courtesy Design Museum
I've visited a lot of Beazley Designs of the Year exhibitions, the Design Museum annual showcase of the most innovative designs of the last 12 months. But this year's version, curated by Beatrice Galilee, seems to me to be particularly successful.
These exhibitions are always, by their very nature, a completely mixed bag that can be rather overwhelming by virtue of the sheer scale – this time there are 76 nominees – and its diversity, drawn from the fields of architecture, fashion, product, graphic, transport and digital design.
This year's event gets a lot of the fundamentals right that help the visitor enjoy the exhibition. First, Pernilla Ohrstedt's exhibition design is constructed with elements re-used from a previous show, reflecting the re-use approach of many of the exhibits. The concept was inspired by the work of Gordon Matta-Clark, with holes cut out from the walls to aid visual navigation through the show. Secondly, the nominees are logically displayed by discipline rather than in themes overlaid across all exhibits, and this gives more scope for comparison. Thirdly, and crucially for the enjoyment of the architecture category, the architecture exhibits are supplemented by films of each nominated project to give a real flavour of the context of each.
As ever, those nominated for architecture are a widely disparate lot. Junya Ishigami's Art Biotop Water Garden looks quite astonishing: a tranquil oasis of trees displaced from an adjacent development site, interspersed with dozens of ponds. Similarly, there is an evocative film of Punchbowl Mosque in Sydney, designed by Angelo Candalepas and Associates for the Australian Islamic Mission. Only a film could capture the amazing rural landscape in eastern China's Zhejiang Province that forms the context for The Songyang Story by DnA_Design and Architecture. This social initiative addresses the rapid depopulation of rural China through a series of small architectural interventions to revitalize the area.
Diller Scofidio + Renfro/Rockwell Group's The Shed in New York is another one that benefits from a film, in this case to demonstrate the arts venue in action – it can expand using a telescopic shell which is rolled out on rails to colonise an adjacent plaza.
There are a few UK projects in this category. These include Hildrey Studio's ProxyAddress from RIBA Journal Rising Star Chris Hildrey, this generates an address to help those facing homelessness access services and 6a's impressive MK Gallery in Milton Keynes. 6a's Tom Emerson has a second nomination – His Studio Tom Emerson collaborated with Taller 5 Juillerat-Manrique on A room For Archeologists and Kids in Pachacamac, Peru. This covered arcade is build from adobe, textiles, cane, and timber and is shown under construction in the film. Studio Opalis is an online directory for re-usable building materials being developed by Belgian design practice Rotor in its teaching at the Architectural Association.
Architecture permeates other disciplines. In digital, WikiD: Women, Wikipedia, Design is a great initiative to address the under recognition – or as WikiD puts it, the 'unforgetting' – of women in design. We learn that only 16% of those who edit Wikipedia are women. This may help explain the unfortunate references to some as 'wife' rather than 'designer', and an underplaying of their roles on joint projects where they may be credited as assistant, for example, rather than collaborator. The project has led to thousands of revisions along these lines plus the addition of more than 200 new articles.
In graphics, Sascha Lobe at Pentagram worked with David Chipperfield Architects on the architectural branding and wayfinding for the South Korean HQ of cosmetics company Amorepacific. This incorporated pictograms and used a new typeface designed to address the issue of visual consistency across the different written forms of English, Chinese and Korean. Irma Boom's design of Rem Koolhaas's whopping 2600 page-book Elements of Architecture is also featured. The design includes a special split spine that encourages the book to fall open in the middle, where the introduction and contents pages are located.
The exhibition talks about how the nominees shine a light on what society cares about at the time, and in this way, the 2019 exhibits gives cause for some optimism. As is to be expected, many address environmental concerns and the need to make better use of resources. Jasper Morrison's 1 Inch Reclaimed stacking chair is constructed almost entirely from manufacturer Emeco's factory waste. The OLIO food-sharing app has been used to share surplus food that would otherwise be thrown away. Who could fail to smile at the lettuce-themed vegan slider, made from bioplastic by Belgian designer Mats Rombaut. There's also Lia, the world's first biodegradable, flushable pregnancy kit.
It's heartening to see a number of female-focused nominations, including the first silent, wearable hands-free breast pump (Elvie) and a swimwear range made from re-used fishing nets for all body shapes (Chromat AW19 Climatic Collection). There are also designs that engage with disabled audiences, such as ThisAbles, a 3D printed collection of hacked IKEA products, and Tommy Hilfiger's Adaptive clothing range, which features one-handed zips, magnetic and Velcro closures and easy-open necklines.
The transport category includes a couple of the more speculative nominees, notably the Pop.Up Next, a hybrid car/flying drone that sheds its car base before ejecting vertically.
The category winners and overall prize will be announced on 21 November.
---
Beazley Designs of the Year, until 9 February 2020, Design Museum, 224-238 Kensington High Street, London W8 6AG