Eric Parry, Jes Fernie and Narinder Sagoo chewed the representational cud to launch this year's drawing competition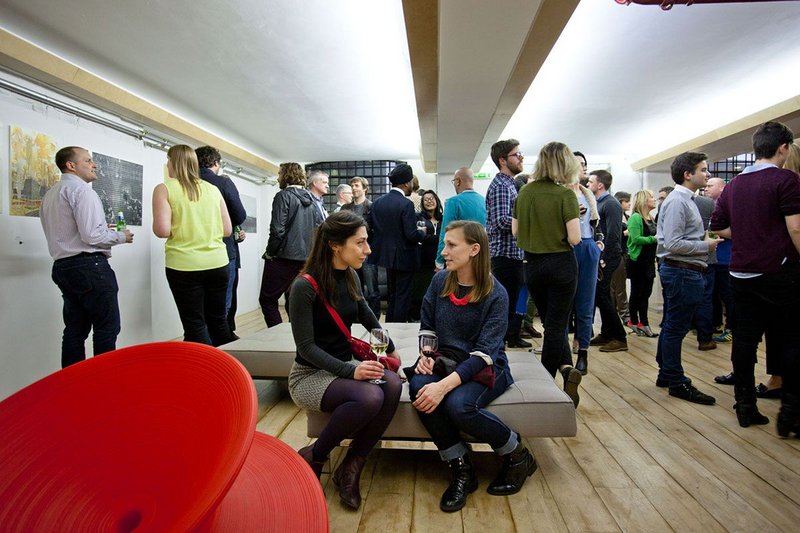 The crowd gathers at the Anise Gallery for the Eye Line launch.

Credit: AVR London
A large and engaged crowd turned out for the launch of Eye Line 2016, our annual drawing competition, at the Anise Gallery in Bermondsey – part of the premises of our partners this year, AVR London. The big draw was our three interlocutors, there to discuss the art, craft, science and general all-round loveliness of architectural depiction.
It was a lively discussion, between art curator and writer Jes Fernie and architects Eric Parry and Narinder Sagoo of Foster + Partners, guided by RIBAJ editor Hugh Pearman. Fernie is curator of the RIBA's 'Creation from Catastrophe' exhibition, including some fine historic drawings from which she highlighted Daniel Burnham's plan for Chicago in the years of rebuilding following the great fire of 1871. Parry talked of the importance to him of the working drawing as opposed to the presentation drawing, while Sagoo – @DrawingMan on Twitter – wondered if we could call an end to individual style in architectural drawing, given the plethora of techniques available and the number of people who tend to work on one image. No, you can't, said the others – though the idea of joint authorship was approved.
Eye Line is one of the highlights of the year for us at RIBAJ because this is a kind of architecture that exists outside the constraints we're all used to. For a start, there's no fee to enter. Practitioners and students are on equal terms. The drawings can be in any medium or combination of techniques. They don't have to be buildable. They don't even necessarily have to be presented as buildings or places. When we judge the entries, we do not crit the projects, fascinating though they mostly are. As much as Eye Line is about communicating architecture and imagined worlds, it is also about the joy of drawing for its own sake.
As Royal Gold Medal winner John Tuomey of O'Donnell + Tuomey once observed, it's often the act of drawing that produces the idea, not the other way round.
Our interlocutors kicked around the differences between student-drawing and practitioner-drawing – key to this being that real-life projects bring real-life compromises and time constraints. But a simple detail drawing can be beautiful and both practitioners and students have won Eye Line in the past.
So – it's time for you to get out your best drawings and enter Eye Line 2016. Details and downloadable entry form are available here.
---
Partner websites:
www.avrlondon.co.uk
www.anisegallery.co.uk
---