Albert Orozco depicts the mystery of tentatively emerging architecture in his intriguing Platform for Imagined Ruins: Eye Line 1st winner, practitioner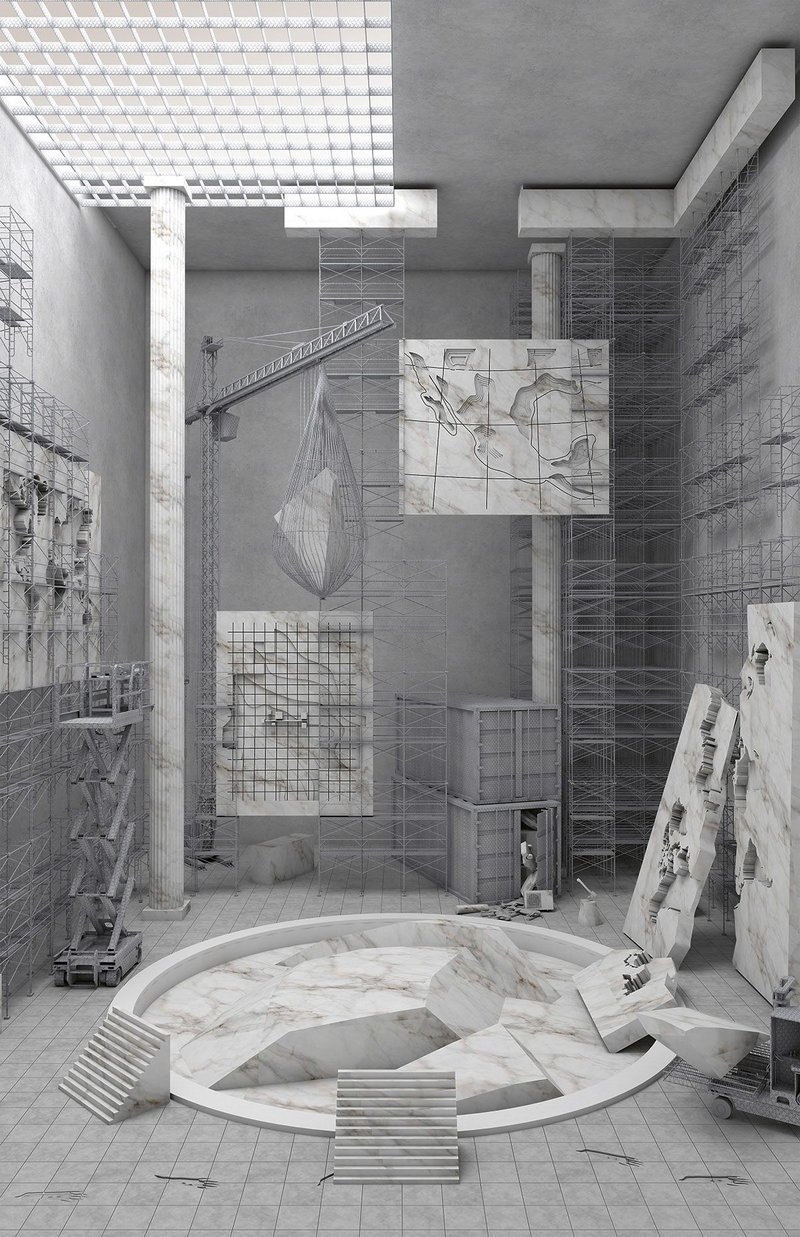 Practitioner, 1st winner: Albert Orozco
Paul Murdoch Architects, Los Angeles
Our winning Eye Line entry from a practitioner almost didn't make it, only just scraping through as the entry deadline expired. Orozco entered just the one drawing, and we're glad he did. 'Platform for Imagined Ruins' intrigued and impressed the judges in equal measure.
But what is it, exactly? You see a room where the scale is strange: how big is that tower crane? The architectural elements are no less odd, such as the immensely tall column that appears to be holding up nothing more than a kind of latticework skylight. And then, zooming in, you see odd little things: the axe stuck in a block of wood, the alarmingly unhuman footprints, random objects spilling out of an opened door, the weird way that kickplate galvanised metal is deployed. That's before you get to the marble staircases to nowhere and find yourself wondering at the quarried architecture represented by the huge stone relief panels.
For Verity-Jane Keefe, it was simply beautiful: 'I really want to be in that space of his.' Morag Myerscough said 'It doesn't bother me that this image isn't hand drawn – it's very skilful,' a sentiment echoed by Tatiana von Preussen who noted it was the antidote to a corporate render. For Ed Crooks, 'it's beautiful conceptually and plays with scale really well'.
Jan Ameloot of Delta Light gave it the ultimate accolade: 'We'd hang that on the wall of the showroom. It's intriguing – you keep looking at it and discovering new things'. And for chair Hugh Pearman, it's about 'the mystery of how architecture is tentatively emerging as the result of materials and processes coming together.'
Orozco himself says: 'In this compressed scenography of a timeless natural resource, contemporary architecture is repositioned within the vast expanse of time, revealing the destiny of buildings: a ruin to become.' For us it is a stone cold winner.
---