Arinjoy Sen is 1st winner of Eye Line 2020 in the student category, taking the carpet as a starting point for 'a beautiful series of drawings'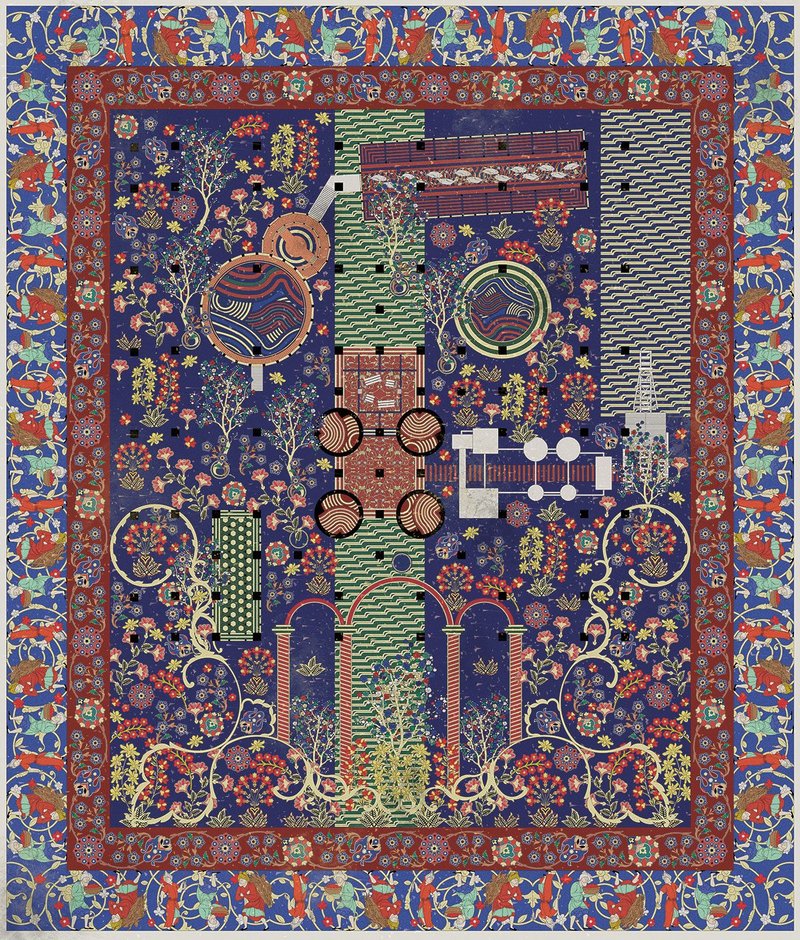 The Carpet as a Manifesto. Digital mixed media, 594mm × 841mm.
Student, 1st winner: Arinjoy Sen
Bartlett School of Architecture, UCL
'Certainly not the first, nor the last, to take the carpet as a starting point for architecture; Lubetkin did it before,' said Hugh Pearman of this Eye Line submission. However, with a civil engineer father and reared on the tenets of constructivism, Lubetkin's pared-back designs for Highpoint's carpets stand in opposition to the complex and florid nature of this work. In a rare display of unanimity, all the judges accorded with Pearman's conclusion that Arinjoy Sen's interpretation of the Kashmiri craft of carpet weaving should clinch the top prize.
'More than just a domestic object of comfort and decoration, the carpet is an important space for representation and political reading', Sen explains; and in line with Foucault's idea of Heterotopia, it is 'a small parcel of a world that can move through space…creating (in turn) its own space that can be inhabited.' Looking at societal and cultural history, Sen draws on the craft of weaving and ancient Mughal painting as a form of Utopianism, from which to generate his architectural world.
The judges were all beguiled. Verity-Jane Keefe called the work 'a beautiful series of drawings. I could stare at them for ages', the richness of the folds of Sen's curtain 'stunning'. Ed Crooks, too, loved them: 'It's my favourite. They are a joyous and incredibly intricate set of drawings and the idea of planning a space on a carpet is compelling. They are so detailed and with so much internal life.'
The work hangs in the suspension of its own disbelief. 'Architecture cannot be considered only as the built environment, but also the embodiment of ideas, values, relationships and ideologies…an architecture that is not-built,' Sen adds. Perhaps this fantastical quality brought to mind Herge's work for Jan Ameloot, who declared it 'a clever, contemporary, eclectic interpretation of traditional design'. And this year's worthy winner.