Architect and teacher Alan Dunlop's chronicle of coronavirus lockdown earns practitioner, 2nd winner, place in 2020 Eye Line drawing competition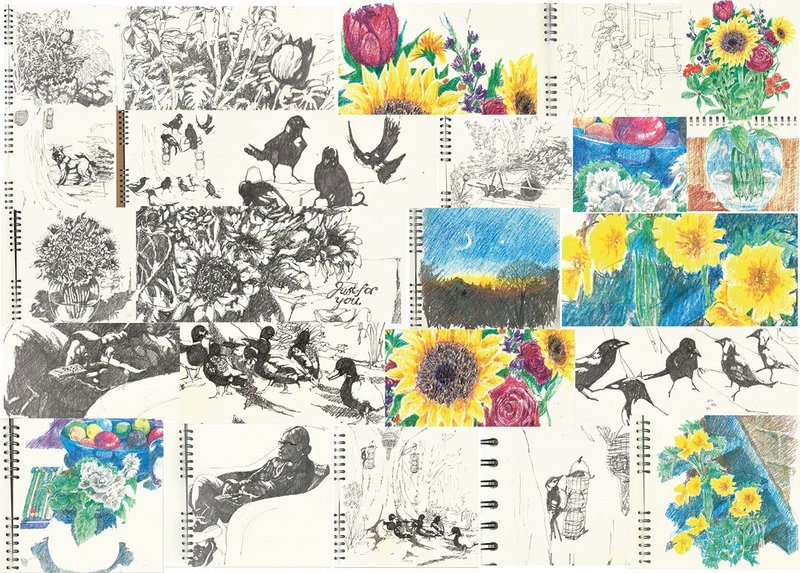 Practitioner, 2nd winner
Alan Dunlop, Alan Dunlop Architect Ltd and professor of architecture
Alan Dunlop, multiple award-winning architect and teacher, is a noted draughtsman who supported Eye Line in its early days and has previously served as one of our judges. Now the boot is on the other foot and it's him entering. Dunlop, as you can see, has not been idle during lockdown, filling page after page of his sketchbooks with his deft observations of people, animals, objects, flowers, anything that enters his field of vision. Then he assembled the sketches into A1 panels. There are five of these panels in all – of which, given the Eye Line rules of a maximum of three works, we got to see nearly two-thirds.
Our judges were keen on the cumulative effect, with Verity-Jane Keefe remarking how they serve as pages marking a sequence of time. 'It's really beautiful. We've been bombarded with performative productivity on social media, but I love these framed vignettes.' For Tatiana von Preussen 'they are atmospheric and really relevant'. With Ed Crooks concurring, Dunlop's place in the rankings was secure. His own description is matter-of-fact. These drawings were made from the very first days of lockdown and isolation, he says, chronicling his home and studio, what he saw on his exercise trips, the birds and animals that came to visit, the experiences of his family, 'the arrival of spring flowers…and beginning of summer'.
Above all they convey a sense of life, vitality and keen observation in the constrained circumstances we are all so familiar with – if less productively in the case of most of us.