An eye for unregarded pieces of townscape wins Cristina Gardiner of Historic England 3rd winner, practitioner, in Eye Line drawing competition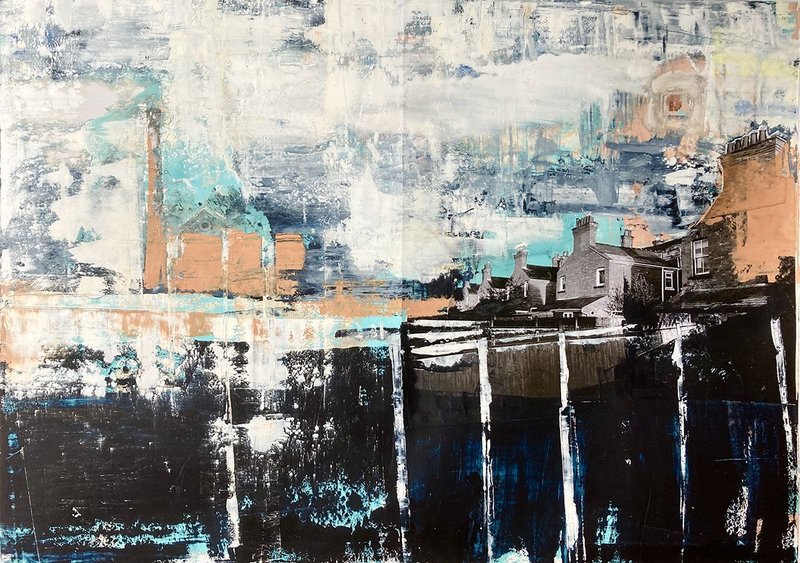 Talk to your Neighbour – Victorian terrace backs. Oil and collage on encaustic paper, 830mm × 605mm.
Practitioner, 3rd winner
Cristina Gardiner, Historic England
Cristina Gardiner's entry is a different kind of art response to imposed limits. Two of her images, 'The Keeper – Powick Ham' and 'Talk to your Neighbour' record the places around where she lives, in the fields and villages between the rivers Severn and Teme. These are part of a set of six made during lockdown. But her third entry is from further afield, St Petrox in Pembrokeshire.
Gardiner works in the Midlands as a 'heritage at risk' architect and her eye for the sometimes unregarded pieces of older townscape informs her art. So in The Keeper she sees the handsome Victorian chimney of the Powick Mill power station, which dominates the landscape for miles, as a kind of protective being – 'familiar yet unyielding and observant in the landscape full of water'. And Talk to your Neighbour is about the backs of an ordinary row of Victorian terraced houses which she sees every day – lively and adaptable places, she observes.
St Petrox Skyline is all about the bright yellow field of rapeseed in flower that dominates the artwork as it did in reality. That was the one that brought all the judges to the yard, with chair Hugh Pearman remarking that 'this was an easy one for me to choose' while Tatiana von Preussen called the set 'really stunning'. It was the preferred choice of Jan Ameloot and highly ranked by Ed Crooks. Some judges were less keen on the first two in the set – apparently it reminded some of a 1990s Cambridge trope. Morag Myerscough saw some of her own past in these drawings but liked the mix of media. Ameloot called them 'epic in scale'.
In the end it was Gardiner's appealing evocation of place and technical capability that secured her position.