Francis Terry's Versailles Redesigned drawings mix 'bolshy arrogance' and spectacular images to take practitioner commended place in Eye Line 2020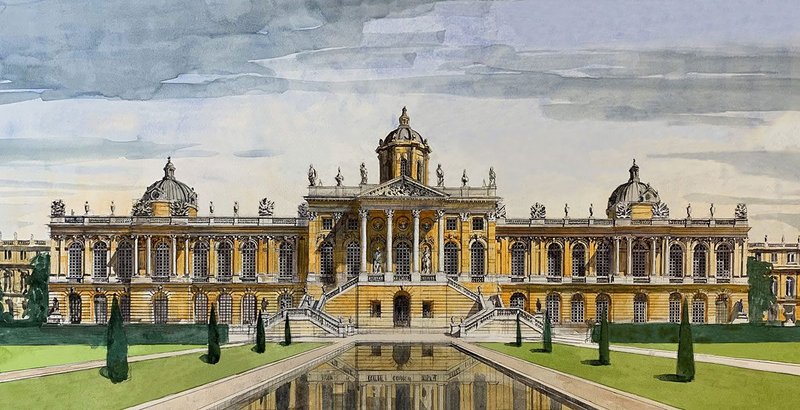 Garden Facade of Versailles with my improvements (watercolour 780mm × 380mm)
Practitioner, commended
Francis Terry, Francis Terry and Associates
You have to love an entry that is titled 'Versailles Redesigned' and this, coupled with traditionalist architect Francis Terry's great skill in draughting and colour wash, meant that it scored highly with all the judges. Though those seeing it as a top three contender were in a minority, these watercolours were always there in the discussion, as a kind of ground anchor. His third drawing (bottom) is of the Place de La Bourse in Bordeaux by Ange-Jacques Gabriel.
Terry had visited the Palace of Versailles with his family just before lockdown. 'Walking up to the front I was struck by how unimpressive it was despite all the money spent on it; it feels like a wasted opportunity. The palace itself seems too small in the context of all the outbuildings that it almost disappears.… the garden side is not much better.'
So Terry returned home with a mission. 'Aided by the extra time which the coronavirus lockdown has generated, I set myself the task of redesigning Versailles.' As Jan Ameloot said, 'Anyone dealing with the Sun King is taking a risk but he manages to make Louis XIV rock on his pedestal armed only with a pencil and watercolour. Majestic.' Ed Crooks added: 'Spectacular images and I like the bolshy arrogance of the brief he set himself' while Pearman liked it for its handling of shadow and all-round 'neoclassical pizazz'.