Desislava Cholakova takes 2nd winner, student, place in the 2020 Eye Line drawing competition with fun, playfulness and mad moments in Brick Lane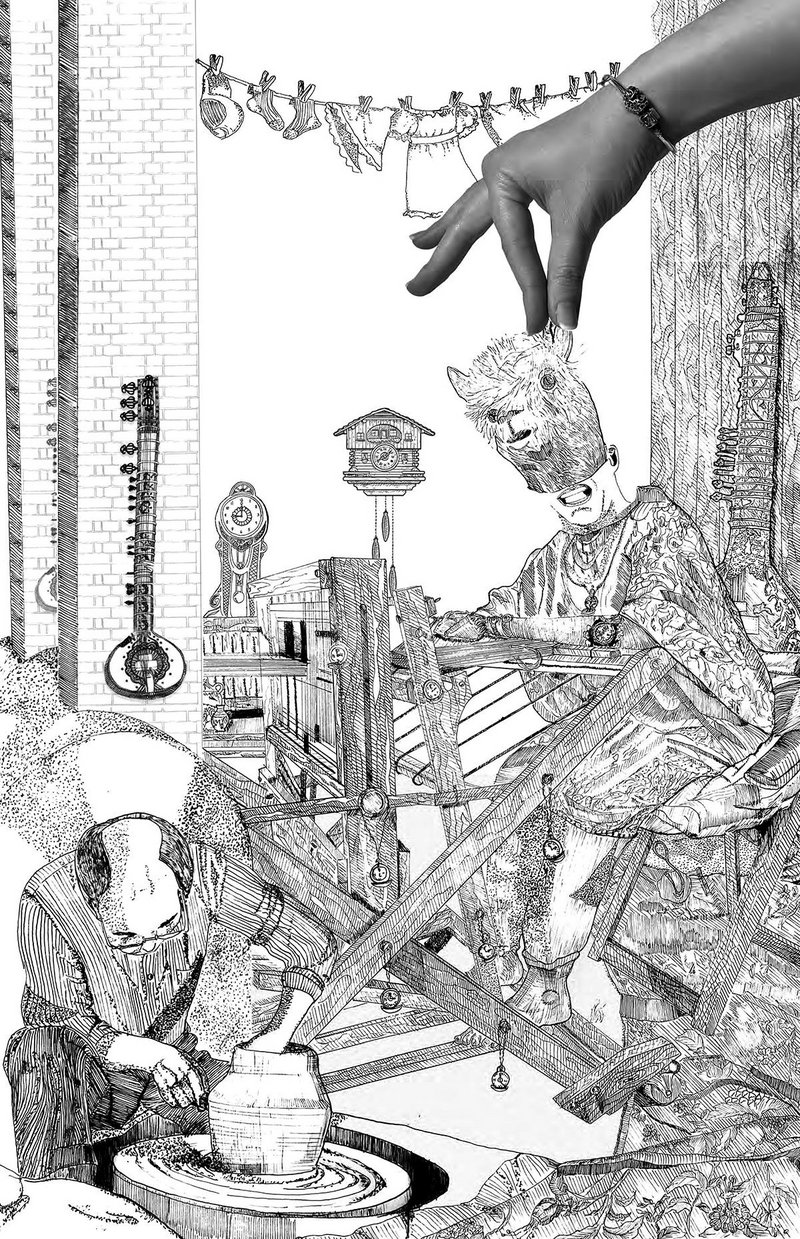 Brick Lane's Creative Communal Centre. Hand drawn and Photoshop, 420mm × 594mm.
Student, 2nd winner
Desislava Cholakova, London South Bank University
Crafts of other forms are the inspiration for this year's second winner – this time centred in a physical rather than conceptual space. Desislava Cholakova found herself inspired both by the Huguenot past of Brick Lane and its 'multi-culti' present to offer up an idea of its potential future. Drawing on the area's weaving traditions and former brick-making industry, Cholakova proposes a 'creative communal centre', inspired by its history as the 'motherland of crafts.' But she doesn't stop there, its hipster future is acknowledged too, with a 'micro-village' for fashion and textile production, pottery, costume design, watchmaking, Sitar production and leather manufacturing. All this new activity is witnessed from a passing Overground train by captivated passengers.
Morag Myerscough found it a tough call to decide between the winner and this project, sensing more 'fun and playfulness' here. Verity-Jane Keefe also responded to the work's sense of joy, blending contemporary cultural references in among those traditional crafts: 'I like the formality and compositional strength of the images but she has her mad moments – I love the way she's just nestled Shrek alongside weavers and potters.' Tatiana von Preussen saw the beauty of the images taken together 'as a first or second place for me'. Pearman, charmed along with four other judges, by its tongue-in-cheek representation of an independent, self-sufficient community, awarded it second place.

Brick Lane's Crafts Micro-village. Photoshop & Illustrator, 369mm × 1069mm.

Brick Lane's Crafts Micro-village. Photoshop & Illustrator, 367mm × 1236mm.