Exhibition reveals how finalists from Niger, Mexico, Thailand and Ireland respond particularly sensitively to local and global context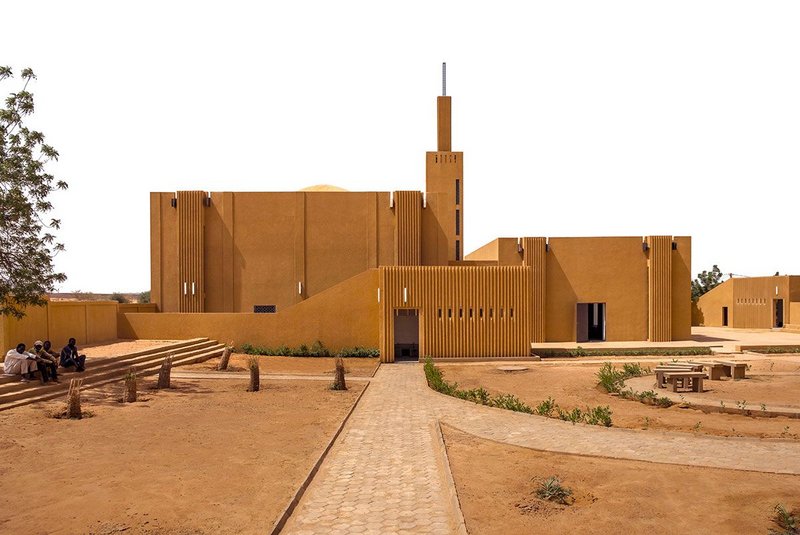 Atelier Masōmī, HIKMA religious secular complex, Dandaji, Niger, 2018.

Credit: Credit James Wang. From Architectural Futures: Royal Academy Dorfman Award 2019 at the Royal Academy of Arts.
Architects jaded by relentless Brexit uncertainty might consider popping into the Royal Academy's display on the finalists of its Dorfman Award, inaugurated last year to recognize emerging global talent that represents the future of architecture.
The work and commitment of these four finalists, chosen by a jury chaired by Alan Stanton of Stanton Williams, is a tonic.
Jurors were looking for practices that demonstrated a high degree of sensitivity to local and global context. The result is a truly international shortlist, featuring practices from Mexico, Ireland, Niger and Thailand.
In this one-room exhibition, each practice has presented a small display that gives an insight into their practice and local culture. TAKA, formed in Dublin in 2006 by Alice Casey and Cian Deegan, has in the last five years expanded into larger-scale non-domestic projects, including a cricket pavilion in Donnybrook and the ongoing Belvedere sports pavilion in Dublin. They devote a major chunk of their space to documenting their extensive world travels, which took in everything from well-known work by Utzon, Murcutt, Schindler and Lina Bo Bardi to more everyday vernacular. TAKA's travels have fed into the practice's approach to its own work, which it prefers not to define as Irish contemporary vernacular.
'It is clear to us that, even at the onset, we were not simply making 'local' architecture, but embedding a contextually sensitive architecture which is inflected by aspects and elements of sympathetic alien building cultures,' they say.
Mariam Kamara's practice Atelier Masōmī was set up in 2015 in Niamey, Niger. The name masōmī, means 'the inception' – a starting point towards thoughtful design investigations, according to the practice. Kamara is interested in creating architecture with the power to 'elevate, dignify and provide a better quality of life' while respecting the narrative of the place. There is an emphasis on research, investigation of local materials and use of local skills in her projects. These have a common theme of empowerment, such as the renovation of a market in Dandaji, a proposal to create public spaces that empower local women in Niamey and most notably the HIKMA project, also in Dandaji. In this, Kamara collaborated with local masons using compressed earth bricks to convert a derelict mosque into a library and community centre after extensive community consultations revealed the need for somewhere people could study and meet. It is a place, she says, that 'creates confidence in the future'. Ongoing projects include a technology and innovation incubator building in Niamey.
Fernanda Canales established her practice in Mexico City in 2002. She prefers not to have an office but instead spends as much time as possible on the sites of her projects as well as teaching, curating and researching – for her, architecture is also produced through writing.
Interested in 'the spaces between rooms, people and cities', she describes her work as prioritising users and context over concept: 'It has taken me decades to design with my body, my memory and my hands, to forget images and shake out conventional solutions.'
Projects include Bruma House, a collection of nine 'exploded' volumes around a central patio, and a prototype reading room/community gathering place designed to be built by community members in residual spaces.
Boonserm Premthada established the Bangkok Project Studio in Thailand in 2003. He describes how he finds inspiration in nature, and also in the work of those who build without architectural training.
'I seek inspiration from nature by observing how the trees, sunlight, air and water work,' he says. His display showcases the extraordinary Elephant World stadium and observation tower under construction in Surin province, as well as a conservation and learning centre that raises awareness about mangrove deforestation in the Gulf of Thailand.
The winner of the Dorfman Award will be announced on May 13.
---
Architectural Futures: Royal Academy Dorfman Award, until 27 May 2019, The Architecture Studio, The Dorfman Senate Rooms, Burlington Gardens, Royal Academy of Arts, Piccadilly, London