The start of the 21st century was a turning point for Grimshaw's practice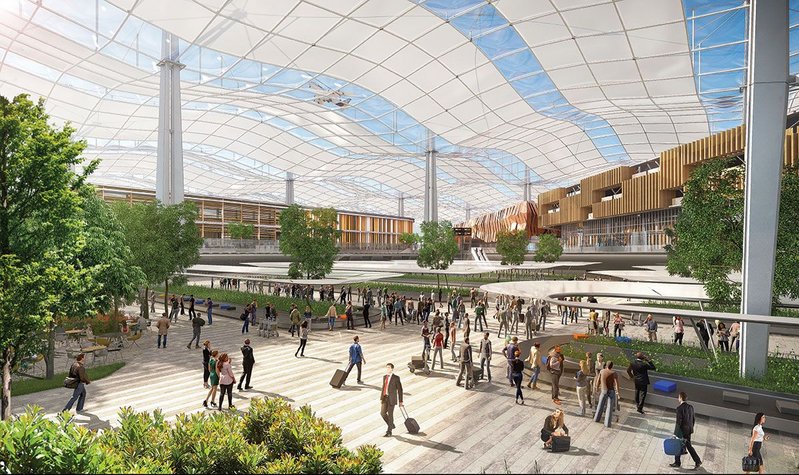 Heathrow Airport vision, London, United Kingdom.

Credit: Grimshaw
My great hope is that in the opening decades of this new century architects will lose their obsession with style and image and will design buildings which actually express the forces that act on them – Sir Nicholas Grimshaw
The start of the 21st century was an exciting milestone for everyone, but for us it rapidly became a genuinely new epoch. As Johnny Tucker points out in his essay, for Grimshaw the 2000s were to be a decade that marked an evolution in the way we worked and organised ourselves as much as a growing sophistication in the projects for which we were commissioned.
This was born out of necessity. Under Nick's chairmanship, major design competition success in New York and Melbourne led to the distribution of our leadership and management across the globe. We had already taken the decision that we wanted to pursue work in New York, immersed in the fabric and culture of the city rather than having a satellite extension from London. To do this properly meant having our most senior leadership based there with our families, fully integrated into the pulse of the city's life. With the advent of video conferencing and the ubiquity of mobile phones, we could have regular leadership meetings with the partners based in New York, London and Melbourne. We took the decision that we would set up a network of global city studios, operating as one partnership.
This has now grown to eight locations all at different scales and time scales in their development. Los Angeles, New York, London, Paris, Dubai, Kuala Lumpur, Melbourne and Sydney. Running one networked business has its challenges beyond distance and time zones, legal structures and an array of sometimes volatile exchange rates.
The concept designs push the boundary of what an airport could and should be, while simultaneously promoting a sustainable and affordable expansion
But this international approach with a global network of local studios also brings considerable benefits. It allows us to engage with projects and clients that would never have been possible from a large London HQ: they are often local in character yet requiring an international depth of expertise. In many cases we have worked on challenging projects across two separate studios. A recent example is the new masterplan for New York City's JFK Airport, large in scale with a very demanding timeline that has a team split across New York and London. This way of working also opens up career opportunities for our staff, who move for short sabbatical stays in other studios or longer-term relocations to new continents and a deepening of cultural experiences.
Our civilisation is undoubtedly about to experience great change and challenges over the next few decades. An exponentially growing population, almost entirely occurring in cities, will see a doubling of our urban conurbations. For every school, university, hospital, metro system and airport we have today, we will need at least a duplicate just to stand still.
This is all set against the background of our current development strategy that is depleting natural resources and destroying the environment at an unsustainable rate. The very fabric of society will see major changes through technology disruption, increasing application of algorithms, computer learning, artificial intelligence and robotics fundamentally changing the way we live and work. Out of these great challenges lie incredible opportunities, and the architect's role in guiding and shaping the cities and world we live in is more important now than ever before.
A unique opportunity to create a lasting legacy – a place where people are inspired to conserve and cherish the biodiversity and botanic heritage of Oman for a sustainable future
The Oman Botanic Gardens are a unique opportunity to create a lasting legacy – a place where people are inspired to conserve and cherish the biodiversity and botanic heritage of Oman for a sustainable future
A thriving future for humanity will depend on ingenious responses that use our resources to optimum effect and in this respect the greatest lessons can be found in nature. As Nick Grimshaw's personal history demonstrates throughout, the studio is founded on analysis and exploration rather than the imposed application of a pre-ordained stylistic architectural formula.
This method allows us to explore design in a much more organic way, and to produce designs that are informed by the same laws that control and shape the world around us. The studio is a place of innovation, invention and imagination – a place where the atmosphere is more that of a laboratory or think-tank than of a typical architecture office. This group boldly engages in design from first principles, and their solutions are often unexpected, but, once understood, resonantly clear.
Our designs derive from broad investigation and a thorough understanding of a project's programme – the careful balancing of elements that make up architecture. The investigation continues right down to the finest detail, so that each detail element carries the signature of the overall concept. We believe that beauty arises through functionality, and often see our most integrated and unique architecture achieved through this pragmatic approach.
Everything else may seem to have changed since Nick's first built project in the mid-1960s: yet so many of the aspects of our architecture that I have outlined here was present back then. The evolution continues.
---