Architectural device that speaks of solidity, status and security
Originating in the rough forms of raised stone plinths that underpinned early military and municipal buildings, the concept of rustication became the architectural embodiment of being 'built on firm foundations', a rhetoric used since antiquity to convey that the buildings it graces are sturdy, important and well protected. From the early Renaissance, rustication often took on a key role in the overall orchestration of facade design, acting both as a matrix binding all a building's architectural elements together and as a powerful device for sculpting the building as a whole in a more plastic manner than was possible through only choreographing discrete elements. The following are a few examples from various periods and places, demonstrating the power that this architectural treatment had – and still has – for modulating the impression we receive from a building.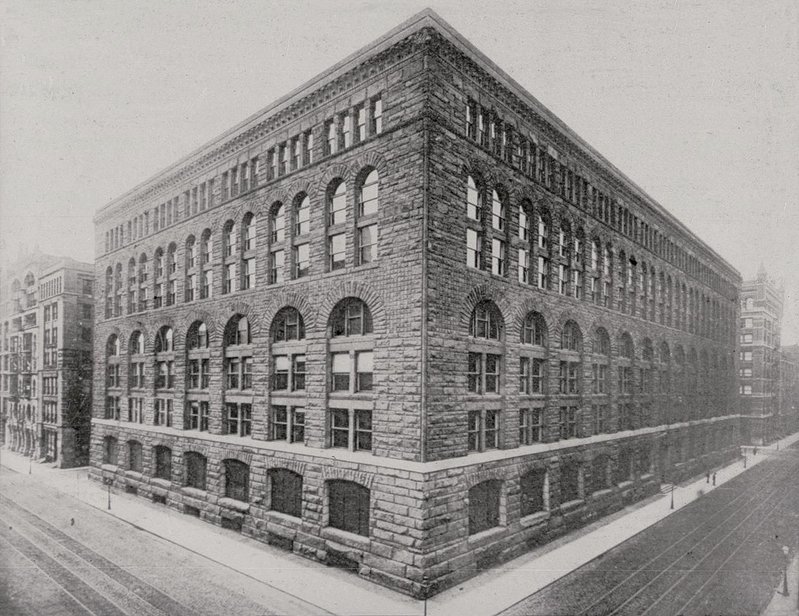 Marshall Field Wholesale Store, Chicago, HH Richardson.
Marshall Field Wholesale Store Chicago, Illinois, 1885-7, HH Richardson
This vast building brought together the great Renaissance originators of compositionally-orchestrated rustication built for the new Tuscan banking and trading class – the Palazzi Medici, Strozzi, Pitti, and other early palaces – with the massive square foot and multi-level requirements of a late 19th century American wholesale department store. Richardson's Marshall Fields was an essay in the perpetual efficacy of a classical language that was at once massive and refined – as the symbolically reassuring underpinnings for new money, new modes of making money, and their related new building types, in whatever era they may arise and however large their home.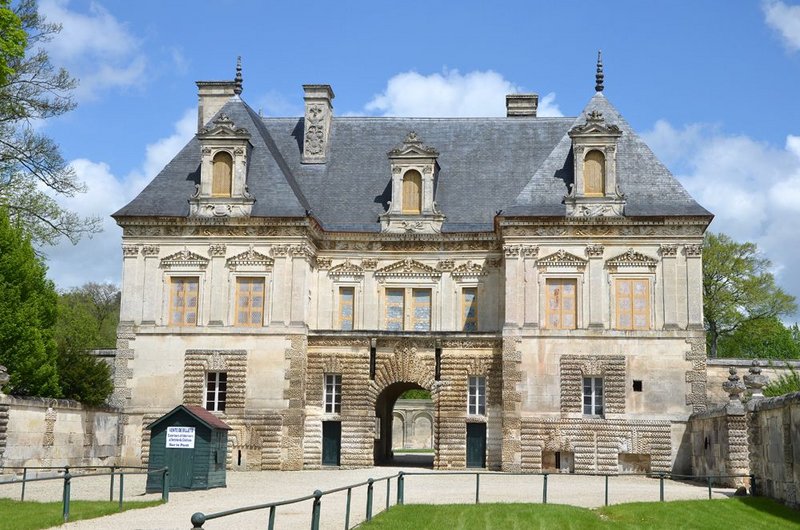 Petit Chateau de Tanlay, Pierre Le Muet.
Petit Chateau de Tanlay mid 1550s - 1610
Vermiculation or worm-eaten rustication – where stone blocks have serpentine tracks gouged out of them – are used in the central feature of the gatehouse of the Chateau de Tanlay. This is an opportunity or excuse for ornate carving, bringing together in a most unusual and contradictory manner the busy and detailed strapwork ornamental motifs of the school of Fontainebleau, with the clear contours of a scheme of banded rustication.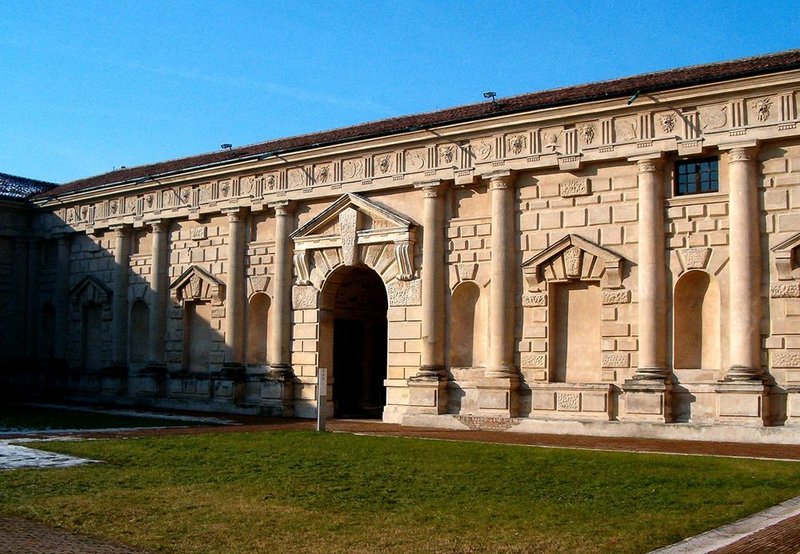 Palazzo del Te, Mantua, Giulio Romano.
Palazzo del Te Mantua, 1524-1534 Giulio Romano
A veritable manifesto in both the recognition of classical elements as being representations, memories of functional exigencies and not necessities in themselves; and the ensuing use of them as pawns in a visual game whose purpose was to create thrilling effects and strange impressions by playfully undermining the observer's knowledge and expectation of classical order. Enlarged, raised and dropped keystones, falling triglyphs, blank walls where the ornament just stops, string courses that appear and disappear – this facade is a linguistic playground of architectural elements, held together in a brilliantly weird matrix of disorderly and appropriately disobedient rustication.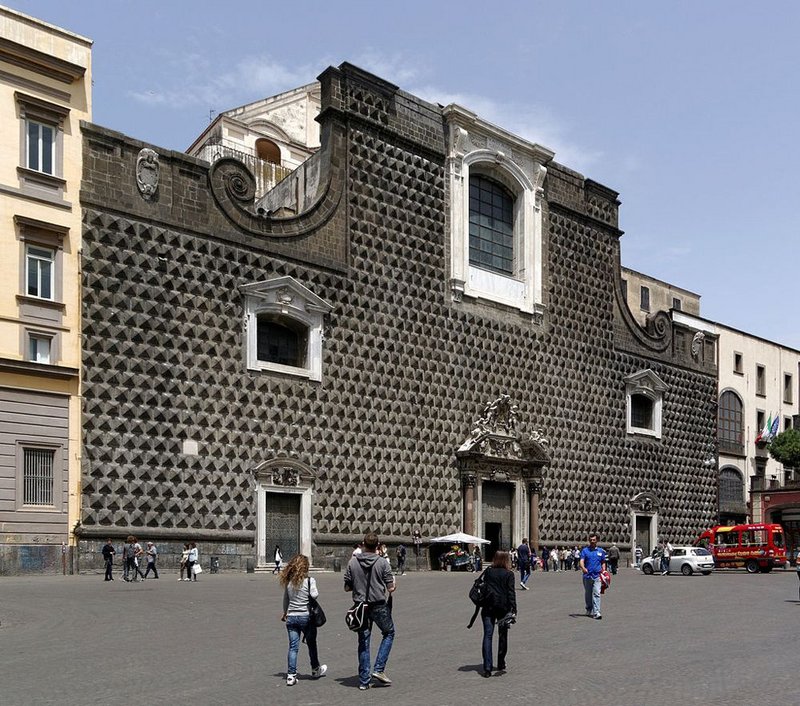 Gesu Nuovo, Naples, Giuseppe Valeriano. Facade by Novello da San Lucano originally for the front of the Palazzo Sanseverino.
Gesu Nuovo Naples, 1584–1601, Giuseppe Valeriano: facade by Novello da San Lucano originally for the front of the Palazzo Sanseverino, 1470
Together with the Palazzo del Diamanti in Ferrara (1493, Biagio Rossetti), this is probably the most impressive use of diamond rustication in existence, with the elements of the facade floating in a profoundly unsettling sea of stone spikes. Of all the forms of rustication this is the most eloquent in its defensive, or rather aggressive, connotations. Perfect for a private palace intended to radiate strength, it is not so perfect for a Jesuit church of the people. The facade was originally built as the former (for the Sanseverino family), and ended up retained on the front of a church for the latter. This motif was more recently used in similarly spectacular fashion by Francisco Javier Sáenz de Oiza at the Franciscan Sanctuary of Arantzazu in the Basque region of Spain, 1950.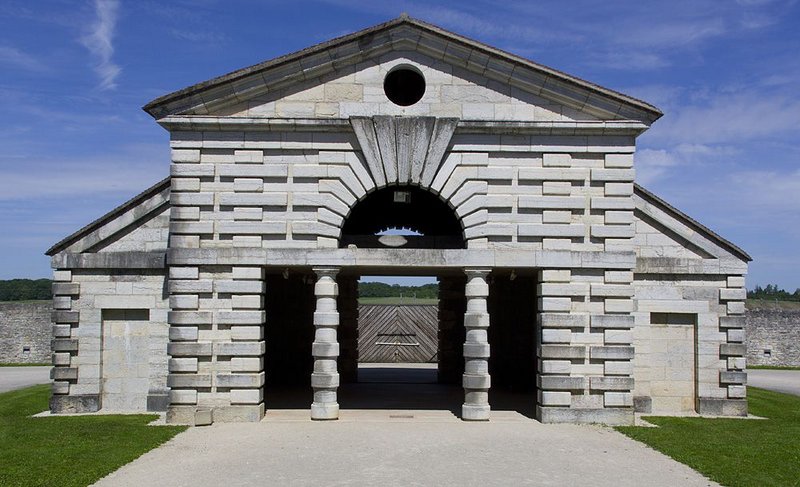 Gatehouse of the Saline Royale, Arc-et-Senans, Claude-Nicolas Ledoux
Royal Saltworks Gatehouse of the Saline Royale Arc-et-Senans, 1775–79, Claude-Nicolas Ledoux
Ledoux used extremely pronounced (usually banded) rustication as a way of emphasising the overall form of his buildings, while at the same time giving them characterful, or 'parlante' highlights pursuant to the building's use. His abstracted classical ornamentation, primarily carried by openings, columns and rustication, made his buildings often look as though they were hewn from a solid block of stone, a unitary quality in which the parts never overwhelmed the whole but rather acted to elucidate its form, a condition much present in the atmosphere of French enlightenment thought in which Ledoux thrived.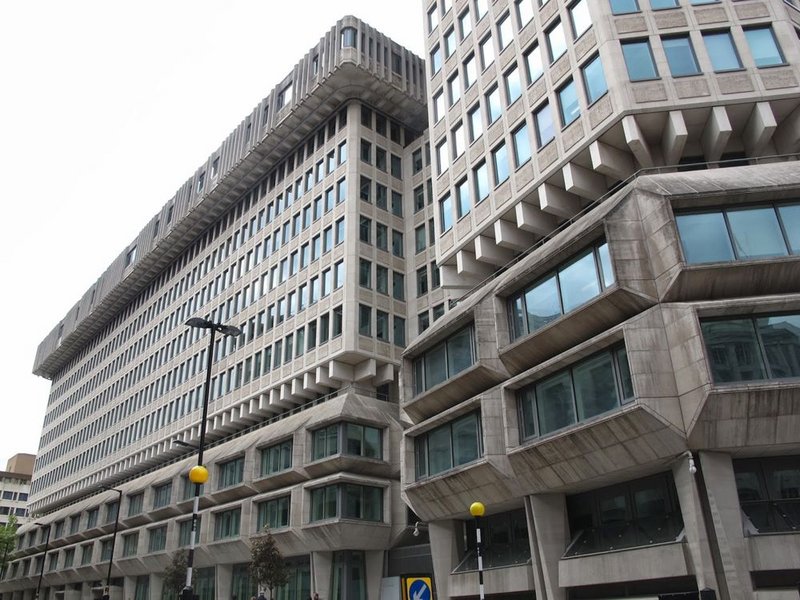 50 Queen Anne's Gate, London, Basil Spence.
50 Queen Anne's Gate London, 1976, Basil Spence
In the best tradition of British Baroque in which expected architectural elements are blown out of all proportion and used in unexpected combinations, we have Basil Spence's extremely decorous tripartite elevation, 50 Queen Anne's gate by St James (originally housing the Home Office and now Ministry of Justice). This is two storeys of vast rusticated blocks whose insides have been ripped out and windows rammed inside them like some sort of hollowed-out anti-fortification for the Civil Service, in which even the stones themselves feel empty and meaningless.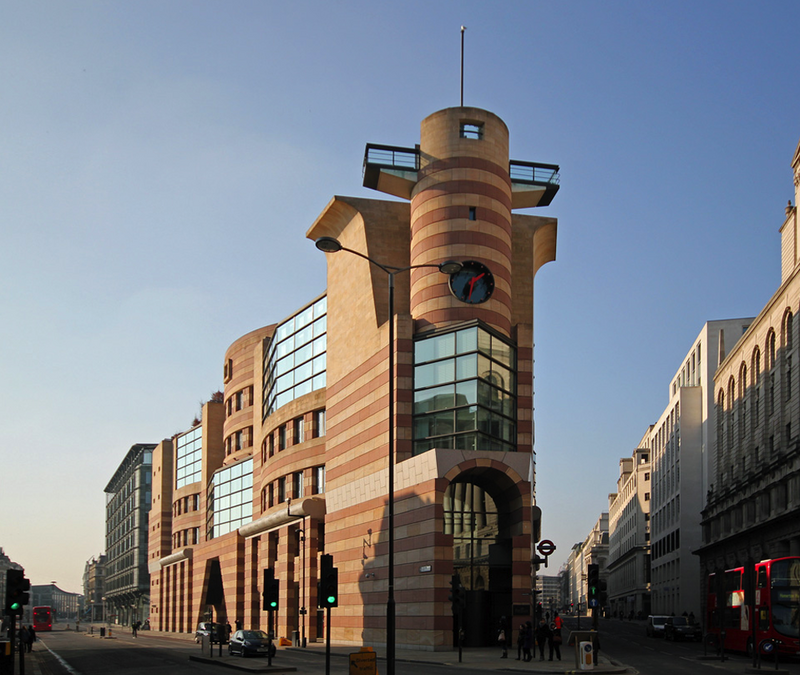 No 1 Poultry, London, James Stirling Michael Wilford and Associates.
No1 Poultry London, 1997, James Stirling Michael Wilford and Associates
Rustication is an important device in most of Stirling's post red period buildings, in the case of No1 Poultry anchoring the design in visitors' minds within a long architectural lineage, while at the same time vocally rebelling from that past through its graphically wilful deployment and bright polychromaticaly alternating layers. Rustication is here used in an opposite manner to Ledoux, in order to ruffle the building's feathers, to destabilise its form, adding a further sense of staccato complexity and chromatic frisson to a building already buzzing with ideas and references.
---
Article written with advice and support from Dr Lucy Jessop, senior investigator, English Heritage