Pediments are memories of the original functional form of wooden structures, ossified into stone and retained as historical anchors. Broken pediments were the moment these tropes broke free from tradition and were turned to the exigencies of expression and the will of the designer, but always still retaining recollections of the past within even the most wilful of compositions.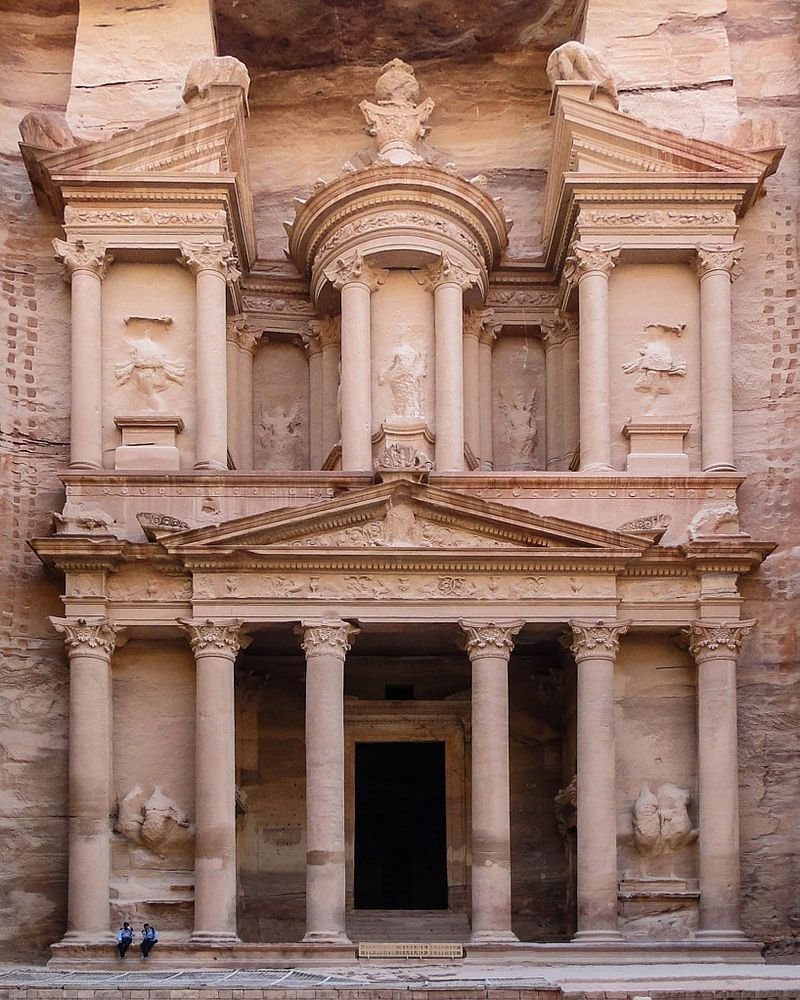 The Treasury, Petra 1st century AD
The Treasury, Petra 1st century AD
Architect unknown
The most complex pediment in this list is also the oldest, and probably the most famous, having featured in Indiana Jones and the Last Crusade. It was in the provinces and associated neighbouring kingdoms that classical Roman architecture was free to be at its most elaborate; and in the Treasury, the Nabateans embody this tendency to an exemplary degree with a pediment that splits, recesses and lurches forward into an almost free-standing circular temple.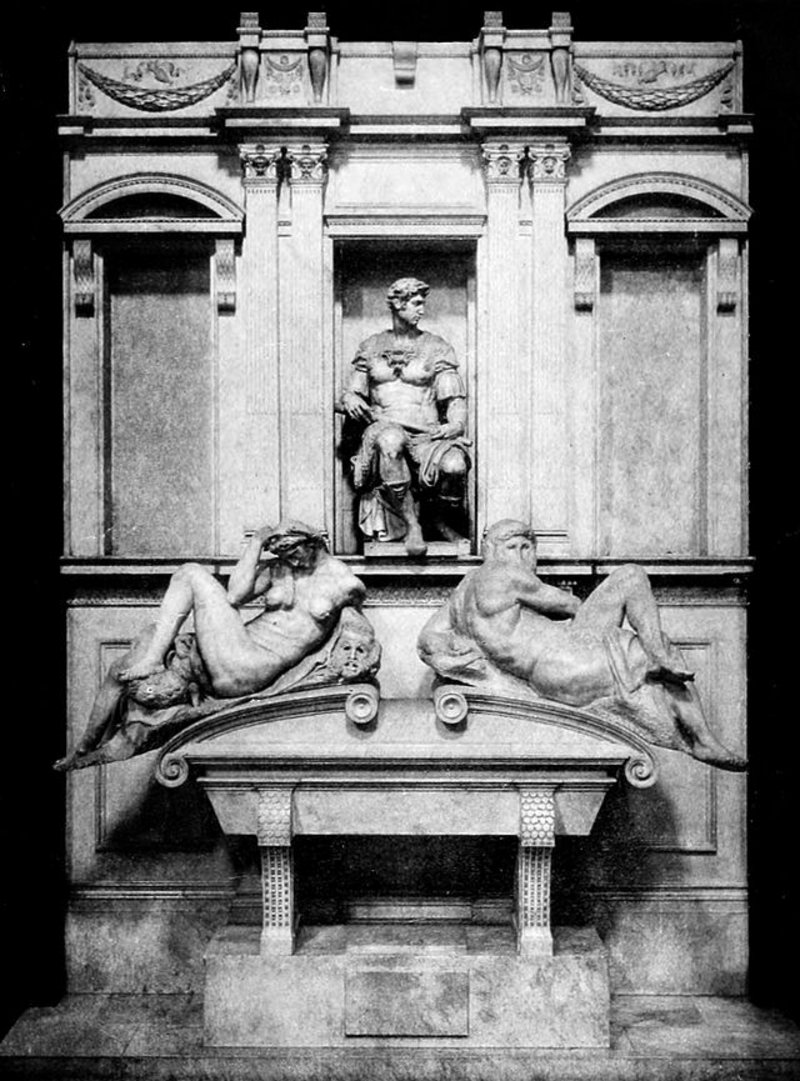 Tomb of Giulino de Medici.
Tombs of Lorenzo & Giuliano de' Medici, Florence 1533
Michelangelo Buonarroti
Embodying in compressed form so much of Michelangelo's radical transformation of the use of the classical language in architecture and sculpture, the pediments on both tombs scroll, break, and follow exceedingly shallow arches. They act both as distorted plinths in a dynamic relationship with the figures above them, and as paradoxical centres of the composition, where these elements usually sit above.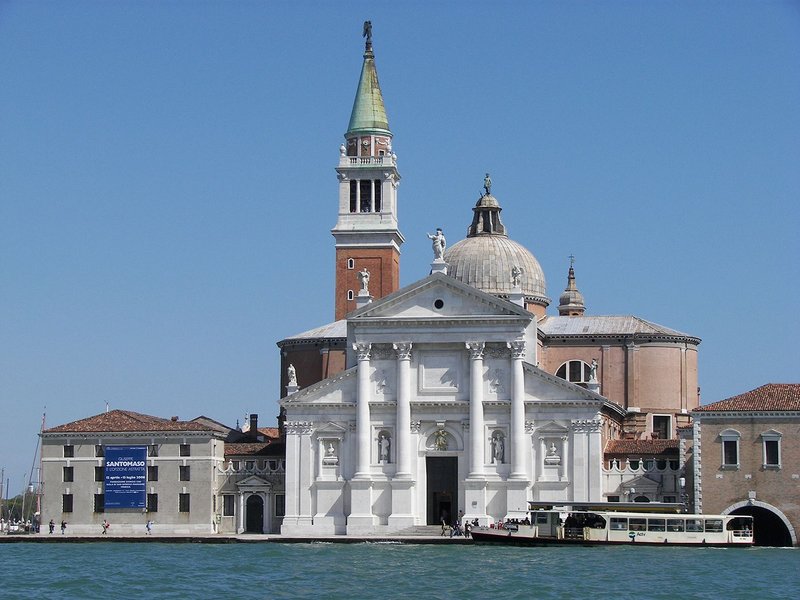 Chiesa di San Giorgio Maggiore, Venice.
Chiesa di San Giorgio Maggiore, Venice 1610
Palladio
This pediment is broken in a most unusual way, having been arrived at through Palladio's ingenious solution to an architectural problem that had haunted architects since the early Renaissance, namely how to reconcile a classical temple elevation with a church and its tripartite section of nave and side aisles. Here Palladio superimposed two temple fronts – one low and wide, one tall and thin – on to each other, thereby creating a rich hybrid involving the almost accidental creation of the strangest broken pediment of them all.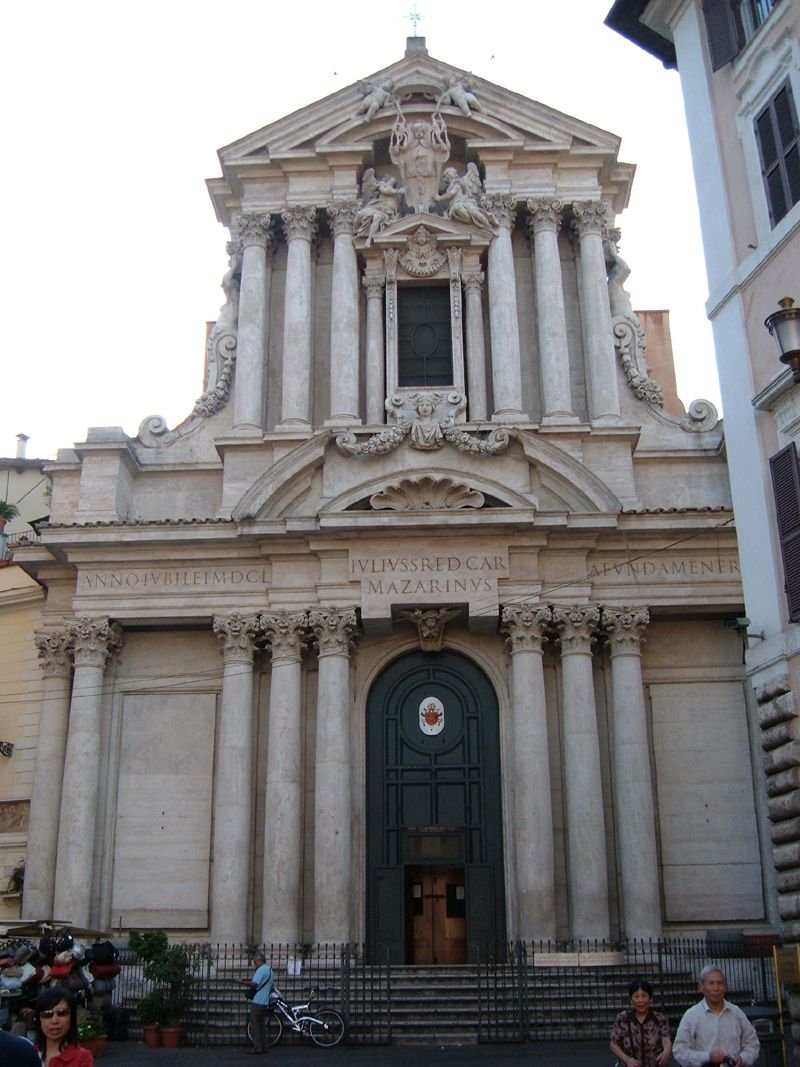 Sani Vincenzo e Anastasio Trevi.
Santi Vincenzo e Anastasio a Trevi, Rome 1650
Martino Longhi
As students of architecture well know, quantity and repetition often trump other qualities, and Longhi's façade facing the Trevi fountain in Rome is a veritable symphony in repetitious pedimentry, bringing together a superimposed array of broken pediments, open pediments and arched pediments.
Girasole Building, Rome, 1950
Luigi Moretti
It is often at the height of abstraction, when stripped to the absolute moment before which recognition is no longer possible, that precedent and tradition may resonate the strongest. It is on the Girasole that the tension inherent in the very act of breaking a pediment, of disrupting expectation, is drawn out in its fullest, and purest expression.
AT&T Building, New York City, 1984
Phillip Johnson
The building that many have referred to as the tombstone of post-modernism is crowned by what is most definitely the largest broken pediment of them all, perching over Midtown's skyline at nearly 200 metres. With his usual iconographic clarity, Johnson here reunified the silhouette of the post-war American skyscraper with a tradition from which it had been separated since the coming of Lever House, just down the road, in the early 1950s.
Marco Polo House built and during demolition, London, 1988 and 2014
Ian Pollard
Seen by many as the embodiment of the devaluation of post-modernism into crass commercial decoration, it was actually a rather solid and very witty building, which provided a touch of ironic glam for all the commuters passing in trains on the neighbouring tracks. Initially home to BSB, and named after the Marco Polo 1 satellite, it was a paragon of the British knack of bringing together the latest technology with a playful love of the past. As it was being demolished in June 2014, it was by chance momentarily gifted a highly baroque inverse broken pediment.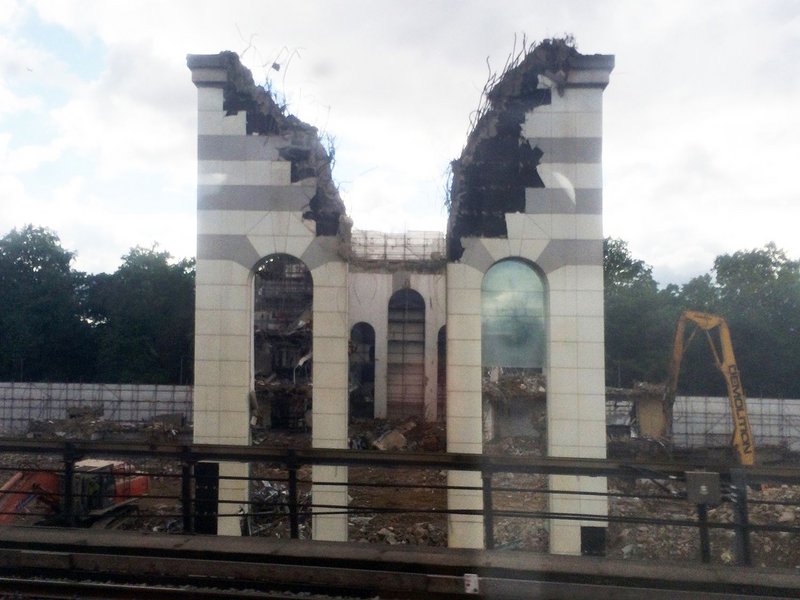 Marco Polo House under demolition.

Credit: Adam Nathaniel Furman