Client and architect 'have not just raised the bar but smashed through the ceiling'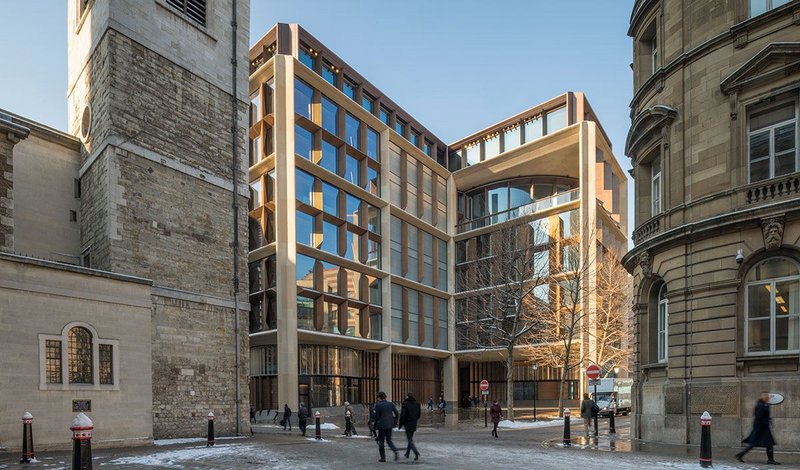 The Bloomberg entrance on Queen Victoria Street.

Credit: Nigel Young_Foster + Partners
The Bloomberg European headquarters in the City of London by Foster and Partners is the winner of the 2018 Stirling Prize. This is the architecture of long-termism and reassurance. It is as different as could be to a speculative office building which is typically designed for a minimum 25 year life. In contrast, this is as bespoke as you can get. Whatever the eventual fortunes of the media company it was built for and the economy generally, this place is a keeper.
So it ought to be, given that this was pretty much a money-no-object commission which set out to be the most sustainable office building on earth, something which demands a very long-term outlook. If you want the best, you pay for the best. And the best in this case included a quarryful of Derbyshire sandstone, combined with 600 tonnes of bronze alloy deployed in a lot of precisely-articulated facade components. Stone and bronze together skilfully provide depth and visual solidity to the immaculately-proportioned facades. So it is often described as a stone building but actually it is highly transparent: in fact you could argue that it is a predominantly glass building that happens to be wearing an interesting overcoat.
Generosity is the word that springs to mind – and which is cited by the chair of the judges, David Adjaye. This building could have been taller (the 1950s building it replaced was); it could have exactly filled its city-block site, extracting every square metre possible. But it did not. It creates new public realm including a new arcade across the site, it includes the relocated Roman Temple of Mithras as a separate public attraction. Inside, the amount of space NOT given over to desks and meeting rooms is noticeable. There is lots of space, everywhere, on one of the most expensive plots of land on earth.
There is commissioned art and also great craft: just look at the ceilings and light fittings, made of polished aluminium petals. Look at the sculpted bases of the columns, look at the handrail details or the construction of the stepped ramps swooping across the central spaces.
Reviewing the building when it opened, Isabelle Priest observed how this was a building of experience and legacy, designed and built by two men in later life with a view to the future. That is very true – I'd add that they are two utter perfectionists whose attitude shows admirable confidence and optimism.
Adjaye said: 'This ground-breaking project demonstrates what is possible through close collaboration between highly-skilled, imaginative architects and a deadly sophisticated, civic-minded client. Bloomberg is an astounding commitment to quality architecture.'
And RIBA president Ben Derbyshire added: 'The creativity and tenacity of Foster + Partners and the patronage of Bloomberg have not just raised the bar for office design and city planning, but smashed the ceiling. This building is a profound expression of confidence in British architecture.'