Sixty Minute Spectrum on the Hayward Gallery roof is all about timing, as the roof pyramids run through the rainbow every hour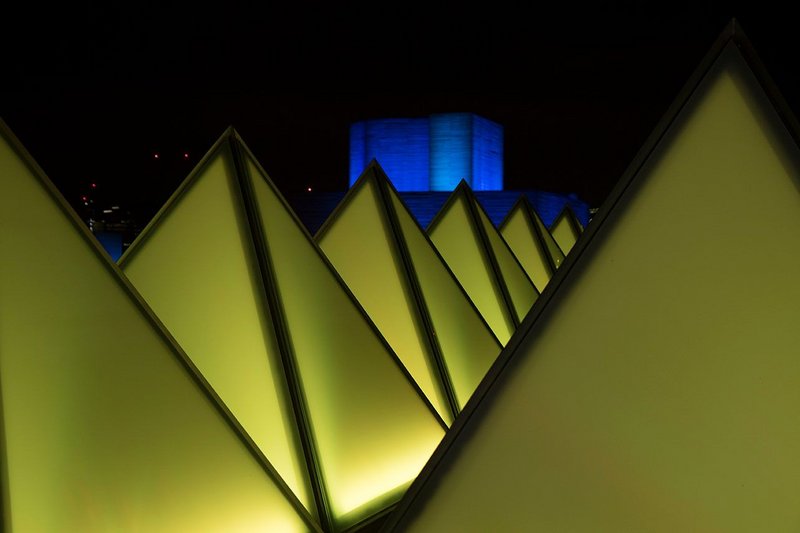 David Batchelor's Sixty Minute Spectrum (2017) lighting installation utilises the new rooflights of the refurbished Hayward Gallery at London's Southbank Centre.

Credit: Richard Battye FCB Studios
No watch, phone out of charge but need to know the time? Not a problem for anyone within sight of the Hayward Gallery on London's Southbank. Thanks to a lighting installation by artist David Batchelor, you can get a good idea just by looking at the colour of its distinctive pyramid roof lights. Red? Then it's on the hour. Yellow heading towards green? That's quarter past. Purple heading for red? It must be quarter to. Regulars to the area can learn to fine-tune their time estimations further as the colour blends through the rainbow during the Sixty Minute Spectrum repeated sequence, which in effect turns the gallery roof into a colour clock. With the benefit of his inside knowledge, Batchelor reckons he can judge the time to within five minutes just by looking at the hue of the roof lights.
The installation was commissioned to mark the imminent re-opening of the Hayward after a refurbishment by Feilden Clegg Bradley Studios which involved replacing the 66 roof lights in order to let natural light into the upper galleries for the first time. Batchelor quickly saw the potential of using the new roof lights, which incorporate programmable LED lighting, for the new commission.
'It's an allusion to the tradition of clocks on large buildings,' he says. 'There's a lot of competition for light in the area so it had to be something quite simple and direct. I thought I'd have all the roof lights in one colour but gradually moving through the spectrum throughout the hour. There's a gentleness to it with a continuous flow and no sharp edges.'
According to Batchelor, the architectural qualities of the Hayward and the rest of the Southbank Centre are well suited to such illumination projects.
'A dark concrete block is an incredible counterpoint for a vivid lighting installation. I think the Hayward is a fantastic building and the Southbank is among the best architecture in London,' he says.
He was keen to avoid the type of illuminations that inadvertently diminish the host building. Instead of distracting, he says, they should amplify the building's qualities.
Batchelor has a particular interest in exploring urban colour in his work.
'I want to rescue colour from advertising and make it its own thing – colour advertises itself, not a product,' he says.
He enjoys how the Hayward Gallery installation draws attention to changing light conditions throughout the day by becoming more and more visible as the light fades before receding again with the advance of daylight. Sixty Minute Spectrum is currently running 24 hours a day until January 24 – the day before the gallery reopens. After that, the installation will run outside gallery hours.
---
David Batchelor: Sixty Minute Spectrum, until 25 March 2018, Hayward Gallery, Southbank Centre, Belvedere Road, London SE1 8XZ