Tunnel or bridge? PM's Irish Sea crossing hopes hit trouble either way. Plus archeologists slate Stonehenge plan, planning algorithm raises 'rabbit hutch' fears, Star of Caledonia blows back in and home design by app
Boris Johnson, famously, loves a bridge, though to date he hasn't managed to see any of his hoped-for projects actually built. But perhaps he will have more success with two proposed tunnel schemes, though one is highly controversial and the other would chart new engineering territory.
The idea for a Scotland to Northern Ireland bridge was suggested nearly three years ago by Scottish architect Alan Dunlop, almost as an afterthought after he dismissed Johnson's proposal for a bridge across the English Channel ("it would be cheaper to move France closer to Britain") suggesting that a Celtic crossing would be useful and considerably less expensive.
But Johnson seems to have seized upon the idea as somehow being the solution to the post-Brexit Anglo-Irish border conundrum – as if the problems of exporting agriculture produce from Northern Ireland to the Republic in the face of border controls and tariffs could be negated if they could instead be zipped over to Scotland.
He set up a review to investigate the feasibility of such a bridge, which a year on has concluded that a tunnel would be both cheaper and more practical.
This is pretty much what Dunlop said originally while asserting that this missed the point: that a bridge could provide 'a dramatic, visual marker' for a country's 'aspirations and ambition'.
Tunnels, by contrast, are inherently unvisual. The Channel Tunnel may be extremely useful but you don't see miniature versions of it inside snow globes – surely the true marker of an iconic piece of architecture.
On the other hand, the harsh weather conditions often found across the Irish Sea do present very real practical issues.
Dunlop also made the point that a 'floating tunnel' would be required, sitting 10m below the sea's surface rather than beneath the bed.
This makes sense since the Irish Sea is between 100m and 200m deep – which would also present challenges for bridge builders.
However, while designs for a floating tunnel were first patented in 1886, such a crossing has never been built. Norway is considering one as part of a project to reduce journey times along its fjord-rich west coast, but the process still remains theoretical.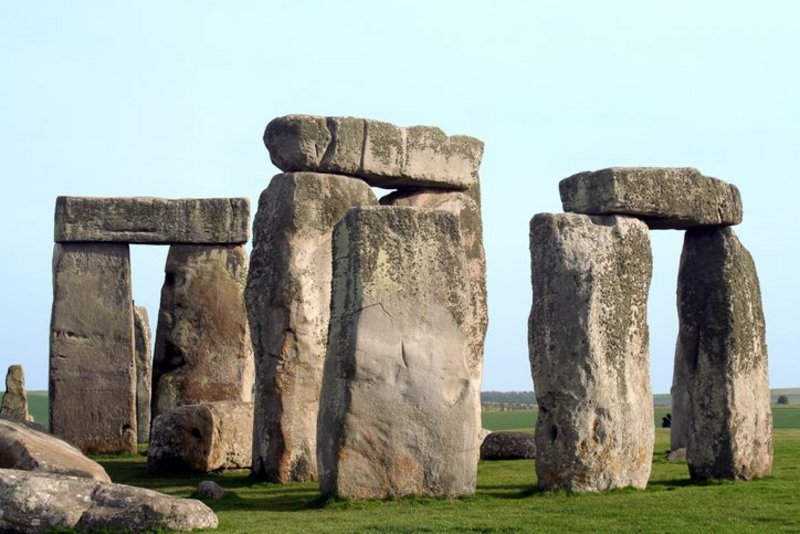 How to protect the Stonehenge site from traffic?

Credit: Roberto Gennaro
Henge tunnel meets stony response
A tunnel near Stonehenge would be more straightforward from an engineering perspective, but transport secretary Grant Shapps's go-ahead of such a scheme has sparked fury from environmentalists and archaeologists.
Shapps has granted a development consent order for work to start on the £1.7 billion project which will create two-mile dual carriageway tunnel for the A303 as it passes the World Heritage Site. The proposal has been drawn up by Arup and Atkins.
While the sight of the ancient structure can be a highlight of a journey to or from the South West, the present single-carriageway section often suffers from extreme congestion. The project has been touted as both improving journey times on the A303 and returning the Stonehenge landscape 'towards its original setting'.
The Guardian reports that at least one member of the independent A303 scientific committee has warned that half a million artefacts could be lost in building the tunnel.
Archaeologist David Jacques said the site was 'precious for the whole of humanity, for our understanding of how we have adapted and evolved as a species since the Ice Age'. He called the tunnel scheme 'an international scandal'
Fresh hope for Jencks and Balmond sculpture
Lending itself more readily to being a structural icon for Scotland is the Star of Caledonia, a vast illuminated sculpture proposed for the Scottish/English border near Gretna Green.
The sculpture was designed 10 years ago by the late Charles Jencks, co-founder of the Maggies' cancer care centres, and engineer Cecil Balmond, who also had a hand in the London Olympics ArcelorMittal Orbit. Their design beat shortlisted proposals by Chris Wilkinson of Wilkinson Eyre and US artist Ned Kahn.
But while the structure won planning permission, its backers were unable to raise all of the £7 million needed to build it.
Now that problem could be overcome. Renewable energy firm Cheshire Community Windpower says that if it is allowed to build three new wind farms in southern Scotland, it will donate £5.5 million to make up the funding shortfall.
The sculpture is expected to be between 40m and 55m tall – around twice the height of Antony Gormley's Angel of the North, and would be clearly visible to motorists driving into Scotland via the M6.
Heritage lobby applauds Jenrick's Norwich ruling
A year ago Norwich was being hailed for its approach to development, notably its Stirling Prize-winning Goldsmith Street housing scheme, designed by Mikhail Riches with Cathy Hawley.
But its approval of a Broadway Malyan-designed £270 million city-centre housing-led development proved decidedly less popular.
Among those opposing it were Historic England and Save Britain's Heritage as well as local groups, including the Norwich Society, which criticised its 'uninspiring architectural quality' and said it was out of scale with the surrounding area.
In agreement with this is the unlikely figure of Robert Jenrick. Following an inquiry, the housing secretary has rejected the Anglia Square scheme, overturning his planning inspector's advice to allow it to go ahead.
The project's developer, volume housebuilder Weston Homes is furious. Its chief executive Bob Weston called the decision 'undemocratic' and vowed to challenge the decision in the courts.
He also laid into the prime minister asking how he could justify his minister's decision when he had been 'very vocal that housebuilders need to "build, build, build" in order to hit the government's housing delivery target.
Indeed, the government's own Housing Infrastructure Fund allocated £15 million to the scheme.
Broadway Malyan's woes could, however, spell good news for Ash Sakula. Historic England commissioned the latter practice to design an alternative scheme for the site, which provides 595 homes built around traditional streets and low-rise terraces. Save's president Marcus Binney described it as 'excellent'.
Broadway Malyan's proposal has 1,200 homes as well as retail and commercial space.
Jenrick's ruling is in marked contrast to the one he made earlier this year regarding Richard Desmond's £1 billion Westferry Printworks development. In that instance, he again overruled his planning inspector, but that time to allow the scheme – a decision he was later forced to reverse. Another difference was that Desmond subsequently donated £12,000 to the Conservative Party. Perhaps Weston should take note.
Croydon's bankruptcy set to force Brick by Brick sale
The woes of Brick by Brick, Croydon Council's arms-length development company, have intensified after the local authority was effectively declared bankrupt.
The council admitted it was unable to balance its budget and faced a £66 million deficit. Last month it emerged that Croydon had lent almost £200 million to Brick by Brick, which had then deferred settling the loans, though it was set to pay them back in 2024/25.
Now it is likely it will be forced to sell Brick by Brick to the private sector. The company says it has more than 1,000 homes under development with 700 more in planning. According to the AJ, the council has already received offers.
Brick by Brick has a target of half of its housing being 'affordable'. It is unclear how the status of such housing would be affected were it to be sold off.
Government retreat on planning reform raises 'rabbit hutch' fears
The government is set to revise its controversial planning reforms in England amid fears of a backbench revolt from MPs concerned their Tory heartland constituencies would face 'unwanted' development.
The new planning rules will set each area's allocation for new housing by means of an algorithm. This mechanism is now is set to be adjusted so that less new housing is built in the South and more in urban areas, particularly in the Midlands and North.
The Local Government Association has expressed its concern that this will lead to much of the new housing being created by converting empty offices into 'rabbit hutch' homes.
A new study carried out for the association says that the waiting list for council housing will almost double next year to two million, partly as a result of evictions caused by the Coronavirus fallout. The association is calling for a big increase in social housing and construction to deal with the crisis.
Home extension? There's an app for that
It's remarkable what you can do with phone apps these days – book a cab home, choose a takeaway for when you get there, and order a loft conversion.
Hoko Design has described its new app as 'the Uber of architecture', saying its automated service vastly improves the process of home improvement or indeed building a new house from scratch.
Gimmickry or the shape of things to come? The AJ looked at Hoko as well as Resi, which offers a similar service, under the headline: What is the 'Uber of architecture'? And should you be worried?
Both companies employ architects and offer a slick digital interface with a dashboard that enables clients to easily track the progress of their project.
Hoko provides virtual reality visualisations and fixed pricing and allows unlimited revisions, while Resi offers help with financing a project.
And both will connect clients with reliable contractors, Hoko offering the services of its sister brand, Build.
Property expert and TV presenter Kunle Barker says: 'On the face of it, this just seems like a slick repackaging of the normal architectural services. I couldn't actually see anything that a good architect wouldn't do.' But he adds: 'I like the way they package up the architectural service and make it very easy for a client to understand.'
There is a general agreement from those the AJ spoke to that this will make the prospect of hiring an architect a lot less daunting.
And with many people spending far more time in their homes, and so looking to improve them, the timing couldn't be better.