In the first of a series examining the changing shape of practices, Sofie Pelsmakers looks at how architects are adapting to changing roles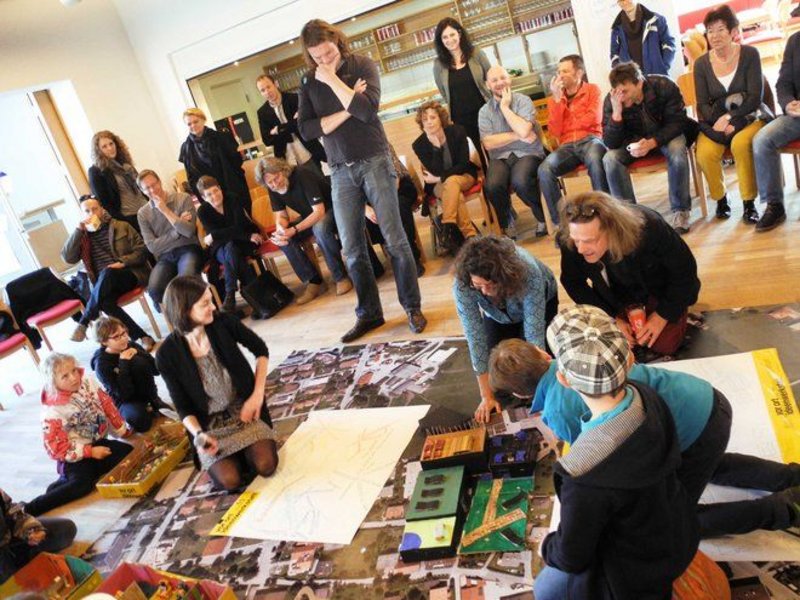 NonConform putting their ideas workshops into action.
Much has been written and discussed recently about the marginalisation of the architect and how we can regain a more central role. Budgetary and constructional reality, as well as climatic and environmental contexts, are often regarded in both architectural practice and education as obstacles to good architecture, when in fact these constraints are just more ingredients to play with and opportunities to innovate, interpret and renew.
Our reluctance as a profession to engage with these constraints has caused the profession wider reputational damage – as well as resulting in the loss of project work. As a profession, and as individual architects, we need to reframe our role in design, changing it to meet the challenges of a changing world. It might also mean that we refine what design is – maybe it is not building at all.
These and the other challenges and opportunities were the focus of a recent conference, The Changing Shape of Architectural Practices, at the Aarhus School of Architecture (AAA) in Denmark, as part of a collaborative research project between AAA and AHO Oslo. The ambiguity of the title captures the profession's dilemma: we need both to change what we do (the shape) and how we do it (the practice). This is also focus of Aarhus School of Architecture's research lab Emerging Architectures, coordinated by Professor Walter Unterrainer.
Drawing on this research, and on their own experience in practice, the conference speakers shared the ways in which they had forged new opportunities by reframing their roles and finding new ways of working in response to society's economic, social, climatic and environmental challenges. Four recurring themes stood out, the first of which I look at below:
1. New roles for architects
3. Interdisciplinary collaboration and sharing
4. The need for new design processes in practice and education
1. New roles for architects: reframing what architectural design is and our role within it
While many in the profession might not be very responsive to new challenges, there are several architects in practice who are reframing their conventional built architectural portfolios. Some practices such as Snøhetta and KieranTimberlake were able to redefine their role from a position of luxury (though is it ever a luxury to test ideas?): that is, being able to experiment on some projects while continuing with business as usual in the rest of the practice.
Smaller and newer practices proved themselves able to carve out a unique identity by reframing their role. For example Helen & Hard is exploring new ways to deliver co-housing as designer, co-developer, co-investor and supporter of community engagement. This has meant embracing the influence of stakeholders in the design decision-making processes – ultimately influencing the architectural language. Several architects showed the long-term value of deep co-production to projects.
User engagement and different levels of participation and co-production provided a recurring theme. An example of forging a closer relationship between what we design and who it is for was seen in the work of Peter Nageler and Roland Gruber, from the Austrian practice Nonconform. They expanded their role to 'participator-designers' and 'participator-curators', working at urban design scale on community functions.
Nageler and Gruber were particularly inspirational – not just for the content of their talk, but for the refreshing manner in which they delivered it. They opened their presentation by candidly illustrating how they were awarded prizes for their work using traditional practice but how they also ended up failing the local communities they designed for. They were criticised because no-one understood what they were doing.
Nonconform used this sense of failure to change its working process, creating a 'Baukultur' – culture of building – that meant citizens had a voice and were supported. It made a shift from 'working on' projects to 'working with' citizens, by listening and working closely with local people and gathering local knowledge from everyday experts.
This led the practice to the develop its 'Nonconform ideenwerkstatt methode', a three-day intense ideas workshop – bringing the community together in a pop-up office to co-produce and agree on design strategies. Notably, these are not necessarily the already-agreed final project. This not only makes the design decision-making process transparent but puts local people at the heart of it. The practice has developed a Nonconform academy for the public, to train them in the culture of participation and navigating complexity with a lot of people.
Some of these strategies can be thought of as delivering more services. But going beyond that is more important. We may need to master new design processes to help deliver better design quality, occupant satisfaction and building performance.
We need to develop a wider range of skills that we can employ as part of design processes, such as listening, co-production, systematic research processes to design with knowledge, drawing in contextual parameters into concepts, elevating disciplinary and interdisciplinary collaboration. Some of these will be tackled in the rest of the series.
Dr Sofie Pelsmakers is an architect and educator and author of The Environmental Design Pocketbook
The changing shape of architectural practices conference (2017) was held at Aarhus School of Architecture (AAA). It was the third of a series of events. The research project originated in 2010 by Professor Fredrik Nilsson at Chalmers University in Sweden and Professor Michael Hensel at AHO and culminated with a The Changing Shape of Practice: Integrating Research and Design in Architecture and another publication due in 2018.
---