While 'misguided' opposition scuppers a later-living scheme in Surrey, active octogenarians Foster and Rogers are in the news. Housing does better with Peabody's Thamesmead plans – boosting the offer with a transport add-on – and Jenrick pronouncements stay true to form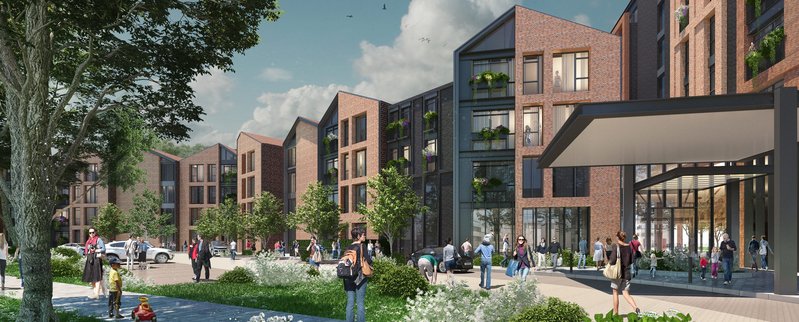 Turned down: Guild Living's project by Marchese Architects has been refused planning in Walton-on-Thames.

Credit: Guild Living
With the country's population ageing, housing for 'later life living' has become a growth area for architects. Pegasus Life (now Lifestory) has developed schemes working with names such as AHMM, Morris + Co, RCKa and Sergison Bates; while earlier this year Haworth Tompkins won approval to convert a grade II*-listed postmodern office into a retirement village in Surrey.
But elsewhere in Surrey, Elmbridge Borough Council is less keen to join the bandwagon. It has turned down a £100 million retirement village proposed for Walton on Thames, saying building homes for older people would 'undermine the vitality and viability of the town centre'.
The project, designed by Australian practice Marchese Partners, was planned for a derelict brownfield site in the centre of the town. Planners had estimated it would bring in an additional £10.7 million in local spending each year.
But perhaps the council had read a recent study suggesting that people lose their 'get up and go' by the age of 54.
Such a finding will jar with most architects, who at that age have barely ceased to qualify for Young Architect of the Year. Last week, Jeremy Dixon and Edward Jones were expressing regret that they had had to close their business when they were both 81; while former RIBA president Jack Pringle this week announced he was setting up a new practice at the age of 69. Richard Rogers reached the age of 87 before announcing his retirement this year; and Oscar Niemeyer was still working past the age of 100.
Marchese Partners principal Eugene Marchese told the AJ that he had designed later-living schemes across the world 'but we have never before encountered opposition as misguided as that which we have seen in Surrey'.
Judge threatens Foster with arrest
Meanwhile 85-year-old Norman Foster has found age is no barrier to deflecting the attentions of a Spanish judge who wants to track him down in relation to an embezzlement case.
Foster, it must be stressed, is not himself implicated in any allegations of wrongdoing. The judge, Jose de la Mata, merely wants him to testify as a witness. But he has nevertheless asked the police in Switzerland, where the architect now lives, to locate him and arrest him if he declines to testify.
The case concerns a judicial centre which was set to be built in Madrid, for which Foster + Partners was paid €13.7 million to design two courts. The centre cost Spanish taxpayers €80 million but was never built. Now eight other people involved in the scheme face charges of embezzlement of public funds, prevarication, influence peddling and other corporate crimes.
A spokesperson for Foster + Partners told the AJ that the practice had been assisting the authorities with their investigation, but its efforts had been frustrated owing to restrictions resulting from the coronavirus pandemic. They said Foster had made himself available for interview, for which they expected a date to be agreed shortly.
Foster moved to an 18th-century classical chateau in Switzerland some 12 years ago, a relocation that forced him to give up his seat in the House of Lords.
Rogers Stirk Harbour cuts staff as projects are shelved
It would be glib and inaccurate to say that in contrast, Richard Rogers can't get arrested, but nevertheless the practice he founded, Rogers Stirk Harbour + Partners, has announced that, following a slowdown in work, it is laying off between 25 and 30 of its staff.
This follows a number of its projects being put on hold, which it attributes to a general downturn in confidence caused by the pandemic and the possibility of a no-deal Brexit.
And RSHP is hardly unique. Data compiled by industry tracker Glenigan shows a huge number of cancelled or postponed building projects, with London and the South East hit hardest, particularly in the office, hotel and residential sectors.
Bucking the trend, however, is Weston Williamson & Partners. The transport specialist has opened a studio in Manchester, one of the areas worst affected by the virus's second spike.
With the government hoping that transport infrastructure work can help counter a Brexit/Covid downturn, the architect's work on HS2 and Northern Powerhouse Rail could prove a valuable income stream.
And rubbing RSHP's noses in it somewhat, Fosters, which had increased its headcount, has now reimbursed the 20% pay cut it imposed on its employees at the start of the pandemic.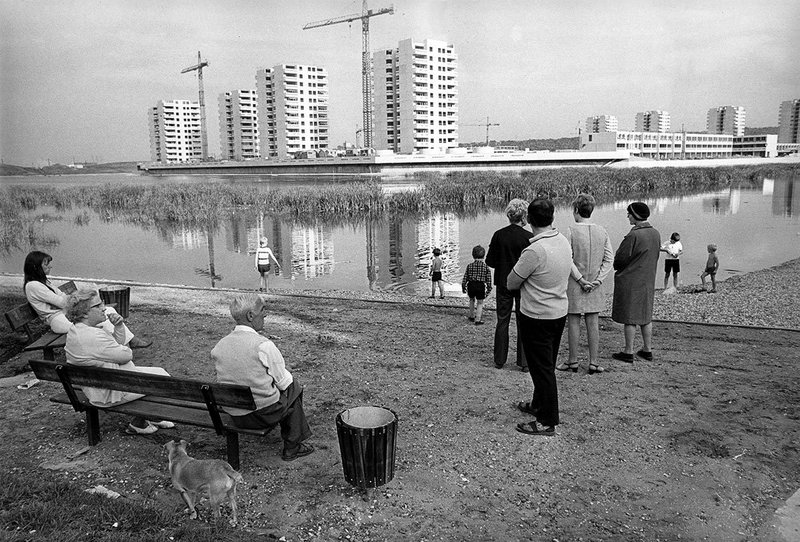 The regeneration of Thamesmead continues, here towers along the water being built in 1970.

Credit: Tony Ray-Jones Architectural Press Archive / RIBA collections
Thamesmead's renaissance continues
One significant project that still seems to be going full steam ahead is the regeneration of Thamesmead, the vast south-east London housing estate now owned by Peabody.
The housing association has launched an £8 billion joint venture with developer Lendlease to develop 100ha of unused land along the Thames waterfront, creating at least 11,500 homes as well as commercial and leisure space.
One of the reasons Thamesmead has previously failed to take off as an attractive place to live has been its relative isolation, not helped by a lack of transport infrastructure. Crucially, the new proposal includes an extension of the Docklands Light Railway into the heart of the development.
The joint venture has launched an international competition to find a masterplanner for the scheme with an initial open call asking for expressions of interest, after which 10 teams will be asked to present an overview of their proposals.
Croydon's housebuilding arm under fire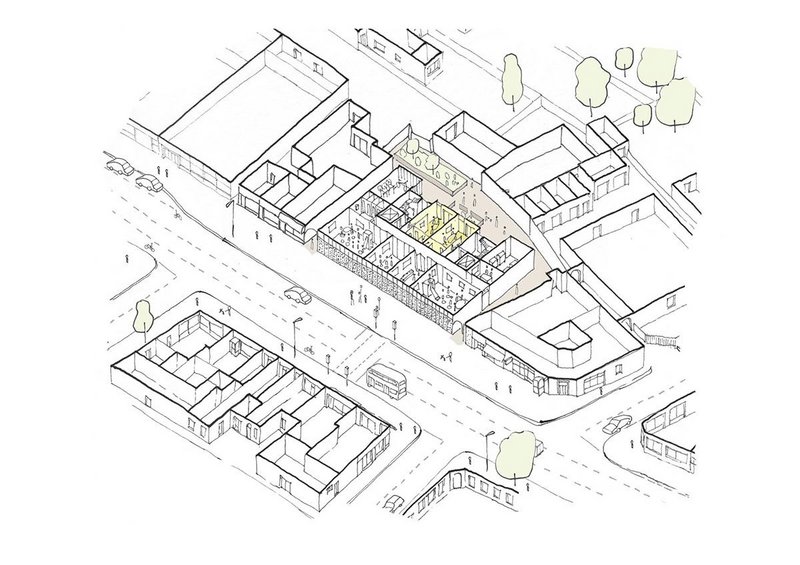 Brick By Brick has been associated with strong commissioning. Jas Bhalla Architects' concept scheme was winner of the Brick By Brick and Stephen Lawrence Charitable Trust design competition.

Credit: Jas Bhalla Architects
Croydon Council-owned developer Brick By Brick has run into trouble, with an auditor's report severely criticising the council's management of the company.
The arms-length company is one of many that have been set up by local authorities in the past decade as they sought to boost funds in the face of severe central government cuts.
Many have built private for-sale housing to cross-subsidise the building of socially rented houses.
Brick By Brick has gained a reputation for hiring well-regarded architects, such as MICA Architects, HTA, vPPR and Mae. Earlier this year it partnered the Stephen Lawrence Trust to organise a housing contest with a shortlist of five BAME-led practices.
The auditor's report revealed that Croydon Council had lent Brick By Brick almost £200 million without receiving any dividend or interest. It said the council was 'taking out borrowing to lend to Brick By Brick to build the properties and then … taking out additional borrowing to purchase properties from Brick By Brick'.
While the council has acknowledged the scale of its financial problems, Brick By Brick maintains that it is in good financial health' with 'strong revenue forecasts' and that it is about to reach to stage where 'proceeds from sales of our homes provide a significant financial return to the council'.
Nevertheless, housing secretary Robert Jenrick has called the situation 'completely unacceptable'.
It sounds rather more stable than the experience of Conservative-run Spelthorne Borough Council in Surrey. Former council leader Ian Harvey has told The Observer how he borrowed £1.1 billion from the Treasury's Public Works Loan Board to buy office buildings as a money-making enterprise, describing obtaining the loans as 'laughably easy'.
The current drop in demand for offices is now making such apparently sure-fire investments look considerably ropey.
Whatever pickle Croydon may have got itself into, its investments should at least result in a large quantity of new and high-quality housing. But perhaps Jenrick is happier criticising Labour councils than Tory ones.
Modern methods of bricklaying
Many architects must have questioned their career choice when, two years ago, a Federation of Master Builders poll revealed that bricklayers earned, on average, 10% more than architects.
But those who decided to ditch their BIM schedules for hods and cement mixers in the hope of upping their salary by £3,000 may, it turns out, have been a little rash.
A bricklaying robot has been developed and is in the process of building a house in Yorkshire.
The RIBA Journal reports that the robot, developed by Yorkshire-based Construction Automation, is the first of its type to be able to build around corners, which means it can construct an entire house without stopping. And while it's still at the testing stage, the company hopes to have a commercially available product next year.
With much of the UK construction industry reliant on eastern European workers – a supply line that Brexit could be about to be shut off – such an innovation could not have come at a more vital time.
Meanwhile, architects may still have a few more years left before they too are themselves replaced by robots.