Newport's Hill Street House ticks all the green boxes as ZED PODS employs offsite construction, local labour and materials, and an under-used car park to supply new accommodation close to jobs and facilities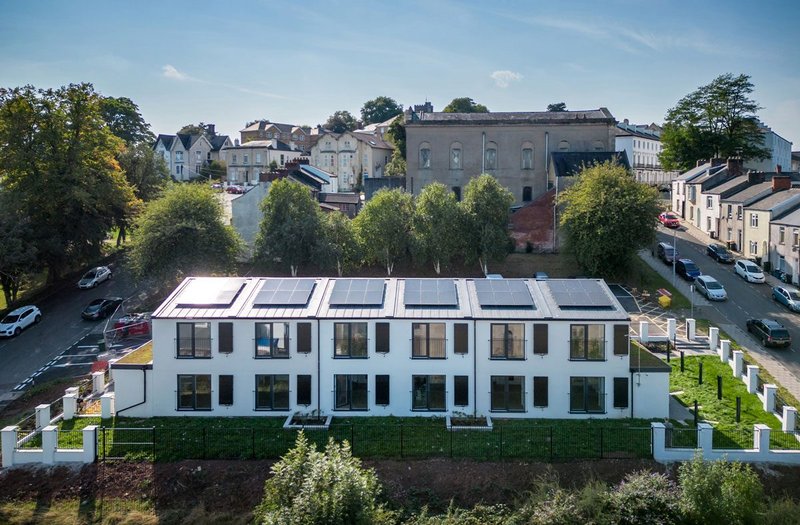 HIll Street House external view.

Credit: Linc Cymru Housing Association
Hill Street House is one of the highest levels of energy performances in social housing in the UK. It has been constructed in line with the Welsh government's decarbonisation programme which is helping Newport City Council and other local authorities to build on under-used sites, creating innovative sustainable homes that address the affordable housing crisis.
The challenge
Newport City Council (NCC) has secured Welsh Government Phase 2 Homelessness grant funding to increase the supply of affordable social housing – and this development of 12 new ultra-low carbon, high quality homes on an under-used council-owned car park is part of that mission.
ZED PODS has worked with housing association Linc Cymru and Newport City Council (NCC) to develop a unique low energy, low carbon, affordable housing scheme for the area. This off-site build scheme uses a combined strategy of enhancing building fabric, integrated platform energy efficiency measures, and applying low-carbon and renewable technologies.
ZED PODS took the client though all the delivery stages from concept feasibility to completion and handover. At feasibility stage we invited the key project stakeholders to our award-winning housing scheme in Bristol, to create a better understanding of modular homes, dispel myths regarding look and feel of a scheme in a sensitive area and win the hearts and minds of the project delivery team. This early engagement helped to develop confidence in MMC-led housing solutions.
ZED PODS provided a full turn-key works package – from design work to principal contractor. We took the project from stage 0 to stage 7 using our experienced inhouse architectural team. We designed the units from a masterplanning perspective, which enhanced the passive attributes of low energy design, daylighting, solar gain and material choice. Using robust material and renewables, the specifications of these homes exceed current building and fire regulations.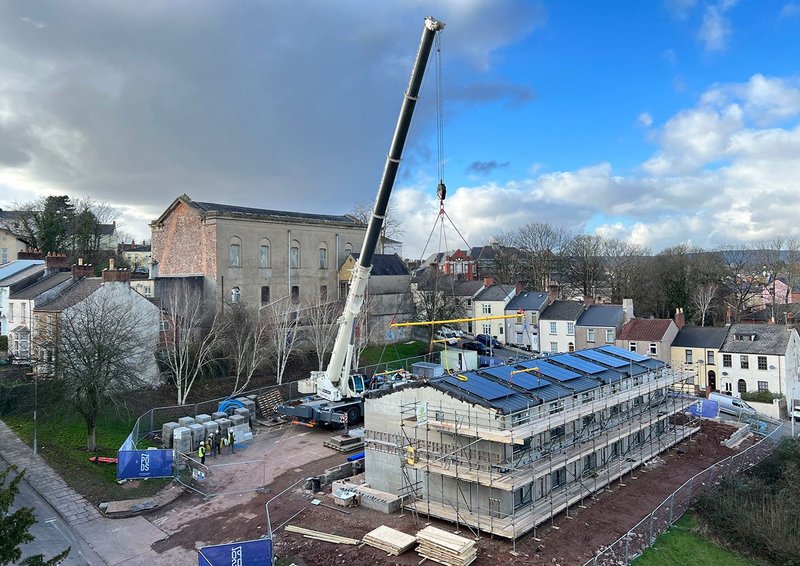 Hill Street House during construction.

Credit: Linc Cymru Housing Association
Why offsite technology was the best approach
Using innovative volumetric MMC, the scheme avoided the need for demolition and lengthy compulsory purchase order processes of the car park, resulting in an onsite programme of just 52 weeks despite pandemic/material shortages. Housing modules were installed on site in three days. The choice of volumetric construction decoupled land and building costs and cut disruption, noise, pollution and carbon footprint. Homes generate their own electricity and their location, within walking distance of jobs and facilities, has further de-carbonised urban mobility.
Climate Change Abatement is at the heart of what we do. We extended this to all elements of this project, sourcing locally where possible and minimising environmental impact throughout the supply chain and at every stage of the building lifecycle. The modules were built in a UK factory and transported to the site, reducing site works and disruption to the local community through reduced vehicle movements, traffic congestion, noise and dust. More than 80% of the construction was offsite, saving an estimated 297 tonnes of carbon emissions over 30 years compared to a Part-L complaint new build (based on SAP DER rates for regulated energy consumption excluding unregulated demands).
Low carbon, better living
Built with fabric-first approach, the flats are highly insulated and airtight with 0.87- 0.98m3/h/m2 air changes per hour at 50PA. The design goal was 2m3/h/m2 and the quality of design and factory-built processes enabled us to more than halve this target – and improve on the national compliance level of 5 m3/h/m2 by more than 80%.
Roof-mounted solar panels generate daytime electricity, mechanical ventilation heat recovery systems provide fresh air (tackling overheating/mould formation with heat recovery), and solar-assisted heat pumps provide affordable, low-energy water and heating. The development has no gas connections and eliminates impact on air quality during construction and use. All homes have A-rated EPCs and negative Dwelling Emission Rates with SAP 'A' ratings of over 92+, with potential to upgrade to 100+ if two additional Solar PV panels installed per unit.
The development promotes active travel and is completely car-free, being close enough to shops, the railway station and other amenities. Secured cycle storage encourages residents to use sustainable forms of transport. An easy-to-understand guide helps residents adapt to and use low-carbon technologies. The scheme is estimated to save 42,945.31 litres of water a year over Baseline (water consumption based on Wales Part-G Compliance of 110L/person/day from building regulations Part‐G 2010 with 2016 amendments),
Wildflower turf, hedges and trellises help make the development part of the landscape and increase biodiversity. The use of a local supply chain and labourers, even down to Welsh-based building control and insulation manufactured in Wales, was an important part of the project.
The project has provided 12 new homes for people previously living in temporary or supported housing and who were ready to move onto more permanent accommodation. The pandemic, and more recently the war in Ukraine, have placed additional pressures on the local authority with many more households requiring temporary accommodation. Hill Street House is will help prevent homelessness and act as a beacon to other local authorities.
This is a pioneering, environmental and socially focused MMC development that shows how precision manufacturing can be used to build innovative and affordable housing. And by giving new residents a permanent address, it has a major positive impact on people's lives.
Lalit Chauhan is design director at ZED PODS