How, when and where we work is evolving at pace. Architects must embrace the disruptions, stay agile and prioritise continuous learning and innovation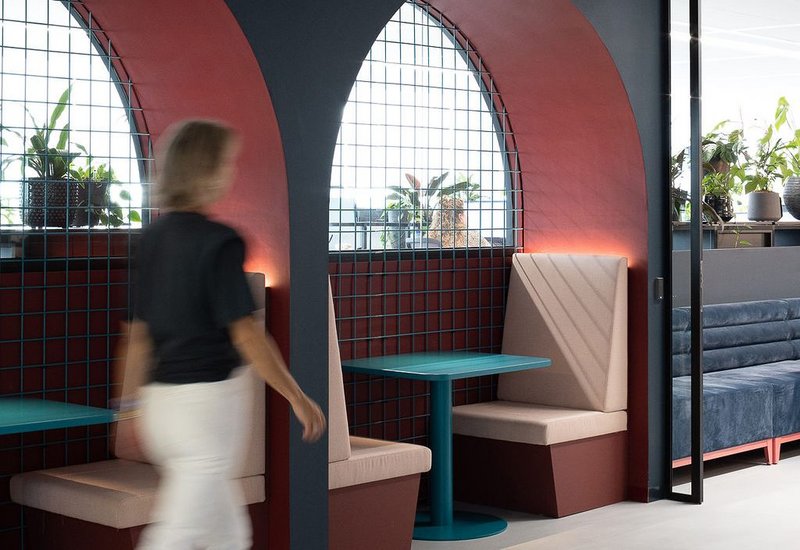 Spaces to connect at Helix, Cushman & Wakefield's flagship workplace in Utrecht, Netherlands. It is a living lab for fostering social connection.

Credit: Cushman & Wakefield
Not since the Industrial Revolution has there been such a significant opportunity for change in where and how we work. Fundamental drivers such as the climate crisis, digitisation, virtualisation and the health and wellbeing of people have been reshaping work patterns and workplaces for decades. The pandemic enabled a mass adoption and acceleration of what might have taken another ten or even 20 years to happen. There are five enduring changes to the workplace that architects and designers need to know about.
1. Hybrid working is here to stay
Knowledge work has become increasingly mobile. Commercial real estate services firm Cushman & Wakefield (C&W)'s Experience per square foot (XSF) survey data, which draws from 10 million data points, shows that 75 per cent of people want to work in a hybrid way. Work patterns will not go back to the way they were before Covid-19. Office buildings across Europe were used on average 60 per cent of the working day before the pandemic (Future Office, 2019), which is to say that people have been working across a variety of places such as home, the office and in transit for some time. As a result, many corporate occupiers already have agile working programmes and an agile workplace. The choice over where to work is driven by a number of factors, including individual work activities, such as level of concentrated or collaborative work, nature of commute and lifestyle preferences.
The challenge is no longer to create and manage one workplace, but to create and manage a virtual and physical ecosystem of workplaces. The XSF data tells us that people are coming into the office to meet others, to learn and to socialise. Some continue to come into the office to do individual work. These ways of working will change office interiors. A modern workplace before Covid-19 might have been made up of 50 per cent individual desking and 50 per cent collaborative space. These ratios are shifting to fewer desks and more collaborative spaces and the balance continues to evolve as occupiers settle into a new way of working.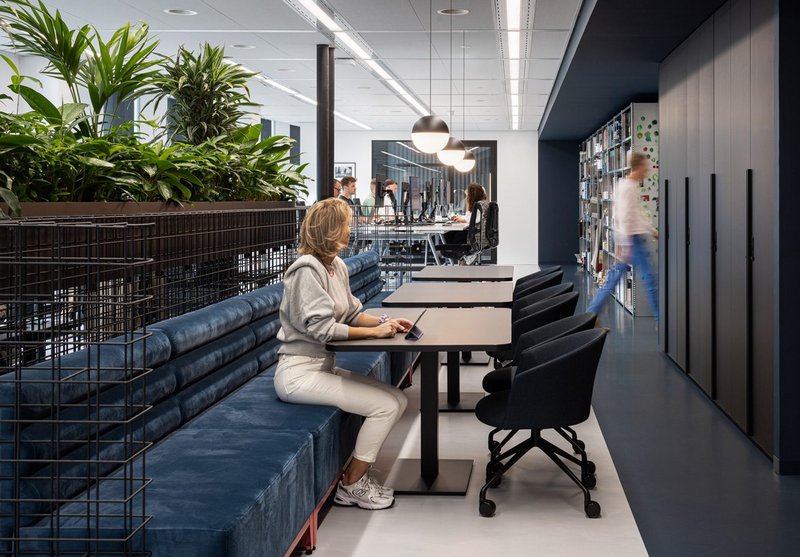 Biophilic design: a bank of plants acts as a divider, bringing nature into the workspace and making it feel healthier.

Credit: Cushman & Wakefield
2. Diversity, equity and inclusion (DE&I) is a fundamental right and key driver of design
DE&I has finally become a board level agenda item. The built environment is for everyone and physical place plays a key role in welcoming and including people. DE&I can sometimes be over simplified into issues such as physical access and neurodiversity, but diversity starts with the basics like gender and personality. In her book Invisible Women, Caroline Criado Perez talks about the role of gender in setting standards across industries, including building standards. She explains the consequences of building standards designed to accommodate the 'average man' - excellent reading for anyone who has ever wondered why women are often cold in office buildings.
The industry has been designing office buildings for extraverts for decades. Large, open and exposed reception areas and large open expanses of desking without landscaping and access to enclosure can pose challenges for concentration and energy renewal over the course of a day. Workplaces should provide a range of spaces, inside and outside the building, to suit a variety of activities, such as quiet areas, project areas, collaborative spaces large and small, informal and formal. Building exteriors are changing too, blending more with their surroundings, knitting into and contributing to the neighbourhood with leisure and food offers, public realm and nature accessible around and within the working day. A fundamental starting point for creating and managing more inclusive workplaces is to have inclusive and diverse design, construction, occupier representative and facilities management teams.
3. Environmental, social and governance (ESG) standards need to underpin all decision making
Forty per cent of Europe's energy emissions come from buildings. By 2030 76 per cent of the buildings across Europe will be at risk of obsolescence (C&W 2023). This is driven by upgrades to EU and UK EPC energy certifications, which mean that buildings need to have a rating of C or higher by 2025 in order to be legally let. This rating increases over time and is one example of the necessary legislative changes that have and will be put in place to drive the industry towards lower and eventually net zero emissions. Much has been written about the environmental standards the industry must move towards. Less is written about the social and governance aspects of sustainability.
Buildings play key roles in providing people with shelter, a sense of belonging, places of work, leisure and healthcare. Increasingly, we must design and manage buildings for both the occupants and the local community. As legislation lags behind science and government policy, some corporate occupiers have taken matters into their own hands and are moving ahead with ESG and DE&I programmes across their portfolios and communities. The real estate industry needs to be more proactive.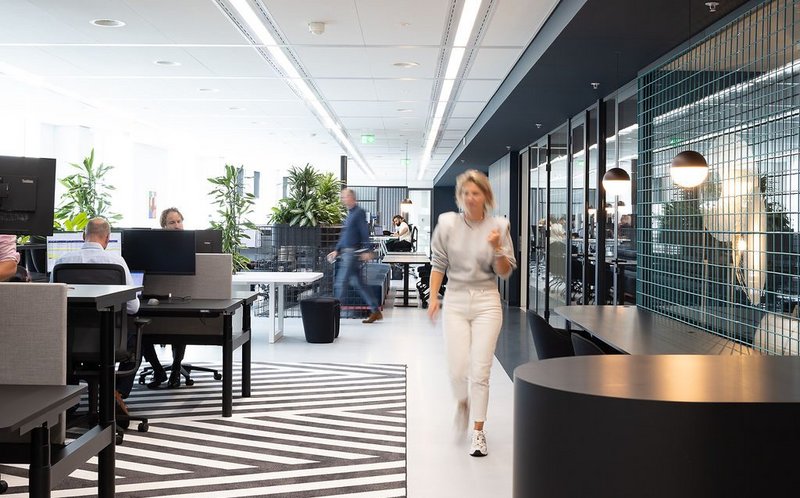 Creating a positive space to encourage staff into the office: hybrid working is here to stay.

Credit: Cushman & Wakefield
4. Closer connection to nature is good for us
C&W XSF data shows that, while people report a better work/life balance since working in a hybrid way, wellbeing is now significantly below the levels reported before the pandemic. There are a number of potential reasons for this, including the pace and nature of work itself. Talent remains a top driver for business leaders and real estate decision makers. Nature plays a key role in human health and wellbeing. Decades of office design dominated by efficiency drivers such as cost saving have resulted in many workplaces lacking in environmental quality.
With levels of wellbeing continuing to fall, there is a renewed focus on prioritising environmental quality, such as light, air, materiality and connection to nature. Outdoor spaces are becoming as important as indoor ones. Buildings with roof gardens, terraces, winter gardens, biophillic design features, including natural materials and shapes are sought after. Circadian lighting can support building users at different times of the day, internal stairs encourage walking and locally sourced and grown food, even on site, provides healthy options. Place and the natural environment are powerful constants in the ever-changing landscape of work.
5. The digital workplace is ever evolving
Technology in the workplace is multi-faceted and includes personal and building technology. Technology already in use includes digital twins (virtual models of physical objects), augmented and virtual reality and AI with biometrics for touchless movement through buildings. The use of data and its role in shaping, measuring and managing buildings is in its infancy. Sensor technology already gathers data on indoor environmental quality (air, heat, CO2), virus transfer rate and occupancy levels. Fewer systems actively turn this data into a dashboard enabling building managers to manage their assets more efficiently. Fewer still use the data to drive predictive analytics around use. Predictive analytics have the potential to reduce energy consumption and customise environmental qualities for individual users. The challenge for design teams and asset managers is to integrate this technology and to learn how to use it over time.
The future of the workplace will undoubtedly be disrupted by a combination of technology, demographics, culture and virtualisation. The rise of automation, AI and the internet of things will continue to transform the way we work and communicate. The changing demographics of the workforce will bring new expectations and demands for flexibility, inclusivity and work/life balance. Cultural shifts towards more collaborative, transparent and purpose-driven workplaces will reshape organisational structures and leadership styles. And virtualisation will enable a more distributed and remote workforce. To thrive in this rapidly evolving landscape, we must all embrace these disruptions, stay agile and prioritise continuous learning and innovation.
One of these paragraphs was written by ChatGPT. Do you know which one?
Nicola Gillen is an architect, author and practitioner. She is the EMEA lead for total workplace at commercial real estate services firm Cushman & Wakefield. Her new book Reworking the Workplace: Connecting people, purpose and place from RIBA Publishing is released on 1 June 2023. It focuses on the future of work, workplace and the city.