In these uncertain times practices that can adapt to change will do best – if they can identify the triggers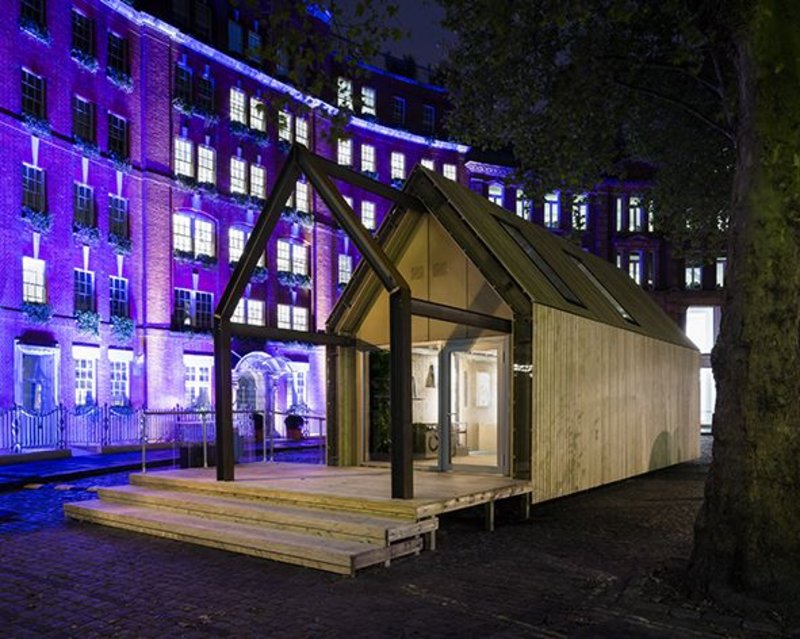 The Circular Building, located outside The Building Centre in Store Street, is the result of a collaboration between the Built Environment Trust, Arup, Frener & Reifer and BAM.
To paraphrase Darwin, those most adaptable to change are the ones that survive. Not the smartest or strongest. This is the good news for those of us who fall somewhere in the middle of the spectrum. But what change should we be watching out for? Josef Hargrave, global foresight manager at Arup, speaking last Thursday at the RIBA Smart Practice Conference on future trends in the built environment, highlighted the types of far-reaching change that we should all be preparing for – dependent on context; and context is variable – across geographies, cultures and sectors.
One of the big trends globally is the shifting demographic towards an ageing society and the health risks associated with an increasingly older population, which will require significant adaptations to the built environment. Josef reported that there is already a growing interest among clients in the WELL building standard. And as global resource consumption continues to rise, developing viable circular economy models gains urgency. Architects are challenged to think about the whole building life cycle, beginning with design for disassembly. The Circular Building by Arup, the Built Environment Trust, Frener & Reifer and BAM – on display at the London Building Centre – explore these themes.
In the conference keynote, Patrik Schumacher described how Zaha Hadid Architects (ZHA) has had to adapt to unexpected and tragic change with the recent death of its iconic and charismatic founder. As the brand identity of the practice was formerly centred around Zaha, Schumacher, as the remaining partner, is now stepping up his profile as the new figurehead for the practice, exemplifying its creativity and talent. Internally this means continuing the practice's longstanding commitment to research and innovation, while presenting a more flamboyant image to the world. His take on research in practice is that it is necessary to take the long view, regarding it as an investment in the future which pays off several years down the line.
As ZHA now has 24 buildings on site and 36 in late stage construction, it is apparent that the practice's speculation in research and teaching is paying dividends. Schumacher left the conference early to take a plane to Antwerp where he was attending the opening of the practice's design for a spectacular new Port House, seemingly precariously cantilevered over a former fire station.
As global resource consumption continues to rise, developing viable circular economy models gains urgency. Architects are challenged to think about the whole building life cycle, beginning with design for disassembly
In the afternoon the focus of the conference shifted to Barcelona, where completing the Sagrada Família true to Gaudi's vision has been a lifetime commitment for Mark Burry, Professor of Urban Futures at the University of Melbourne, whose team pioneered the use of parametric software and 3D printing in the context of architecture. Yet close collaboration with builders and drawing from the traditional skills of local stone masons remained crucial to reconstructing the design intent.
Cross-sectoral working was a theme that emerged time and again throughout the day, exemplified by Foster + Partner's research and innovation team staffed with mechanical and aerospace engineers, material scientists and geometers – and, yes, architects too! Xavier de Kestelier, co-head of Foster's Specialist Modelling Group, stressed that design must drive the use of technology, rather than vice versa. Yet 3D printing has transformed the way they work by facilitating rapid optioning.
Few practices have Foster's scale and resources at their disposal, but innovation and the capacity to adapt to changing conditions is also located within smaller firms. Bond Bryan Architects, a medium-sized practice with its headquarters in Sheffield, has used BIM to develop its expertise and its profile abroad. Spotting the opportunity to deliver added value for its clients, associate director Rob Jackson has been pivotal in developing the practice's BIM expertise by spearheading the use of open BIM processes and learning from projects. Sharing knowledge through a dedicated blog and social media has gained the practice a significant following and opened up a whole new strand of consultancy work for the firm as Bond Bryan Digital.
Economic downturns present perhaps the greatest challenge as catalysts for change. These were discussed during the morning's international panel. Faced with the decision whether to downsize during the last recession, Christina Seilern, principal of Studio Seilern Architects in London, went to Nigeria in search of clients and returned with several commissions. While admittedly a risky strategy, her message is to dare to go abroad to find projects. Several panellists reported that having a special skills set or experience helped them set foot abroad. Opportunities can arise through existing contacts and clients, or be explored systematically. James Nicholls of Stephen George + Partners described how with the help of consultants the firm carefully analysed international markets across a range of criteria including available work, competition from other UK architects, the local business culture and scope for partnering with local firms before settling on Bulgaria, supported by UKTI.
All emphasised the importance of understanding the local market and business culture to make working abroad a success. Partnering with local firms is particularly significant for gaining trust and building connections with clients and planning departments. It requires considerable time but payoffs include commanding higher fees at home as well as raising the skills profile across the wider company.
It is apparent that not only individual practices but the profession as a whole needs to learn to adapt to new ways of working, to develop more sustainable models of education and become better at sharing knowledge. This applies as much to academic research as practice, admitted Katharina Borsi of the University of Nottingham, one of the panellists speaking in the closing research session. The London School of Architecture, represented by Deborah Saunt, and the Phd embedded research programme at RMIT in Melbourne, which Burry initiated while in place there, are among those pioneering a more integrated approach to education, practice and research – as a way of thinking, learning, and working, but also an alternative financial model. If open formats are the future of the digital, they look set to have just as much potential for architectural teaching and practice.